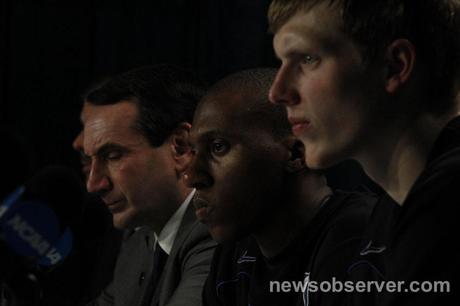 [As originally written; scroll down to skip the cock-tease of a first half].
Even though there is a Duke Hoops Watch at the Village Pourhouse, I am too nervous to watch the game anywhere other than my couch. So I am here with a six-pack of Magner's and a pounding heart. And I decided to document this. You're welcome? That said, if it starts to go south, there will be an immediate and abrupt end.  It won't come to that, though. Right?  GOOD GOD, I am ridiculously nervous. 
First Half: After a Duke miss, Miles commits the foul, over the back. Really stupid way to start the game.  Arizona gets the first bucket. Ugh, I don't know about this live-blog thing. I wasn't kidding when I said that I am irrationally superstitious. But we get the points right back, whew. 
18:34: Singler picks up the foul.  Some reggae singer, Jesse Perry #33, is going to the line for the Wildcats.  He hits one, misses the second.  Duke takes it down the court, but turns it over. And then Derrick Williams drains a three.  Not a good start to the game. 5-2, Arizona. 
17:27: Kyle hits a big three.  We needed that, just to get some momentum back.  And then DWill is called for a travel on the other end. Kyrie is about to come in, along with Ryan Kelly. Kyle just drained another!!! Could this be the night where his shooting touch comes back? Where he drops 32 points and a big F you to all the doubters?!  8-6, Duke.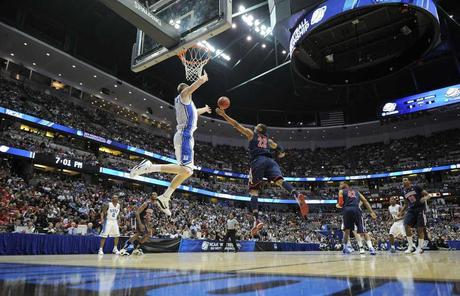 15:38: I cannot believe we are through the first TV timeout already. Crazytown, USA.  Duke turns it over, but Mason Plumlee has a monster rejection.  Followed by an Arizona miss, and then a sweet jumper in the paint from Kyrie. Oh that was pretty.  I missed him so much.  Arizona finally scores to end Duke's 8-0 run. Wow, but then Singler drives to the basket and lays it in. He is on fire. I like this.
13:43: Kyrie shoots an airball and the crowd lets him hear it. I do not want his confidence shaken.  But Mason rebounds, and Singler drives and scores AGAIN. WAIT. Oh my god, he is totally shown-up by a monster dunk off of a rebound by DWill. Holy crap, that was awesomely powerful and a reach-back one-handed slam, and just WOW. WOW. Sportcenter forever. 14-13, Duke.
13:00: Kyrie drives and gets the bucket and foul. Welcome back, Drivenator.  And then Duke displays some stifling defense, trapping a Wildcat in the backcourt, forcing them to call timeout.  17-13, Duke.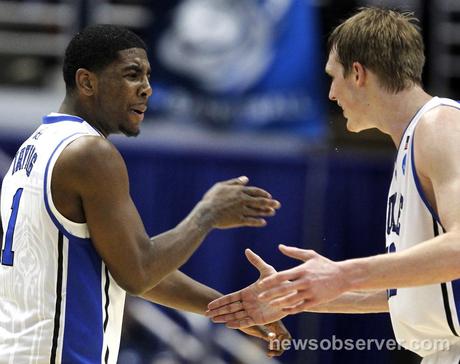 12:27: DWill has 10 points (like Singler), the rest of the team has 3.  Um, we need to contain him in some fashion. He is actually good enough to beat us, if we don't. But Kyrie gets another drive for two.  Kyle and Kyrie have scored our last 17 points.  Out of 19.  Thank god that we don't have another stud with some K-name. It would incite terrible nicknames. 19-16, Duke.
11:47: TV Timeout. Zona ball. Foul on the floor against Duke.  Arizona misses a three, but gets the offensive rebound.  Someone knocks it away and then, out of no where, Seth Curry dives on the ground, causing a tie-up.  What a great defensive play by the Slick Koala, as our friends at SCSD would say.  Possession arrow lets the Cats keep it. But then Curry steals it! So impressive Seth! Saving Duke and everything! 19-16, Duke.
8:34: What a shitty play that was.  Kyrie inbounded from underneath the basket to Seth Curry at halfcourt. But he threw it too long and too hard, leading to race between Seth and DWill. Which DWill won, when Seth was called for a foul. We basically gave them a foul and two points for free. Super fucking lame.  23-20, Duke.
7:50: Duke turnover followed by a dumb Arizona turnover.  A guy stepped on the sideline when absolutely no one was near him.  Now a TV timeout. I like how Duke looks, I do.  But I would really like to build a cushion, get some stops, and protect the ball better.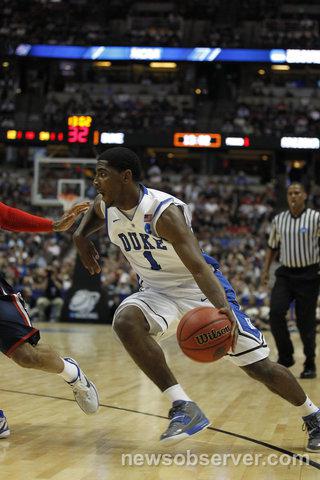 7:21: Kyrie Irving drains a three. He is officially back, bitches. Like more than before. He is already in double figures.  Duke has gotten a string of stops, which is turning me on.  Singler misses a three, but Plumlee gets a rebound and Kyle is fouled.  Inbounding from underneath the basket. Maybe we can just throw it down the court for an easy Arizona lay-up again; that would be great.  Singler with the bucket and the foul!!!! SO HOT. 29-20, Duke. 
6:34: Arizona turns it over. Come on, this could be an 8 or 9 point swing if we score here. And we do! Kyrie drives and then hits the teardrop. God, that was gorgeous.  Duke is on a 10-2 run! Timeout Arizona.  31-20, Duke. 
5:55: Singler called for a foul on DWill, which is his second. He hits both free throws, finally giving Arizona some much-needed points.  Duke has been called for 8 fouls, Zona for 5 – so like, suck it, haters.  Kyrie is stripped, but then Miles Plumlee stops a two-on-one with a hard, but albeit useful, foul.  DWill hits both again.  31-24 Duke.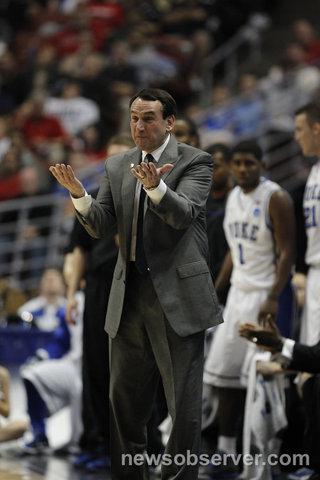 5:01: Seth Curry is now called for a foul, which is also his second. That was dumb. It was no where near the basket.  Do not give our cushion right back, what the hell is this? And the sad part is, all of Arizona's points have been from the free-throw line. So I would at least like the refs to make them earn points from the field. Thanks, that would be great. 31-25 Duke. 
4:44: Mason Plumlee with a huge side step and slam. Momo Jones, what a name, hits a lay-up, and then Kyrie drives and is fouled.  Kyle is getting some kind of medical attention, but immediately hops up when his number is called, so he is clearly fine.  And he is a gamer, don't question it.  35-27, Duke. 
3:55: Arizona nails a three, bringing them within five.  And then Andre Dawkins hits a jumper from the foul line. Whatever, I'll take points, any points. And then those bastards hit ANOTHER three.  DWill has 22 points!!!! 22 in the first half!!! And there are still 3 minutes left!  Jones hits a pretty jumper, changing his shot in the air. 39-35, Duke
52 seconds: Kyle on the line. Hits one, misses the second.  WOW.  Duke blocks a jumper near the three-point line, Kyrie recovers the ball, throws it ahead for a ginormous alley-oop to Mason Plumlee. Like McDonald's, I am loving this.  44-35, Duke.
1 second: DWill drains a ridiculously long three at the buzzer. Fucking ridiculous.  44-38, Duke, at the half!
Half-time: Coach K's half-time interview lasts exactly one question and approximately 23 seconds. He gushed about DWill and then basically ran away when the ugly reporter blinked.  That was almost comical.  We need to come out strong, keep up the defense, and keep shooting the ball as well as we have in the first. We also need to figure out some way to stop DWill.  I would go with some double-teams and let the rest of the Arizona players prove they can shoot the ball.  Duke also needs to force more turnovers for easy transition points. With Singler showing flashes of the old Final Four Most Outstanding Player version of himself, and Kyrie back and breaking ankles, we just have to continue what we are doing.  And perfect it. Please.  I am nervous, so I am going to have a beer. In other news, Butler is winning.  The Bull Dogs are my second favorite team, by far.
Second Half: I am back and a bit drunker. I have not eaten, and there is no way I can do that now, with us winning and everything. So yay for you! Duke has the ball to start.  Nolan hits the fadeaway, on a feed from Seth Curry. Pretty play all around.  Then a foul is called.  Seth Curry seems genuinely hurt. His hip or his side or his spleen or something on the side of him. Kyrie takes his place.  And then Arizona trips Nolan. WTF IS THIS? STOP HURTING OUR PLAYERS.  Kyrie misses a three.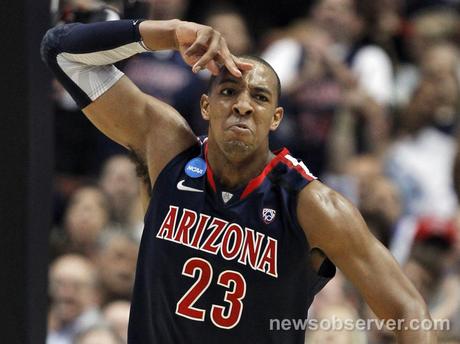 19:03: Kyrie dumps to Nolan who passes to Dawkins, then back to Nolan, then stolen.  Ball thrown ahead and Singler dives – literally dives – to knock the ball away and prevent an easy lay-up. Gold star to Singler. He is having one hell of a game.  Arizona ball.  They drain a three.  Ugh. 46-43, Duke. But Kyrie answers.  With a gorgeous fadeaway from 15-feet. Arizona gets the two points right back.  Kelly then misses a three.  Momo, the crazy named fucker, gets another two. This is a 1-point game.  Timeout Duke. 48-47, Duke.
16:51: Dawkins hits a HUGE three-pointer. We really needed that. Then we force a turn-over and throw it down court to a breaking Kyrie, who is fouled on the drive.  He hits both and has 18 already. But Jesus, Arizona hits another long shot. It is a two-pointer, though. Nolan misses and then Singler is called for his third foul. 
15:27: Arizona is getting all of the bounces and rolls right now.  This is ridiculous. Tie game. 53-53. And now we foul them?!?!! Are you kidding me? SERIOUSLY WHAT THE HELL IS GOING ON RIGHT NOW. They are going to take the fucking lead. AND THEY DO. I have to stop this for awhile.  I am furious. This is exactly how I did not want us to start the second half. 
*   *   *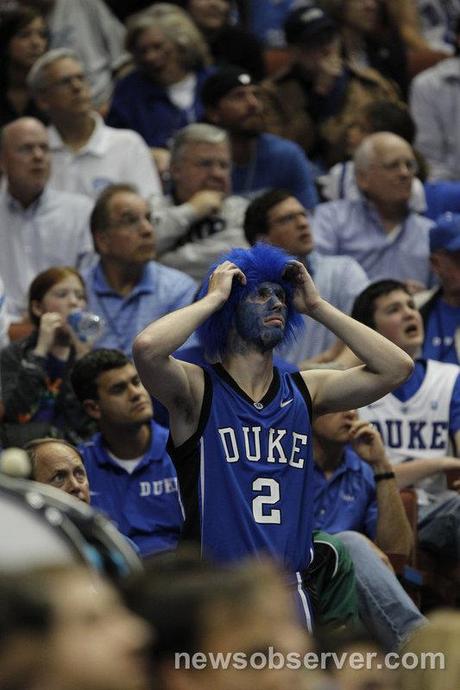 And that is when the fun times, the game, the season ended.  The reason I posted this unfinished, ironically depressing live-blog is because I want to remember it.  How awful this moment feels.  I mean, the last 15 minutes of the game were torture. Just a physical beatdown of epic proportions.  We couldn't play defense, we couldn't score, we couldn't do anything.  Until the game got under four minutes, I kept expecting a comeback.  An epic run. Which never materialized.  We played scared and sloppy.  They played like they wanted it more, Derrick Williams went off, Nolan Smith had a terrible game – one of the worst of his career – and it sucks that he will always have to remember it as his last.  And in ways, coming back for his senior year was the dumbest thing Kyle Singler ever did – no championship and he killed his draft status – but I respect the hell out of him for it.  I don't even know what to say. When I close my eyes, I see the posterizing dunks, the turnovers, the stupid fouls we committed.  I see brick after brick, I see Coach K helpless on the sideline. I think about the fact that Kyrie Irving slapped my hand at the Butler game, I had to leave the game early, and he hurt his toe immediately after I left. I feel guilty. I feel guilty for writing that Duke Haters post, tempting the Basketball Gods to put me in my place, and we lost three days later. I feel guilty for writing this post now. The final minute ticks off, as I type this in stunned disbelief. It is painful. I am forcing myself to watch. Nolan Smith is crying on the sidelines. Kyrie hits a meaningless long three.  At least we won't lose by 20. I cannot believe I just typed that.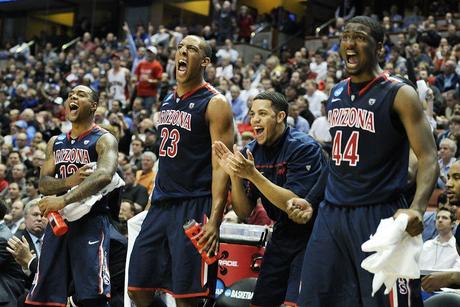 We have now been officially blown out by Arizona, avenging their 2001 loss a decade later. A huge hug and thank you to Nolan Smith and Kyle Singler, class acts who brought us a championship we will never forget.  A high-five and good luck to Kyrie Irving, who may or may not be around next year. A shrug and a clap for Arizona, who completely dominated the second half and deserved to win, but acted like chest-banging assholes in the process.  A fuck you to the refs, but even more so, to playing our worst basketball at the most critical time of the year. That really, truly, completely sucked.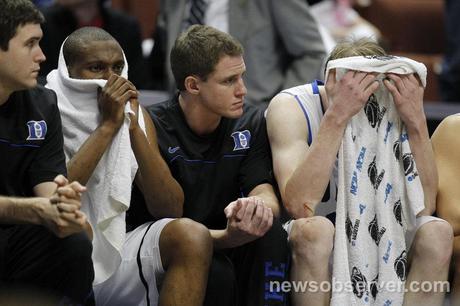 I am epically disappointed.  This seemed like a really special team – one overflowing with talent, led by two All-American seniors and the greatest coach of all time. They had experience and character and chemistry.  I will never forget the hilarious videos they posted or the teamwork they exhibited.  Nolan and Kyle were special players, a tribute to Duke stars of the past, who hung around for four years and became campus heroes.  They bonded with students and fans alike, and they constantly provided entertainment on and off the court.  I will miss both of them so much, because they are, at the simplest level, irreplaceable.  I am sad that they had to end their careers this way. I am sad that back-to-back was nothing more than a pipe dream; that the haters will say last year was just an anomaly in our string of Sweet 16 upsets; that the only thing I care about in terms of March Madness is that UNC loses as soon as possible, and mostly, that we cannot get the last 15 minutes of that game back.
I was 3-1 in my predictions for Thursday night's Sweet 16 games.  The only game I missed was the only one that mattered.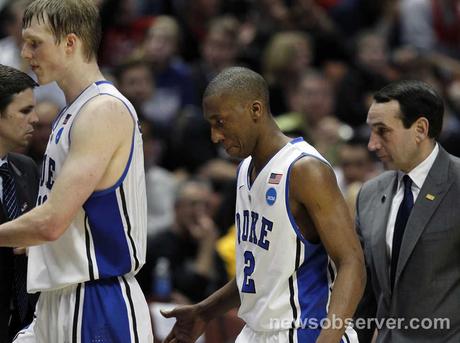 (A big thanks to Chuck Liddy, my pal and ex-softball teammate in the Durham, who took all of these photos for the N&O - such an incredible photographer and friend.)