I had the most relaxing weekend and hope you did as well! It was Malaysia Day on Monday 16 September, and we had a long weekend of fun, shopping and food (and coffee too of coz!), haha...
Also I managed to finish some writing that I was supposed to do and finally, finally now I have the time to blog about my garden, yay!! 
There is not much progress in the garden although this week has a little more sunshine. Just did some weeding when I was watering the plants which I did once only over the weekend. Still, I am happy to see my Bougainvillea (Bougainvillea 'Apple Blossom') blooming next to the Sandpaper Vine (Petrea volubilis). In fact the vine is also flowering (notice a little purple flower stalk at the top?).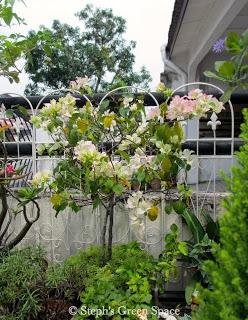 But as for the Desert Rose (Adenium obesum) at the other side of the Bougainvillea... the plant though was flowering, it has very few leaves on its stems due to the wet soil it has been sitting on and receiving very little sunshine for past few weeks.
The Arabian Jasmine (Jasmine sambac 'Grand Duke of Tuscany') meanwhile made a short-lived appearance as after each drizzle, the flower turned yellower and yellower, and withered fast :-(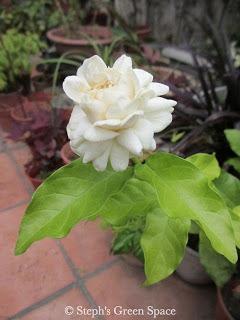 Anyone growing a Little Bird Plant (Pedilanthus bracteatus)? I have only one plant growing in my garden now. Though it is considered a succulent, the plant does tolerate wet soil well.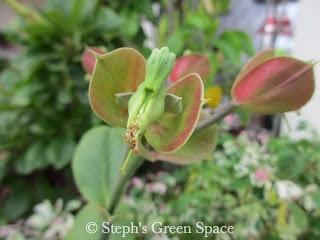 The bird blooms turned yellow at the last stage before it wilted.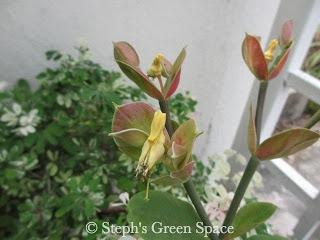 They look outstanding and a little whimsical against the Variegated Madras Thorn shrub :-D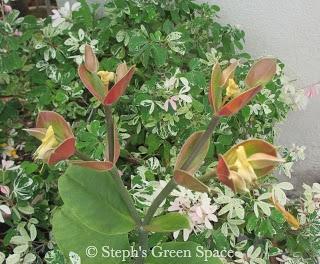 The Four O'clock is forever lovely. Its flowers release a wonderful scent and these yellow ones are easily spotted in the dark :-)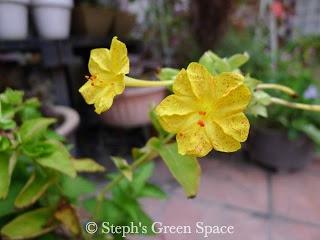 The Black Bat Flower (Tacca chantrieri Andre) shrub is ever-blooming and not a stranger anymore in my garden. Nowadays (cooler days), the plant sends out even more flowers.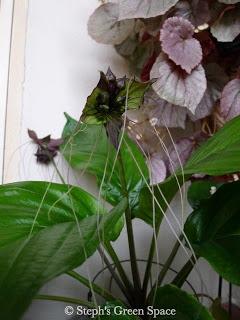 My Iresine herbstii grew back after a cut back, brightening the porch when everything seems dull...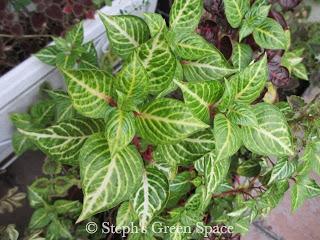 Sometimes it hard to garden when the sun is often behind the clouds and the raindrops keep coming down. This is perhaps one of the disadvantages of gardening in the tropics. Otherwise every plant flourish nicely throughout the year in the garden here.
Have a blessed day!