I can't believe it is April already.
Did you got fooled yesterday? I did :(( Every year I do and tell myself it's the last time but I always forget. 
Today we planned to go to DC to walk the streets and see the bloomed cherries but around lunch it started to rain followed by sleet. To everyone's surprise I stayed away from the kitchen and spend the day drawing on coloring books and keeping Tiffany away from trying the crayons on the walls.I wanted to write a post about my photography but with so many great tutorials on different blogs I gave up the idea. I have nothing new to bring to the table, to be honest, I'm far from being an expert.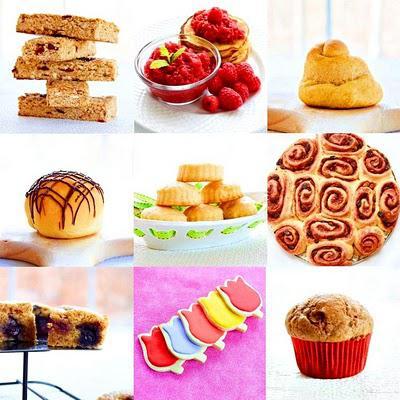 As you probably know during the month of March I featured few recipes of some wonderful Lady bloggers who helped me with my blog. For tonight I was thinking to make just a recap of all these delicious recipes. 
Sour Cream Cut-Out Cookies
Blueberry Bliss Bars
Homemade Granola Bars
Hungarian Lecsó 
Gooey Sticky Cinnamon Buns 
Pumpkin, Pear and Potato Soup
Honey pine nuts muffins 
Bright Green Asparagus Soup
Apple Raspberry Sauce and Ricotta Pancakes
Nutella Banana Mini Muffins 
Spring Sugar Cookies 
Sweet Potato Rolls
Cheddar Cheese Bites 
Chocolate filled Buns