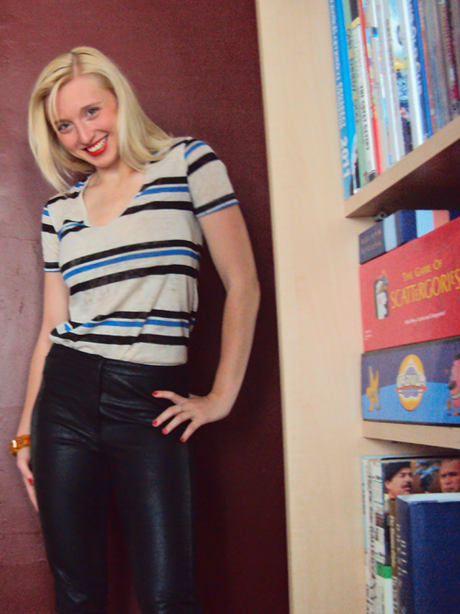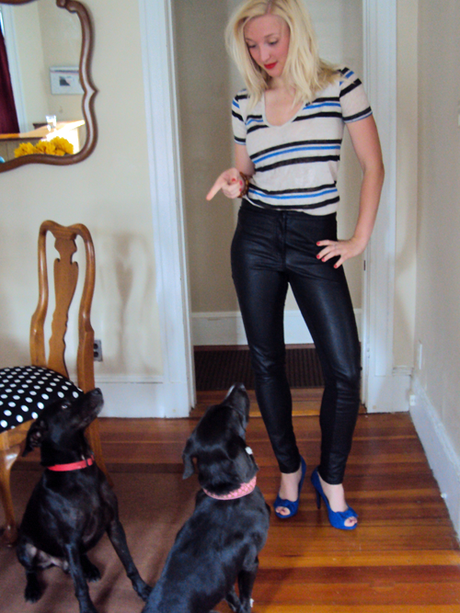 Lips: Revlon 'Orange Flip'; Shirt: Urban Outfitters; Pants: H&M; Nails: Essie 'Really Red'; Bracelet: Vintage; Shoes: ShoeDazzle
When I was 14, I totally rocked pleather pants -- bell-bottom style. I wish I had a picture because they were quite the awesome pair of
Mudds
. I absolutely loved everything about them -- except for the fact that they caused me to sweat profusely.
Anyone who has ever worn pleather can attest to this lack of breathability, which is why I was hesitant to purchase these pants from H&M. Uncontrollable leg sweat isn't very becoming of a 25 year old.
(It's not really becoming of a 14 year old either but at that age people assume you don't know any better. Now it's just sad.)
 However, I couldn't escape my leather-pants desire and eventually caved -- mentally preparing myself for several awkward 
(yet stylish)
nights out.
It appears, though, pleather has come a long way in the past decade. These pants are not only comfortable but also
(semi)
breathable! I'm officially obsessed. They're definitely a new fall staple and I plan on pairing them with everything from basic tees to lacy tops to sequined cardigans.
I'll probably even walk the dogs in them.
Teenage Bianca would be so proud.