CHARACTER INTERVIEW
It was raining yesterday. More like pouring—for two days in a row. Thunder, lightning, ya know, your all around freakish Florida storm. But I wasn't complaining, at least it was warm. I was working, writing the second installment in my Witches Of the Bayou series when I felt a little stumped on one of my scenes. I decided to take a break. As I stared out of my window, the strangest thing happened. My flowers, heavy with rain, were rising. My lawn, which is far from perfect, was turning carpet like with the most magnificent color green I'd ever seen. The sun broke through the darkened sky and seemed to shine its brilliance directly on my house. I jumped up and quickly went to my front door, throwing it open. Could it be? I watched as gardenia's burst from their buds, blooming to full capacity in seconds, their heavenly fragrance so strong I could smell it rush into my home on a soft spring breeze. I knew SHE was close. And the minute I thought about her, she appeared. She walked gracefully to my door, stopping just shy of the entrance. A slight smile pulled at her mouth as she waited to be invited inside. I was speechless as I motioned her in with my hand, unsure if I should bow or curtsy. My untidy home suddenly sparkled the minute she entered. Queen to the royals, Giselle Jareau Beaumont stood in my house.
"Your highness. Thank you for coming. Can I get you something—a drink perhaps?"
"No thank you Cherrie. I dropped by to answer the questions you have for me and of course to thank you for telling my story."
"It was my honor. Will Julien be joining you today?"
"No. Not today. He's been very busy."
"Oh—okay." I was a bit disappointed with her answer but, maybe another time. I pushed my hair away from my face, wishing I looked a little more presentable. I pointed to a comfortable chair and she had a seat. She was more beautiful than I imagined. I grabbed my laptop and pulled up the questionnaire.
"I know your time is precious so, I guess I'll just start with the first question." She nodded gracefully in agreement.
What's it like to be queen to covens at such a young age?
  

At first, I was very scared. I had no formal training and I repelled my nature for as long as I

  

can remember. But, as I came of age, like any witch, my powers could no longer be ignored. Something inside pulled at me. It was then I realized it was always there. And with Julien's support, I let it flow, no longer afraid. Even though I am young in years, I feel older than my physical age.
Does your power scare you?
No. Not anymore. I never really embraced it before Julien came along but he made me see that it is a precious gift, my destiny. I am now able to embrace it, hone it and use it for good.
Seeing visions of evil warlocks or the future must be overwhelming. How do you handle the veil?
Mmm. Aside from the tenth power, the veil is my true calling—a gift I carry just as my father has. I can't begin to explain the horrors the veil shows me but, now that I know how to use it and assist those in trouble, I consider it a gift.
Did you ever think you'd have a "normal family" and live in a house that adores you?
No. I always thought it was just a dream. I remember when I first saw Beaumont Plantation. At the time, the run down, decrepit sugar plantation looked as hopeless as I felt. That house and I bonded. It was where I was meant to be. I feel it. It feels it. The house responds like a living, breathing entity. As far as normal? Well, we are as far from normal as you can get but we make it work.
Your husband is a traveler, warrior of witches, how do you handle his time away from you and the family?
I hate it but we find the balance. Julien has a very important role and one I think is as vital as mine. He is organizing the travelers, immobilizing the armies and offering benefits to those travelers who wish to continue the fight. Evil will never disappear but with the help of covens all over the world, we can try to contain it.
What is your vision for the future of the covens?
I want peace. I want witches everywhere to belong, not feel as outcasts. I want free will. I want witches to marry whomever they please and not be expected to conform to the old ways. Slowly, I am trying to bring the covens into the twenty-first century.
Is there anything that scares you?
I have many fears—for Julien, for my daughter. But the worst one involves the human population. There are too many humans who possess a supernatural power and haven't the first inclination how to use it. It can cause a human to turn, make a power grab sorta speak.
How many children do you want?
As many as I'm destined to have. Our next baby will be a boy.
When she smiled and placed her hand on her belly, I knew she was having another child sooner rather than later. I wanted her to stay. I wanted to ask her about the future of the covens, the warning that Natas, ruler of the underworld, will return and attempt to strike at the very heart of the covens. I wanted to ask her about the watchers. Were there more? As she stood to leave, my door slowly opened. Outside, spring was in full swing. Birds sang, squirrels played and flowers swayed as if they were laughing.
"Thank you Queen Giselle."
"No. Thank you, Cherrie."
"One more question?"
She stopped, turned to glance at me and nodded her head.
"What happens with Simon and Desiree? Does he find out her secret? Does she finally admit her love for him?"
She laughed, a sweet sound of amusement. "That's three questions. I will say this, go back to your writing Cherrie. It will all be there."
And then she was gone.
Without wasting a second, I rushed to my laptop, pulling up my manuscript. I read the new scene with bated breath. It was good. It was really good. And the answers were all there as if I'd written them myself.Thanks Queen Giselle.
ABOUT THE BOOK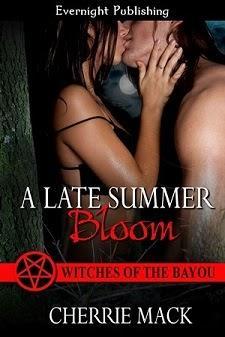 A Late Summer Bloom
Witches Of The Bayou,
Book 1
Cherrie Mack
Genre: Paranormal Romance
Publisher: Evernight Publishing
Date of Publication: 2/6/14
ISBN: 978-1-77130-720-8
ASIN: B0019LGJXE
Number of pages: 188
Word Count: 58k
Cover Artist: Sour Cherry Designs
Amazon
Book Description: 
A young witch, destined to be queen. A traveler destined to love her and an evil warlock desperate to claim her. 
When Julien Beaumont meets Giselle Jareau, the naïve, young witch is nothing more than a nuisance. A mere inconvenience. But the inkblot on his arm disagrees. As their relationship develops, his tattoo begins to fill in. Could it be fate or something more sinister? 
On an old, decrepit sugar plantation, in the heart of the Louisiana Bayou, the defender of the covens and the queen to the royals engage in a battle of wits. And as Giselle falls in love, Julien tries desperately to change the course of their destiny.
Excerpt:
Julien paced the length of the master suite. Ineffective in his plans to sway Giselle to trust him caused him much frustration. Maybe she doesn't like to be yelled at. Covering his eyes with the heels of his hands, he tried rubbing away the self-induced headache coming on. Out of options and close to giving up, he needed to clear his mind. What was it about her that had him on edge all the time? Julien had to clench his fists every minute he was around her to remind himself of the anger. Otherwise, he found himself wanting to kiss her, protect her. And each moment he spent with her, it was getting harder to control. He had to fight it. It could cost the covens the war. He had to stay on the straight and narrow yet—something was pulling at the corners of his mind.
Julien thrusthis balcony doors open and gust of cool air rushed inside the warm room. His eyes narrowed in disbelief as he stared out at the grounds of his estate.
Walking out onto the balcony for a good look, Julien couldn't believe his eyes. The alley of oaks danced gloriously in the wind, their branches no longer drooping toward earth, but standing tall, in salute. His eyes scanned the grass, noticing its deep green hue. Shoots of honeysuckle could be seen making their way up toward the sun. As if the flowers knew what he was thinking, a soft breeze carried with it their scent. A smile, true and confident, emerged on his face. It was her presence. It had to be.
As he took in the beauty of a long dead past, he caught a glimmer of the dark-haired beauty walking on the path to Chantilly's garden. Hmm. What's she up to? He went back inside and changed into jeans. He slipped a white cotton tee-shirt over his head and headed down the stairs. Looking around his once decaying home, he realized it had been rejuvenated. Julien ran his fingers over the railing, the wood felt smooth and rich. There were no holes in the walls, no peeling paint, no cobwebs. The silver shined so bright, he could see his own reflection. Two days later and it was good as new? It has to be her.
Outside, he took in his surroundings. Were his eyes deceiving him? Anxious now to see Giselle, he walked toward Chantilly's garden. Along the way, he heard her humming. It was a beautiful melody filled with warmth and joy. And it renewed his hope, for he now believed Giselle was indeed, the tenth power.
If only she believed it.
Standing in the gardens, he watched her lean over, inhaling the fragrance of each blossom. When she got close, the blooms stood taller, more vibrant in her presence. He couldn't help but smile at her innocence as it hit him square in the gut. She really doesn't see it. He watched her run afinger over an old wooden sign, its words unreadable.
Julien cleared his throat. "My sister's garden."
Her head snapped up, eyes wide. He jerked his chin toward the sign. "It's supposed to say, my sister's garden."
Giselle cast her eyes away. "I'm so sorry about Joyal."
Just hearing her name fired up his nerves, but he remained steady, discarding the unwelcome reminder. "No, I meant my sister, Chantilly. This garden was her gift to me."
She smiled and he realized it was the first time he saw her show happiness.
Beautiful.
She tucked her hair behind her ear. "It's enchanted."
He chuckled. "Yes, it is."
About the Author: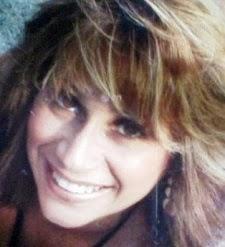 Cherrie Mack grew up in Flushing Queens NY, the youngest child of six. The city's diversity gave her a great appreciation for many different cultures and lifestyles. After love finally claimed the girl from the city and dragged her to the suburban madness of Long Island, she settled into a quiet life with her new husband. Two children and one mini-van later, the family found themselves moving towards the sunny skies of Florida where they currently reside. With her focus still very much on her family, Cherrie squeezes in time to write. The publication of her debut novel, Ache of Desire has given her the confidence to allow her to spend more time writing.

One year and four books later, Cherrie has continued to flourish. With multiple series in the works, there's no slowing down for this up and coming author.

A member of Romance Writers of America, Cherrie is slowly spreading her wings as a romance author. Look for her books at all digital bookstores such as Amazon, Barnes and Noble, Bookstrand, ITunes, Nook and many more.

Blog:

http://cherriemack.wordpress.com/

Website:

http://www.cherriemack.com

Author facebook page:

http://www.facebook.com/CherrieMack

Twitter:

https://twitter.com/CherrieMack

Tumblr:

http://www.cherriemack.tumblr.com

Goodreads:

https://www.goodreads.com/author/show/6649422.Cherrie_Mack

Tour Wide Giveaway

1 kindle with 6 inch display value $69- or equivalent Amazon Gift Card

3 ecopies ofA Late Summer Bloom 

 
a Rafflecopter giveaway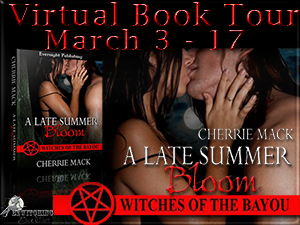 FOLLOW THE TOUR!