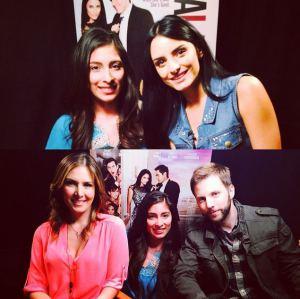 Eugenio Derbez's daughter Aislinn Derbez is the lead in the Mexican comedy A LA MALA.
When aspiring actress Maria Laura's best friend begs her to flirt with her boyfriend to test his fidelity, Maria finds a lucrative new career. After being hired by women across the city, Maria is given a gig that should be business as usual until she ends up falling head over heels for her latest mark.
The film also stars Mauricio Ochmann, Luis Arrieta and Aurora Papile.
During the making of this film, Aislinn Derbez and Mauricio Ochmann actually fell in love! She told me she and Mauricio kept it professional while shooting in Mexico, but their love grew more and more as their characters fell in love. She even said how Mauricio question her if she was actually falling in love with him, Mauricio Ochmann, and not his character in the film.
The film is such a funny and cute love story, but knowing the connection Aislinn and Mauricio built during the making of the film, makes it even better. Enjoy the interview!
A LA MALA opens February 27.