Along the Eastern shore of the Mediterranean lies the State of Israel, the world's only Jewish majority state. Israel has been the subject of much controversy over the years, as it is widely considered an enemy to many countries in the Middle East, in particular Palestine. Turmoil in the region tied to the Iraq war, Syrian terrorism and Egyptian uprisings, have left a cloud of insecurity, uncertainty and fear, deterring many from visiting the Middle East. While most of those concerns are warranted, Israel has been deemed a safe state, and welcomes tourists from all regions. It's a good thing, too, because Israel has a lot to offer. It is said to be one of the most advanced countries in the Middle East as far as economics, industrial development and finance. Not only is it a modern cultural hotspot, but Israel also boasts a number of archaeological and historical sites, unique geography and religious venues, not to mention a wealth of museums.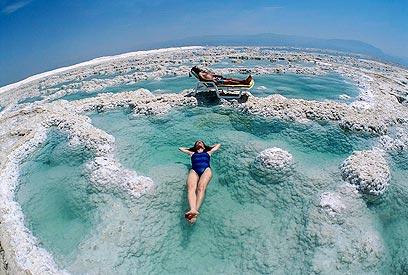 Dead Sea
One of the nation's treasures--and possibly one of the most popular attractions--is the Dead Sea, the lowest spot on earth (417 meters below sea level). It has the highest concentration of salt in the world, and this, as most people know, means you will have no trouble floating in the water. The western shore inside Isreal's borders has some organized beaches and bathing areas were tourists have access to the natural health spa. That's right, the salinity provides relief to ailing guests. The sea bed has deposits of black mud that is spread on the body and feeds nourishing minerals to skin. Surrounding the Dead Sea is a collection of hotels, hostels and houses, restaurants and shopping areas. There are also companies that offer activities like jeep and bike tours, camel tours and rappelling. The sea's edge is dotted with springs and abundant plant life, as well as a desert landscape that offers breathtaking scenery. Some important historical sites can also be found in this region, including the Massada Fortress, ancient Ein Gedi and the Qumran cave, where the Dead Sea Scrolls were dsicovered.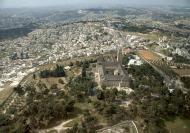 View from Mt. Zion
Jerusalem is the capital of Isreal, though it is often not recognized as such by most countries. It is considered to be one of the holiest cities in the world, built thousands of years ago as a hub for faith, religion and spirituality. The Old City is at the heart of Jerusalem, surrounded by a wall and divided into four quarters, Jewish, Armenian, Christian and Muslim. Important holy sites for the three major religions can be found inside: The Western Wall (for the Jews), the Church of the Holy Sepulcher, and the Dome of teh Rock on the Temple Mount. Apart from these, the Old City--and the rest of Jerusalem--holds thousands of other important religious sites, it's difficult to see them all, so grant yourself enough time.
Tel Aviv is the second largest city in Israel and is referred to as "the city that never stops." It is the economic and cultural center of the country, offering a lively, entertaining atmosphere with festivals and nightclubs that draw people out to the streets until the wee hours of the morning. Apart from an active nightlife, Tel Aviv features
dozens of daytime attractions, including 20 museums such as the Land of Israel Museum and the Tel Aviv Art Museum.
The city hosts the Israel Philharmonic Orchestra and the Israeli Opera Company,

and

most of the national dance and theater companies are situated in Tel Aviv.
Tel Aviv's has a wonderful shopping scene, too, with

bustling

street markets

and modern malls. Its markets are truly exquisite, displaying a variety of local fare that reflects the locals behind the whole operation. The best known open-air market is Carmel Market, located near the Neveh Zedek quarter, which offers a wide array of fresh produce and ingredients. It's perfect if you have a kitchen where you can prepare a nice meal. If not, it's also a great place to grab some picnic fixings or snacks to munch on as you tour the rest of the city. If you're looking to make a deal on your purchases, head over to Jaffa Flea Market, where bargaining is the name of the game. But be warned, vendors do this for a living, and they have this down to a science.
While you can see original crafts and pieces of art at markets, it's a bonus to see them actually being made in front of your eyes. For this special treat, venture over to Shuk Ha'aliyah, where craftspeople can be seen at work making metal pieces and furniture.
Tel Aviv
The beaches of Tel Aviv are some of the best in the world, and are a must see while visiting the city. The entire west side of the city is one long stretch of beach, and each is divided and named based on the hotel or street nearby. The beaches certainly add to Tel Aviv's party city image, but some are relatively quiet and pleasant for those who are looking to jus

t relax.
I guess it should be no surprise--especially considering its biblical ties--that Israel has an impressive collection of vineyards and a booming wine industry. The Bible includes dozens of verses referencing planting vineyards, producing wine and blessing the wonderful fruit of the vine. God be praised for wine! Unfortunately, I've never tasted any varieties from the region, but I'm certainly open to it. I mean, if it was good enough for Jesus and his disciples, it's good enough for me. Today, the vineyars supplying grapes for production are planted on sites from biblical and later periods. More than two hundred wineries currently operate in Israel, and wine tourism has become common, focusing on visiting wineries and surrounding areas. Many places have opened wine routes attracting tourists and wine lovers from all over the world. Some possible vineyards to check out include Zohar Winery, Bazelet Hagolan Winery, Stren Winery and Golan Heights Winery, to name a few.
While we're on the subject of wine, I should also mention Israel's thriving olive business. The image of the dove carrying an olive branch is an historical symbol in Jewish culture, and the olive tree plays an important role in Israel's culture. Olive oil is one of the most important agricultural elements for the country, used for food, light, heat, medical treatments and cleaning and hygiene. The olive harvest season is very important to the people of Israel. Olive festivals are held to mark the season, and families make trips to the groves to harvest olives and watch them being pressed. If you happen to be visiting during the season, you're in luck, because tourists are encouraged to take part in the events and participate in harvests.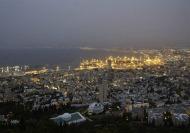 Haifa
Other than Jerusalem and Tel Aviv, there are plenty of other areas in Israel you should definitely try to check out. At the Southern tip of Israel sits Eilat, a resort town perfect for sea-sports enthusiasts. There, you can enjoy diving, water skiiing, boating, swimming, snorkeling and much more. This city is a perfect getaway, as the temperature stays warm year-round and it rarely rains. Haifa is the third largest city and is said to be one of the most beautiful. It has the country's largest port, an active beach and is surrounded by dozens of nature sites. The city is speckled with a variety of unique churches, adding to its brilliance. Different religions and faiths live in harmony in Haifa, making it an incredibly tolerant city. The Bahai Faith's World Center is located in Haifa. It is an expansive complex on the slope of Carmel, and its famous for its gardens, which include landscaped 'Hanging Gardens." Probably one of the best ways to experience the cities--if you're physically up to the challenge--is a "step tour." Four marked walking routes begin on Yefe Nof Street and proceed down the beach. There are also various nature routes descending the mountain along one of the many rivers of the region.
You should definitely try to check out the Sea of Galilee and a place called the Cove of the Sower, a stretch of undisturbed beach on the northern shore. This area was the site of many events of Jesus' Galilee ministry.
I feel like I could go on forever about everything Israel offers, because what I've written so far does not even begin to do it justice. The solution, I suppose, is to actually visit this magical place. And one day I will. (My parents are actually there as we speak...but unfortunately I could not tag along...I have a job, after all.) I'm sure they will come back with some incredible stories, pictures and memories--and gifts--which will only make me want to visit even more. One day, I'll make it there.