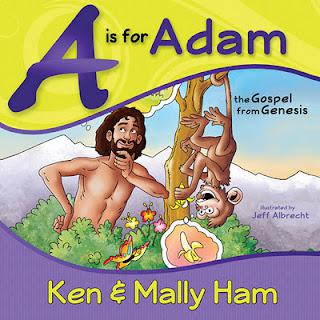 "A is for Adam;  God made him from dust.  He wasn't a monkey, he looked just like us.  Although some scientists don't think it was so, it was God who was there, and He ought to know."
A is for Adam is in a new format - a flip book with a stand!
While your child is looking at one side of the book, you can be reading:  The Letter of the Alphabet, Corresponding Rhyme, Bible Bits, Let's Talk, Always Remember, Visual Vocabulary, Stuff to Do and Quick Review on the opposite side.
We own the original version of A is for Adam.  I LOVE this new format.  Everything you need to present each letter (and plan corresponding discussion with activities) is right at your finger tips.  For a busy mom, this is WONDERFUL!
The picture page is large, colorful and eye catching.  The explanations and details are age appropriate and easy to understand.
After the initial alphabet pages are more detailed suggestions for each letter of the alphabet.  The Core Takeaway sections seem to be geared toward older children and parents to help cement the truth of a literal Biblical Creation.
Also included is the biblical model for marriage, holiness, armor of God, sin, Noah's Flood, and Jesus (Salvation).
Great for Sunday School or devotionals, this book will not only teach youngsters, but help parents and educators understand biblical truths as well.
I received a copy of this book free of charge in exchange for an honest review.This post written and property of Homeschool Circus and can be found at: www.upatdawnreadytowork.blogspot.com . If you are reading this from a source other than www.upatdawnreadytowork.blogspot.com you are reading a scraped copy!