Today it is very popular to have a Personal Trainer. The PT will help you to reach your fitness goals, help you push yourself a bit more. The PT also help you to set up the right training program, so it fits with your goals, and your current state. This is good for our physical body, but what do we have for our spiritual body. We are body, mind, spirit so we need to keep our self fit in every area.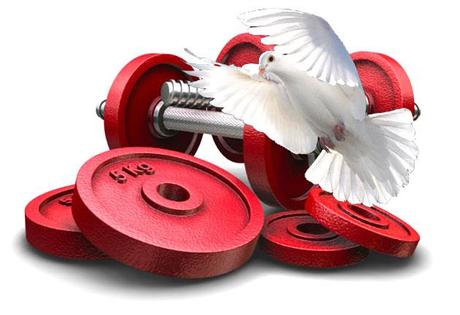 When it comes to a physical challenge I get my mind set up for it. I have run two Stockholm Marathons and the feeling of running on the city street is amazing but the best part is all the peoples shouting and cheering. That is what gets you to the finish line, to be so encourage by the cheering crowd. To be able to do the marathon I had to prepare my self by getting in to shape, that meant running at least 3 times a week for more then 6 months. For this training I didn't need a personal trainer, I know other people that had one. Sometimes we need a helper and sometimes we don't. But when it comes to our Godly life, I truly think we need one all the time.
To be "spiritly" fit takes more then just a bit of practice here and there. We as Christians have the perfect personal trainer. Firstly God him self has set up the target, our goal and aims for this life, it's all in the bible. Then Jesus came and actually showed us how to live a live full of abundance, like a personal trainer showing you how to do the exercise. But most importantly he paid and made it possible for anyone to sign up for a membership in Heaven, a membership that will last forever. When the personal trainer have shown you what do, he/she will stand beside you, pushing you cheering you, come on you can do it! And all this for you to reach your goal and to be physical fit. It is the same with our Heavenly Personal trainer: The Holy Spirit. He will help us, guide us, cheer on us and help you to keep going. We need him every day, in every situation, to listen to the Holy Spirit (HS) is one of the most important things we can do. Jesus called him the helper.
"But the Advocate, the Holy Spirit, whom the Father will send in my name, will teach you all things and will remind you of everything I have said to you." John 14:26
The Heavenly Personal Trainer will remind, help, guide and cheer on us to live the life Jesus have taught us to live.
"I have come that they may have life, and that they may have it more abundantly." Jon 10:10
Do you use your Heavenly Personal Trainer in your daily life? everyday? I just want to encourage you to use the best PT you can ever find by listen to him everyday, in every situation. The HS will help you reach your goals, live a life full of Love, Joy, adventure and abundance.
Live life!