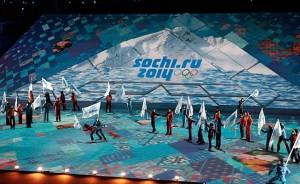 As you already know, the Winter Olympics are coming. Whether you're already in Russia or in the midst of packing for a trip to Sochi, it's good to be aware of the best ways to have a fun, safe, and healthy trip.
Considering there have already been reports that the accommodations in Sochi are already slacking (and literally lacking lights, heat, and even ceilings, in some cases), you'll want to be well prepared for anything and everything. So here's your healthy guide to the Sochi games:
Get Vaccinated: While it may be too late for those already in Sochi to make sure they're up-to-date on their vaccinations, those who are still home should make an appointment with their doctor immediately. When you do, consider also getting the 2013-2014 flu shot, as well as additional travel vaccines, such as hepatitis A.
Pack Smart: In addition to packing tons of warm clothing (temperatures can drop well below freezing this month in Russia, even in relatively temperate Sochi), throw in a few waterproof and windproof articles of clothing as well. And don't forget to bring a travel-sized health kit, filled with essentials such as band aids, flashlights (which you'll need if the lights in your hotel room aren't working), and any medication you take regularly or need during emergencies, such as an EpiPen. If you're already checking out the stadium in Sochi, visit a local convenience store to stock up on things you might need.
Get Travel Health Insurance: As they say, it's better to be safe than sorry. While you can potentially get hurt during any trip, the risks may be higher at an event of this magnitude. As a result, you'll want to know that you'll be well taken care of during a medical emergency. Travel health insurance can give you access to better healthcare and prevent you from having to shell out serious dough during a doctor visit. If anything, it'll at least give you peace of mind.
Follow basic healthy habits: While this advice may seem rather elementary, a surprising number of people still neglect these words of wisdom. To prevent the spreading of germs, be sure to wash your hands frequently and cough and sneeze into a tissue or your sleeve instead of your hand. Additionally, be sure to wear a seatbelt when traveling, drink alcohol in moderation and practice safe sex.
Healthy Eating: While you may be forced to grab a quick bite to eat or snack in-between games, try avoiding anything fried or greasy. Stick to whole foods, fruits and vegetables, or freshly made meal options. If you can, either bring or purchase healthy snacks such as baby carrots, apples (which you can slice up), granola bars, dried fruits or nuts. Or go with the local classic dishes such as borscht (beet soup)—but be sure to avoid the pastries (or at least tread lightly)! And if you want to try shashlyk (Russian shish kebab), make sure you skip over the fat.
Stay Hydrated: Drink plenty of water during your trip to keep you well hydrated (an essential for good health) and help prevent digestion problems. Drinking water during your meal will also help you avoid overeating as well, so you're killing two birds with one stone.
Stay Alert: Seeing as there will be millions of people all over Sochi during the Winter Olympics, it's important that you remain as alert as possible, especially when in crowded areas. Be aware of all emergency exits and avoid any rowdy gatherings of people, such as protests. Always travel with at least one other person and have designated meeting areas in case you get separated.
Exercise: It's going to be impossible to watch the top athletes in the world compete in the Olympics and guiltlessly skip out on your workout routine. Make sure you hit the hotel gym or at least do some ab crunches or yoga in your hotel room.
Photo from Sports Illustrated.