GUEST POST
Author Donise Sheppard for her story "Coal Run Road" in "A Haunting of Words"
If you were stranded on an island name 10 people you would want with you.
If I was stranded on an island, the ten people I would want with me are my husband and four children because I can't see myself without them, my two favorite writers: Jodi Picoult and Justin Ames so they can write me stories and I'll never run out of things to read, P!NK and Adele so we have my favorite music, and Les Stroud so he can show us how to survive and get off that island. 
Author Bio
Donise Sheppard is a fiction writer born in Ohio, but residing in Southern West Virginia with her husband and four children. She has five self-published novels on Amazon including The Altered series, a short story published in A Haunting of Words titled "Coal Run Road", and a short story published in Tuck Magazine titled "Walk Tall". When she isn't writing, she's reading, baking, or chasing her rambunctious children. Follow her on twitter @donise_sheppard, 
facebook.com/authordonisesheppard
, or 
amazon.com/author/donisesheppard
Blurb for "Coal Run Road"
Jennifer's in love with her family's new house. Her youngest daughter copes with the move by making an imaginary friend. When objects start moving on their own, Jennifer begins to wonder if the bargain house has a secret. There's a perfume stench in the bathroom that won't go away, and Jennifer sees wisps of blonde hair when nobody is around. Maybe the drawings behind the wallpaper in the bedroom are just a sick joke from a previous owner, but what if they aren't? 
ABOUT THE BOOK
A Haunting of Words Anthology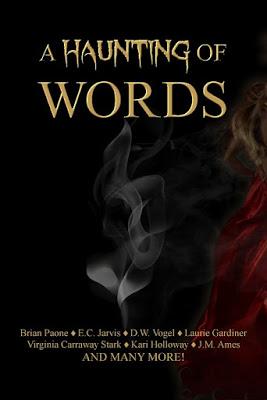 GENRE

: Drama/Horror




BLURB:




From Scout Media comes A Haunting of Words—the third volume in an ongoing short story anthology series featuring authors from all over the world.




In this installation, the reader will experience a multi-genre journey beyond traditional haunts; from comedy, to drama, fantasy, romance, and horror, these stories put eclectic spins on the every-day ghost tale. Whether you are running from the ghost of a vengeful mother, falling in love with an apparition, touring with a deceased famous musician, saving a newborn from a possessed crib, or having a specter cat as a sidekick, these stories of hauntings and apparitions will warm your heart, send shivers down your spine, and tickle your funny bone.




Whether to be enlightened, entertained, or momentarily caught up in another world, these selections convey the true spirit of the short story.




Amazon:  https://zurl.co/Kzj3p




GIVEAWAY




The authors will be awarding a $10 Amazon or B/N GC to a randomly drawn winner via rafflecopter during the tour.


a Rafflecopter giveaway