While visiting my parents this summer I came across a collection of letters my Aunt Sarah (actually, my father's aunt) wrote to various members of her family during her first trip to Europe in 1931.  I was struck by several things:                                1) Letters home were the travel blogs of their time.                               2) Aunt Sarah and I have a lot in common. I wonder if there's a travel gene?                               3) Some things never change.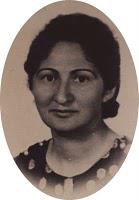 Here's an example of Sarah's travel blogging on Capri:
In the morning we had an old man row us to the Blue Grotto. The row itself was along the shore of the island with the majestic mountains on the island towering away above us. In the distance is Vesuvius, always present and awful in its grandeur. The sea is quite calm and stretching in all directions with a glaring sun overhead.  And then we come to the grotto itself, a cave into which we glide seated in the bottom of the boat lest we scrape our heads on the rocks above, and then we are within fantastic darkness all around until our eyes become accustomed to the cavern, and then we behold the sea around us, not blue as the sky but a much deeper blue, clear and crystal, sparkling all around.  The irregular roof of the grotto is also a blue, but a mixture of different hues and vivid. Our boatman goes into different niches, splashing his oars to demonstrate the limpid quality of the water, while I put my hand in the water and see it reflected, that is refracted, as clearly as though through a mirror.  Such a sensational emotion overpowers me and I feel like Alice in Wonderland. 


Sarah and I are a lot alike.  In addition to being solo women travelers (her traveling companion abandoned her early on during this trip, but Sarah continued on alone), we both studied

law, and we both love music.  We also have high standards.  Here's Sarah on a performance of Parsifal at the Paris Opera:


The performance was very mediocre; two good singers and all the rest third-rate.  But the ornate Opera building all lit up inside with its brilliant promenade is worth seeing. I don't suppose you can be in Paris without going to the opera.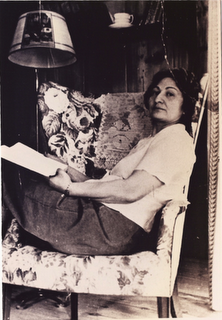 We also share political views (to some extent, although my Dad tells me she was a card-carrying Communist, which I am not).  I am certainly in accord with the following sentiment she expressed:


I had a good cry at the grave of the Unknown Soldier.  It is directly under the Arc de Triomphe on the Champs Elysees. There is an ever-burning flame there and wreaths upon wreaths. All organizations that come here make a ceremony of putting flowers on the grave.  They ought to put bullets into the heads of those who plan war instead!
And like me, Sarah believed that speaking the local language was essential to the most rewarding travel experience:
I wish you could hear me talk Italian.  My pronunciation is abominable and I mix it with French, Spanish and mostly Latin but I get understood.  It is such a thrill to feel that you are not like all other Americans who speak English only. It adds prestige to your education in their eyes if you are not so narrow as to confine yourself to your own tongue. I wish you could see how the guards in the various museums put themselves out to make sure I see everything worth seeing, and they refuse tips for it.


Amen sister!  I mean Auntie!




One of the things that hasn't changed is the way woman are made to feel when they visit Italy.  I remember my first trip to Italy, at nineteen.  Me wouldn't leave me alone.  As it turns out, Sarah at age thirty-three had the same experience:


I am convinced I must be good-looking.  You'd be convinced too if every man who speaks to you admires you as such a "bella signorina".  No use, it must be so.  Too bad there are no Jewish eligible young men around who think so (I can hear you all echoing that, but I'm resigned to my old maidenhood!)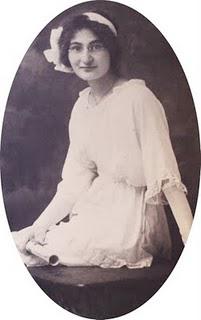 Like me, Sarah never married.  She continued to enjoy music and travel until her death in 1983.

Aunt Sarah was fifty years old when I was born.  When I was fifty my youngest niece, Zoe, was born.  As I write this I'm imagining a middle-aged Zoe stumbling across her Aunt Ellen's blog.  And, on the theory that there is a "travel gene", I'm wondering what country she'll be in when she reads it.