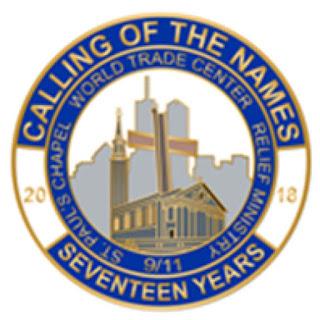 Today is the 17th anniversary of the worst day in American history, when 3,000 beautiful souls were taken from us in the worst terrorist attack ever on American soil. I will be at the remembrance ceremony at the 9/11 Memorial for the 17th straight year. And this year I have been awarded the great honor of reading names of those 9/11 First Responders who have lost their lives since the 9/11 attacks.
This will not be at the public reading of the names which is done every year (only blood relatives of the 9/11 victims are allowed to do that). This is at a ceremony (called "Calling of the Names") at St. Paul's Chapel at 3 PM (which is open to the public). There will be a remembrance there for the victims, and then those First Responders who have died since 9/11 will have their names read by many people in the 9/11 community. My friend Eileen has been a reader for many years, but this year she could not make it to New York because of ill health. So she was kind enough to ask me to substitute for her. I am deeply honored to do so, and will read the names of 15 heroes who gave their lives to our country.
I will mention before I start reading that I will read the names in memory of my dear friend Joyce Carpeneto. And as those of you who follow my blog know, I remember Joyce here on every year on September 11th. For those of you who would like to check out my previous posts that go back to 2006, just follow these links:
2006: Forever Missed. And Forever Loved.
2007: Never Forget. Ever.
2008: We Can Be The Ones Who Remember
2009: The Most Sacred Of All Days
2010: 3000
2011: Ten Years After
2012: 11 Years
2013: No Other Place In The World I Could Be Today
2014: Always And Forever Family
2015: I'm The Lucky One
2016: Joyce and Alice
2017: Tower Records Forever
Please do check out Joyce's memorial page at The 9/11 Living Memorial set up by The Voices of September 11th. It's a truly beautiful remembrance of Joyce's life in pictures and many other things.
I am so deeply grateful to all of you who read my blog from time to time, and for all the good wishes that are sent to me this time of year. But I am most grateful to have had a lovely young woman named Joyce Ann Carpeneto be a part of my life. I miss her every day, and pray she has found peace.