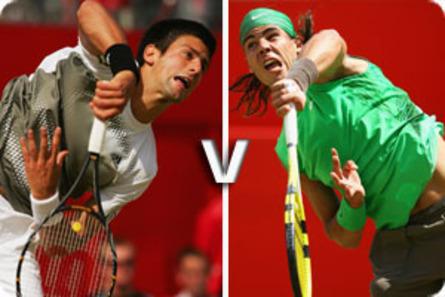 Djokovic beats Nadal 6-2 6-3 6-7 6-1
So the US Open final has come to it's conclusion, and as expected, Djokovic has defeated Nadal once again. It was an amazing final, certainly on a par with last year's, but in many ways was very different, not just in the result, but in the way in which it was played.
The match started at a ridiculously high level. The first game was the most intense first game I've ever seen in a game of tennis. There was no danger of the players needing a few games to find their ranges as they exchanged brutal groundstrokes and covered the court in a way in which only they are able. Nadal had a slightly stronger start, taking advantage of the fact that Djokovic wasn't quite feeling the ball, and so making a few unforced errors. However Djokovic rallied (lol), and having gone 2-0 down, he reeled off the next six games to take the set. The second set played out in a similar fashion, with Nadal going 2-0 up, however Djokovic broke back to level it up in what was one of the most exciting games I've ever seen. Nadal was serving for 20 minutes, and managed to save five break points before succumbing to the world number 1. From that point, Djokovic again dominated, taking the set 6-4.
It was Djokovic who made the better start to the third set. He broke early, however Nadal broke straight back to make it 2-2, and this is where the momentum, and the style of the match shifted. It became a slugfest. Now whilst I appreciate the skill it takes to keep your opponent off balance with kicking topspin and tight angles and cutting slice, for me there's nothing better than two players slapping the ball as hard as they can until someone gives in. And with the hands and the speed that these two players possess, it can take a while for someone to give in. One point stands out, a 31 shot rally with Djokovic at his attacking best, and Nadal at his defensive best, eventually won by the Serb with a backhand down the line. It's a point I'll probably wank over for a while. Nonetheless, Nadal kept up his form, and took the set on a tie-break. Before the fourth set, Djokovic took a medical timeout to get treatment on his back. At this point, he was being written off by pundits who claimed that the longer the match went on, the more likely Nadal was to triumph. But the opposite happened. Djokovic, perhaps through necessity, was the one who cam out swinging, while Nadal resorted to his passive brand of tennis. This allowed him to race through the set, and claim his first US Open.
So why was this final so different from last years? To put it simply, Djokovic is a man on the way up, and Nadal, while not on the way down, is having a crisis of confidence, but only when it comes to playing the Serb. I would say that the US Open final last year was a match of the same quality as this one. It was the first instance of Djokovic playing at the level he is at now, and I don't think that his game has moved on much since then, apart from slightly better movement. However, what is clear is that Djokovic is under Nadal's skin.
The dynamics of the 'trivalry' at the top of men's tennis are quite interesting. While Nadal has no problem dispensing with Federer, Djokovic does. Federer is the only man to have really defeated the Serb this year, and their US Open semi final really could have gone either way. So why is it that Nadal has so much trouble with Djokovic when he pretty much steamrolls Federer when they play. Maybe it's down to the way they all match up. It's true that Nadal's kicking forehand is a nightmare for Federer's single handed backhand. And indeed, Djokovic seems to have a harder time reading Federer's game.
As for the rivalry between Nadal and Djokovic, it's dynamic is obviously one which has changed a huge amount this year. Djokovic has always had the game to take on Nadal, and all that has changed is his movement and fitness. Whereas Nadal used to be able to dominate points against Djokovic, the Serb is now able to defend better, and turn defence into attack. He can rally with Nadal, and having weathered Nadal's storm of groundstrokes, Djokovic can get back into the rally and go for the killer shot (normally a backhand down the line), safe in the knowledge that Nadal will be out of position and too worn down to get to it. This is what Nadal found in their first meeting of the year in Indian Wells, and again in Miami. Djokovic then did the impossible, and beat Nadal on clay, twice, and was then absolutely dominant in the Wimbledon final.
Unsurprisingly, these five defeats affected Nadal. The fact that they all came in finals made the losses all the more painful. Djokovic is well and truly under his skin, in the same way Nadal is under Federer's. Never did you see Nadal getting frustrated in the same way he has against Djokovic this year. This is because the Spaniard is not used to people being able to rally with him, and outlast him. This means that he has had to find a different way of playing. In the semi against Murray, we saw Nadal hitting ridiculous forehands on the run. He was happy to go for these, as he was confident that Murray wouldn't get them back, so it was fine for Nadal to be completely out of position. However, against Djokovic, he has been burned on so many occasions employing this tactic. On top of this, the fact that the Serb is so strong on both wings going down the line or crosscourt means that Nadal is more reluctant to guess which way to go. This self doubt means that he is so often off balance in a way which simply doesn't happen against other opponents. Djokovic hits so many winners which Nadal doesn't even run for because he's been caught in two minds. This is also the reason why the Serb has had success with the drop shot in a way which Federer and Murray never have.
Before the final, Nadal talked about how he had watched all his matches against Nadal. He is obviously looking for a new way to take on this challenge. When he came out, aside from the brutal hitting, Nadal was using more slice than I've ever seen from him. He was trying to mix things up, but with little success. But what did work? Resorting to brute force. Plan B has been failing all year, so Nadal went back to the way in which he beat Djokovic in the 2010 final, and with much more success during that third set. However, perhaps because of the number of times he has lost this year, he was unable to maintain this play, which he manages against every other player on tour.
Nadal will have to do some thinking in the off-season. He has the game to beat Djokovic, but I think the unfamiliar feeling of losing a few matches has caused a snowball effect, leading to the current situation where he has no faith in his game against Djokovic.
It was a brilliant final with ups and downs from both players, and some of the higher quality tennis that has ever been witnessed. In fact, the only negative was the New York crowd, who refused to be quiet when the players set up to serve, and insisted on going mental every time the ball went near a line. Nonetheless, it was very enjoyable, and was won by a deserving champion.