TAKEAWAY: Take a look at this front page of today's Il Secolo XIX, of Genoa, Italy.  The use of this lead mini poster allows the editors to display two important stories of the day, without the old dilemma: which one goes higher than the other?  We share the page and our comments with you.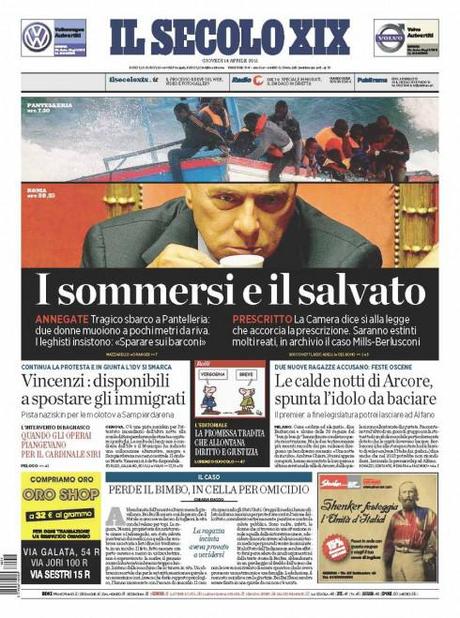 From time to time we discuss our dislike of using the term "the newspaper of the future" or even more the "the modern newspaper of today".
And, although the page one from Il Secolo XIX that appears here does not pretend to be either, I must admit that when I received the pdf this morning from Il Secolo's design director, Massimo Gentile, my initial reaction (over my first cup of coffee here at home in Tampa) was: indeed, here we have a front page that abandons traditions—-one story here, one story there——and uses storytelling as the glue that holds the package together into a six column mini poster.
Here is what the stories are about, in the words of Massimo:
"Here in Italy we had two major events happening that we had to cover: the death by drowning of two illegal immigrants following the capsizing of the boat that was bringing them into Italy.  At the same time, Parliament approves a law drastically shortening the jail time for many crimes, this at a time when our own Prime Minister, Silvio Berlusconi, is being tried for alleged sexual misconduct with a minor.  As you can see, here we have a country with a big economic crisis taking place, then a social crisis with hundreds of immigrants arriving at our ports from Africa, but Parliament, once more, seems more preoccupied with saving the Prime Minister first…."
The headline: The drowned and the saved
Massimo adds that editors are beginning to realize that the "mini posters" that we created when working together on the last redesign of Il Secolo XIX earlier this year, are more than just a design strategy.  "They truly allows us to experiment with storytelling in a different one, to create very modern looking and vibrant page ones."
Indeed, and I see also how the concept I have embraced and used as the foundation of all my work for over 25 years, what I call, WED (Writing-Editing-Design) is the basis of how these stories and visuals——great photo use here, by the way—-come together to create one of those 10-second visual moments that tell the stories at a glance.
More on Il Secolo XIX and how we created those mini posters for page one:
TheMarioBlog post #751