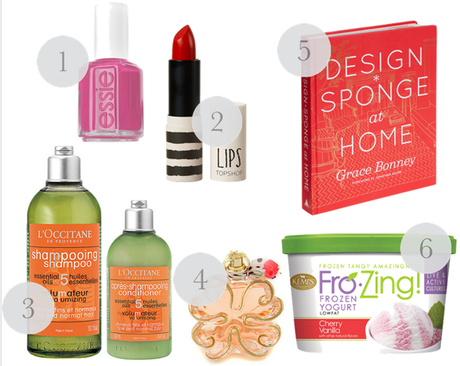 We started this past weekend off with our Farewell Minneapolis party and ended it with my husband departing for Wisconsin. It was busy, but I somehow managed to fall in love with several things in my spare time, so I thought I'd share them with you.
Early last week I attended a fabulous event hosted by Beauty Bets during which a bunch of us ladies swapped some really great beauty products. The first four current obsessions are from the party…
1. Essie Polish in Mod Squad ($8.00): I grabbed it because the color struck me as a perfect honeymoon shade of pink, but now that its on my nails, I've noticed it is also a perfect fall shade of pink. Not too bright, kind of magenta-ish, and covers perfectly with one coat.
2. Top Shop Lip Color in Rio Rio ($16.00): I've been looking for that shade of red that's not too shiny, yet not entirely matte. This shade from TopShop is just perfectly in the middle.
3. L'Occitane Shampoo & Conditioner ($18.00 each): I'm a Wen girl when it comes to shampoo'ing. But occasionally (like after your hair gets doused with hairspray for your sister's wedding) you need to get serious with some deep cleansing. This shampoo and conditioner for L'Occitane is amazing, and the scent is to die for.
4. Si Lolita by Lolita Lempicka ($88.00): This perfume is the perfect combination of floral and citrus. Smells light, refreshing and happy. 
5. Design*Sponge at Home by Grace Bonney ($35.00): I got this book in the mail on Saturday and cannot get enough of it! If you are interested in interior design (and, hahem, particularly budget-friendly interior design) then I certainly hope you have been introduced to Design*Sponge, an amazing blog by Grace Bonney. The blog is an amazing resource for those aspiring to do-it-themselves (or inspire themselves) but her book is an amazing piece to add to your collection. It is page after page of amazing inspiration.
6. Kemps Frozing Cherry & Vanilla Frozen Yogurt ($5.50):  So, I'm officially a bachelorette. At least for the next few weeks. So, that means I have a tub of frozen yogurt and I am not afraid to use it. My current favorite is this cherry & vanilla concoction from Kemps…I mean just look at those nutrition facts. Don't mind if I do.