What every team needs is a few (actually a lot of) Cardinals.  As in St. Louis Cardinals.  I had a chance to watch a few Cardinals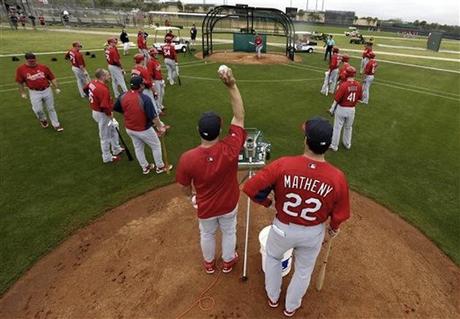 The Cardinal way is the right way
games over the past week and to say the least, they are a pleasure to watch.  They move runners over.  They put the ball in play.  They bunt.  They hit and run.  They steal. Pitchers throw strikes.  Basically, they play the game like any baseball fan wants a team to play.  
The sad thing is that this type of play has become so rare at the big league level.  My hometown Phillies are a great example.  The Phillies are about as exciting as watching paint dry.  They play like a team who leads the league in home runs which is fine if you have a team that hits home runs.  They do not.
Over the course of two Cardinals games I saw the following:
Yadier Molina (batting over .330 by the way) tried to hit the ball to the right side his entire at-bat with a runner on second base and no outs.  He succeeded.  The following batter just needed a ground ball to get the runner home with the infield back.  He did it.

Two successful base hit bunts.  One down third and the other was a push bunt to the first base side.  Both hits.

With a huge hole on the right side due to a runner being held on by the first baseman, a Cardinal hitter inside-outed an inside pitch and purposely hit the hole for a base hit.  The runner hustled and went first to third.  He later scored on a successful sac-fly.
There were others too.  When asked why they play like that, Cardinals manager Mike Matheny basically said "there are some days you get big three run homers and somedays you have to work to get one run at a time."  Gee, ya think?   It's a shame that other organizations do not have that same basic common sense drilled into their coaches and players at every level.
It's also a shame I don't live near the St. Louis so my son and I can watch some consistently good baseball for a change.