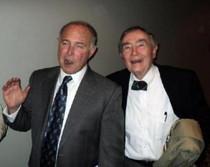 Judge William M. Acker Jr. (right)
New evidence shows that U.S. District Judge William M. Acker Jr. acted way outside the law in his handling of my employment lawsuit against the University of Alabama at Birmingham (UAB). The evidence this time comes from one of Acker's colleagues on the federal bench in the Northern District of Alabama.
This revelation raises disturbing questions about Acker's competence, integrity, and fitness as a federal judge. But perhaps more importantly, it shows the wild disparity in the way similar cases are handled, based simply on the supposedly random selection of a judge. We learn that "justice" in America can come down to a crap shoot that might be fitting for the "Wild, Wild West"--if you get one judge, you have a decent shot at receiving lawful treatment; if you draw another judge, you have no chance.
Acker's actions in my case against UAB--granting summary judgment to the university and individual defendants
even though no discovery had been conducted
--were so outrageous that we don't need additional evidence to prove that the 85-year-old Reagan appointee is a corrupt hack. In fact, we've shown that
Acker almost had to have engaged in a criminal conspiracy
that likely involved certain members of the Birmingham legal community and several UAB officials. (Acker's bogus ruling on summary judgment can be viewed at the end of this post.)
While anyone with a few weeks of law school (or the ability to read my posts on the subject) should clearly see that Acker acted corruptly in my case, it's nice to receive confirmation from one of the judge's judicial brethren.
The latest evidence comes in the form of a memorandum opinion by U.S. District Judge Lynwood Smith Jr., in a case styled
April D. Chandler v. Volunteers of America, North Alabama Inc. (Civil Action No. 10-S-2961-NW)
.
How similar are the two cases? Smith, like Acker, serves on the federal bench in the Northern District of Alabama. April Chandler, like yours truly, brought various discrimination claims against her former employer.
Some might question my objectivity on this, but I dare say my case against UAB was much stronger than the one April Chandler has against Volunteers. For one, my case included alleged Constitutional violations. And my First Amendment claim was supported by tape-recorded evidence showing that a UAB human-resources official admitted I was targeted because of my reporting on this blog about the political prosecution of former Alabama Governor Don Siegelman.
That is not to discount the serious nature of Ms. Chandler's claims. The evidentiary record in her case points to the likelihood that she experienced racial discrimination. But here is perhaps the key difference in these two cases: Ms. Chandler, in fact, had an evidentiary record in her case; there essentially was none in mine, other than a few affidavits that individual UAB defendants filed--and I was not allowed to challenge.
Let's consider a brief scorecard of how these two similar cases were handled on critical issues:
I. Discovery 
Chandler case--Extensive discovery was conducted. Judge Smith's memorandum opinion includes 251 footnotes, many of them references to affidavits and depositions submitted by the party opposing summary judgment, which was Plaintiff Chandler. 
Shuler case--No discovery was conducted. The party opposing summary judgment, me, was not allowed to gather any evidence, even though I notified the court in multiple documents that no discovery had been conducted. In fact, the case docket shows no discovery meeting even was scheduled. Judge Acker's memorandum opinion includes no footnotes because there was no evidentiary record. 
II. Outcome on Summary Judgment 
Chandler case--Judge Smith had harsh criticism for Chandler's attorney, who apparently has brought a number of discrimination claims against Volunteer. Smith said the lawyer's briefs and evidentiary material were sketchy and disorganized. Smith granted summary judgment and dismissed Chandler's claims for hostile work environment and retaliation, but he allowed certain aspects of her disparate-treatment claim to go forward. That means Chandler has a chance to receive some measure of justice, likely in the form of a settlement before the case reaches a jury verdict. 
Shuler case--Before rendering his finding on summary judgment, Acker actually praised my work as a pro se litigant, stating that my briefs and other documents were better than those he receives from many lawyers. But Acker ignored my multiple motions requesting that discovery be scheduled and conducted, dismissing all of my claims without giving me an opportunity to gather any evidence. The end result? He allowed UAB to get away with misconduct that even one of the university's own HR officials admitted took place.
How off target was Acker? Well, let's consider the following words from Judge Smith in the April Chandler case. It comes under the heading "Motion for Summary Judgment: Legal Standards":
Federal Rule of Civil Procedure 56 provides that summary judgment "should be rendered if the pleadings, the discovery and disclosure materials on file, and any affidavits show that there is no genuine issue as to any material fact and that the movant is entitled to judgment as a matter of law." Fed. R. Civ. P. 56(c).
So we learn from Smith that discovery is an essential part of the summary judgment process. But he doesn't stop there:
In other words, summary judgment is proper "after adequate time for discovery and upon motion, against a party who fails to make a showing sufficient to establish the existence of an element essential to that party's case, and on which that party will bear the burden of proof at trial." Celotex Corp. v. Catrett, 477 U.S. 317, 322 (1986)
Here we learn that summary judgment is proper only "after adequate time for discovery." And Judge Smith cites
Celotex,
a well-known U.S. Supreme Court case from 1986.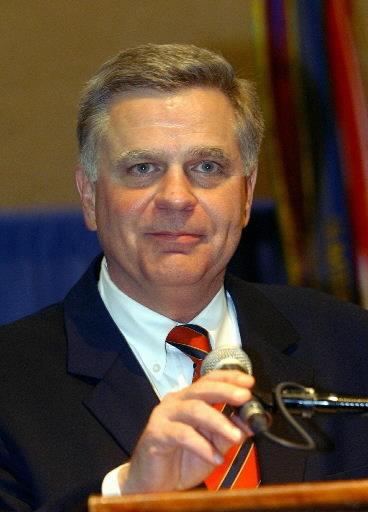 Judge Lynwood Smith
Last time I checked, U.S. Supreme Court rulings are supposed to apply in the Northern District of Alabama. But you would never know that from Judge Acker's handling of my case against UAB. Not only did I not have "adequate time for discovery," I had no time for discovery.
I applaud April Chandler for getting over the summary-judgment hurdle and moving toward a shot at justice; I intend to keep up with her case. But here are questions that any American with a functioning conscience should ask upon learning how these two cases were handled:
"What kind of justice system do we have if the outcome of court cases can vary wildly depending on luck of the draw regarding a judge? What do the 14th Amendment guarantees of 'due process' and 'equal protection' mean if we do not have judge who are able and willing to enforce them? How much damage do corrupt charlatans, such as William M. Acker Jr., inflict upon the very foundation of our democracy?
Here is perhaps the most important question of all;
"How long are we going to quietly allow such gross injustice in the federal courts that all taxpayers fund?"
(
Note to readers:
Following is Judge William M. Acker's memorandum opinion, granting summary judgment in my lawsuit against UAB. I've been operating for months under the notion that I had scanned this document and run it multiple times on
Legal Schnauzer
. After all, I've referenced Acker's erroneous ruling on summary judgment in more than a dozen posts. But I recently discovered that I've never run his actual opinion, and that was an oversight on my part. I've run numerous documents leading up to the summary-judgment ruling and a number of documents that came after, including appellate documents. But this is the first time Acker's actual opinion has appeared, and that's because I have it only in hard-copy form, and I just now realized that I have never scanned it for publication on the blog. My apologies for the omission of this critical document in my personal legal journey. But now, better late than never, here is your opportunity to peruse perhaps one of the most outlandish documents in the history of American jurisprudence. I will examine its many absurdities in upcoming posts, but I invite readers to take their own close-up looks at the kind of "reasoning" and "logic" that your tax dollars support.)
UAB-Acker Summary Judgment