I rarely write about guys' style, which is strange considering my deep appreciation for the J.Crew men's department. But with most college spring breaks starting today, I know American men (most of whom are deathly allergic to department stores) could use a little help.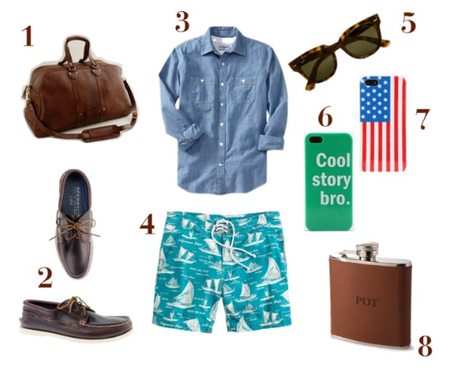 1.   J.Crew Montague Leather Weekender

, $475

2.

  

Sperry Top-Sider for J.Crew Authentic Boat Shoes, $118

3.

  

Old Navy Light Chambray Shirt, $29.94

4.

  

J.Crew Nautical Print Board Shorts, $69.50

5.

  

Ray-Ban Meteor Shades, $145

6.

  

Urban Outfitters iPhone 5 Case, $16

7.

  

Urban Outfitters iPhone 5 Case, $16

8.

  

Frontgate Leather Flask, $29.50


So ladies, turn the computer screen to face your man because this one's for him. Men and

women tend to pack very differently. When I was brainstorming this post, I asked my brother what his suggestions were for a guy's spring break essentials. His response? "Uhhhhh, a shirt and shorts?" I rest my case. Gentlemen, rest assured there's hardly anything sexier than a well-dressed man. Read: Chuck Bass in any given situation.


I think I speak for most of the female population when I say, please leave at home your neon frat tanks, man jewelry of any kind, Toms and swim trunks that are too short to leave anything to the imagination.




Instead, pack a classic and versatile piece like a

chambray shirt

that can be worn to the beach during the day or dressed up for cocktails at night.




Now, now, we aren't saying we want you to become

Schmidt from New Girl

and spend more time getting ready in the morning than we do. But there's something to be said for a man who appreciates the very basic elements of style. We're not asking too much of you, promise!




Have a fun and safe spring break everyone!