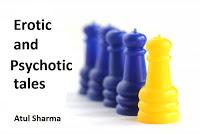 Though he would have never even cast a look at these slums girls, who he considered filthy full of disease but today he was a slave to his carnal desires.
He hugged her tightly. The girl too reciprocated with the same strength, securing her arms around the doc.
He lay his lips on hers feeling his breath intensifying. He pushed her against the wall. He kissed her violently all over, squeezed breasts and she opened his zip and allowed her hands to curl around his erect lion. This produced a shocking experience for the doc as suddenly a warm liquid oozed out. The doc was spent. He felt tired in his knees. And his craving to kiss and copulate came to an unexpected sudden halt.
His face fell on her neck and he was feeling ashamed.
It may seem hilarious to us. But the doc felt like a loser, a real jerk.
The girl gave a mocking laugh as she pulled her hand out from the doc's jeans.
The girl gave the doc a little push and slipped from his grip. The doc was still standing facing the wall.
(Excerpt from the short story A Doc's Examination f

rom e-book

"Erotic and Psychotic tales"

)