After spending two days with my parents walking around the Piazza Barberini area I decided to venture further and take a long walk to Trastevere.  It was made even longer by my lack of  directional skills, but I wasn't on a timetable so it didn't matter that I walked in circles once or twice.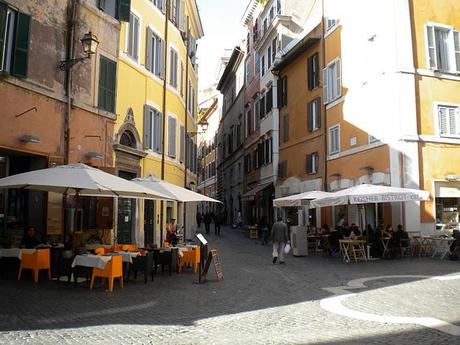 Kosher restaurants in Rome's Jewish ghetto.
On my way to Trastevere I found myself in the Jewish Ghetto.  It's a very busy neighborhood, and he restaurants looked nice, but I figured my chances of finding prosciutto there were slim. So I continued walking.
To get to Trastevere you of course have to cross the Tiber, which provides a nice photo op: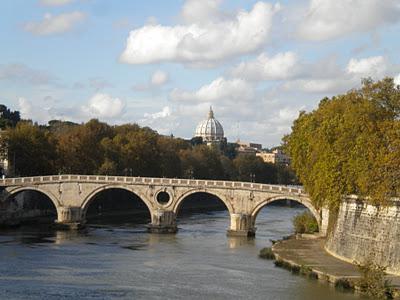 View from a Trastevere bridge, with St. Peter's in the distance.
People often compare Trastevere to Greenwich Village in New York, and I can see why.
Like the Village, Trastevere was once the home of the "starving artist", and like the Village it's now gentrified into a very upscale area.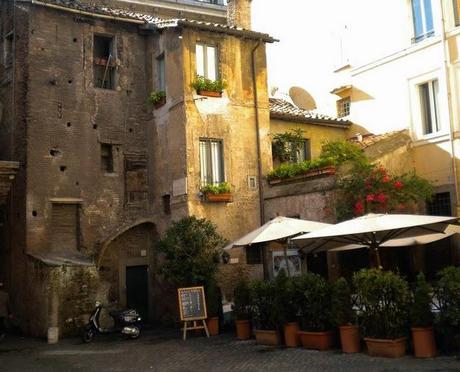 A courtyard restaurant in Trastevere
The neighborhood is full of narrow cobblestone streets and many charming restaurants and trattorias. Some eateries in the area offer tourist menus, but one offered the following sign: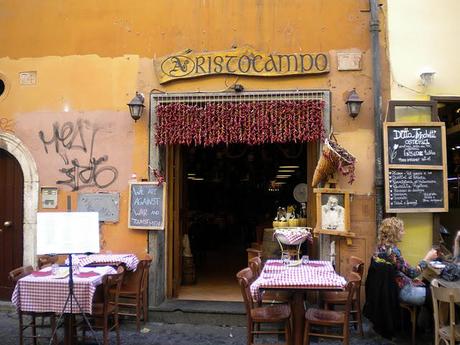 The blackboard on the right has the menu; the one on the lefts says "We are against war and tourist menu".
 At the end of  restaurant row I arrived at the main architectural attraction:  Santa Maria in Trastevere.  It's one of the oldest churches in Rome (dating from 340), and possibly the first church dedicated to Mary.   After visiting so many Baroque churches while wandering aimlessly (they're as prevalent here as Starbucks in New York), it was refreshing to visit a Romanesque construction, with its grandeur in its simplicity.  Santa Maria in Trastevere also has  thirteenth century mosaics in its nave, which I found far more beautiful and impressive than all the Baroque bric-a-brac I saw elsewhere.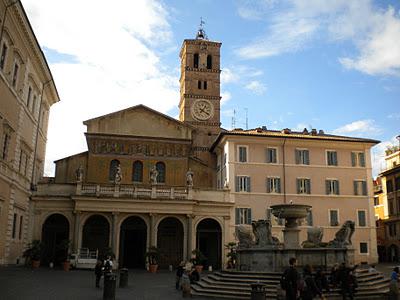 Santa Maria in Trastevere
The weather seemed to change instantaneously in Rome. One minute it was sunny and warm, and then it clouded over and the temperature dropped dramatically.  I had just left Santa Maria in Trastevere when the dark clouds turned to rain, so I decided it was time for lunch.  I stopped at the closest pizzeria and had a Margarita Special (with fresh raw mozzerella  on top), a Pellegrino and an espresso macchiato which came with two big cookies!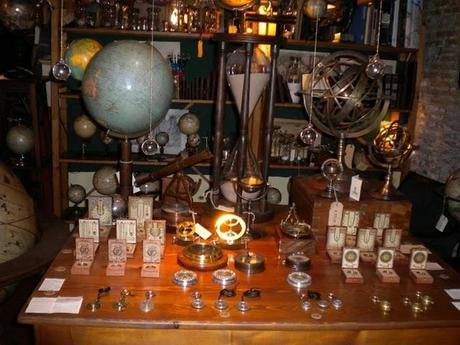 Polvere di Tempo
After lunch (when the rain had stopped) I continued my wanderings and came across a fascinating shop.  
Polvere di Tempo
 (Dust of Time), on Via del Moro between Santa Maria and Ponte Sisto, is a collection of hand-made measuring devices based on antique designs.  Hourglasses, thermometers and sundials are just some of the objects you'll find here.  I bought myself a little souvenir, a tiny compass to wear around my neck.  If you're in the neighborhood, check out this unique shop.  If not, you can visit their website in English.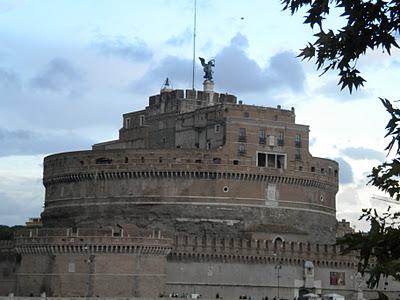 Castel Sant'Angelo
From Via di Moro I continued on to Ponto Sisto, crossed the bridge and headed north for a photo of Castel Sant'Angelo, from which Tosca jumps to her death at the end of the Puccini Opera.
By this point it was getting dark and  it was time to find my way back to the Via Veneto.  Good thing I had my compass.