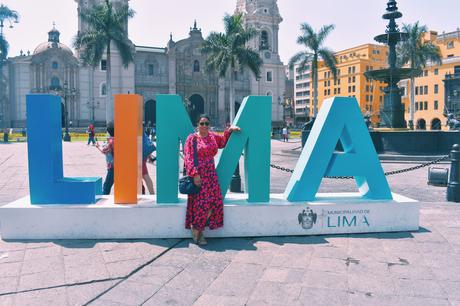 I landed in Lima at night after a non-stop super-long flight from Paris. My travel plan was to just pass through Lima, spending a day just to relax and recover from the long flight, before I proceed on to Cusco (gateway to Machu Picchu). The only international airport in all of Peru is Lima, so there's no getting away from stopping there.
Since I was spending just a day, I went for a city tour, followed by an evening of just loafing around Miraflores - which is one of the best places in the city for tourists.
Here's a quick write-up of what I did, and how I spent a beautiful and relaxing day in this charming city.
Tried a Pisco Sour
Pisco is one of the most famous alcoholic drinks in Peru. It's made with a local pisco, egg 🥚 whites, syrup, and Angostura bitters. Extremely tasty 😋 but also very strong (40% alcohol). This was the first thing I tasted on arriving in Peru, and it was great. Just what a jet-lagged gal needed to get a good night's sleep in a strange city in the other side of the world 😉.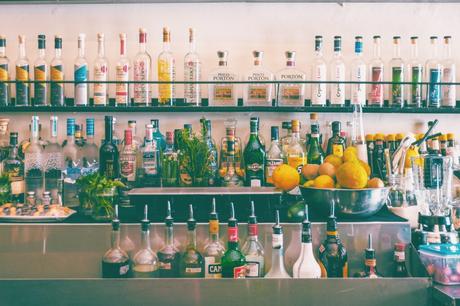 If you are in Lima, you must definitely try a Pisco Sour
Peru is famous for its food (especially ceviche - a fish-based dish). Lima especially has some very famous restaurants (even Michelin starred ones). Unfortunately, it caters more for non-vegetarians and seafood lovers. I enjoyed the cuisine far more once I left Lima and went to Cusco and Lake Titicaca, where there were more vegetarian dishes.
Explored Centro Historico
This is the historical city centre in Lima. It has many colonial-era buildings, and the interiors are equally beautiful.
A 360 degree view of Centro Historico, Lima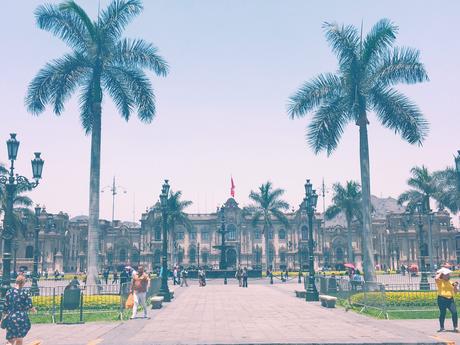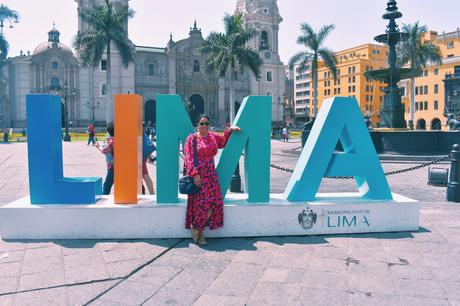 Visited Convento de Santo Domingo
When the Spanish conquered Peru, they decided to express their beliefs by building as many churches as they could. It feels like there is a church on every corner, and they are always full of people.
Convento de Santo Domingo is a church and also as the name suggests, a convent for priests. The church grounds and chapel were really beautiful, and the chanting of the priests was beautifully hypnotic. It was a really peaceful hour spent there!
Visited Museo Larco
Museo Larco is a fantastic museum with a large collection of pre-columbian art, and beautiful gardens housed in a beautiful old mansion.
The museum was founded by a sugar lord Rafael Larco Hoyle in 1926. Inside the museum is the largest collection of Peruvian Pre-Columbian art, around 45,000 pieces. The displays of various indigenous art are very beautiful, but the real selling point is the very graphic, erotic collection of pottery.
Hanging out in Miraflores
My hotel was in Miraflores, which is one of the most trendy and beautiful districts of Lima. It's very close to the waterfront, and I enjoyed the beautiful vistas of the curving roads alongside the Pacific ocean.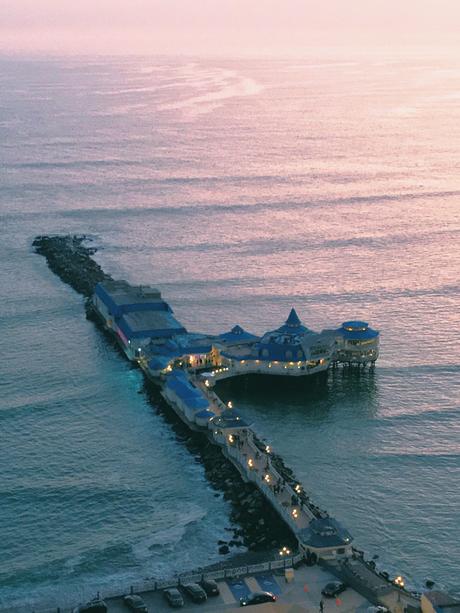 Miraflores is on a cliff, and is ideally positioned to take pictures of the coastline, and the paragliders who jump off the cliff.
I was tempted to try my hand at paragliding, but I was still pretty tired from the flight and wasn't motivated enough to walk the distance to where the gliders were jumping off.
Instead, I hung out at the Larcomar shopping mall. Normally, mall visits are not my thing. But Larcomar is very pretty - the mall is actually built into the cliff, and there are some pretty cool vista points and dining joints.
Being a vegetarian, I played it safe with a chain restaurant - Chili's. As I grew more comfortable with the quality of the food (high), I experimented a bit more with the Peruvian cuisine during my visit there.
Other cool districts in Lima are San Isidro and Barranco. I really wanted to visit Barranco because of the famous Mario Testino photography museum. Unfortunately, I was in Peru on a Monday, a day when the museum was closed 😔. So, I never got around to visiting Barranco. I guess Miraflores itself was so pretty and cool that it was easier to kill time there itself.
Plus, I got to catch this amazing sunset over the Pacific. Win!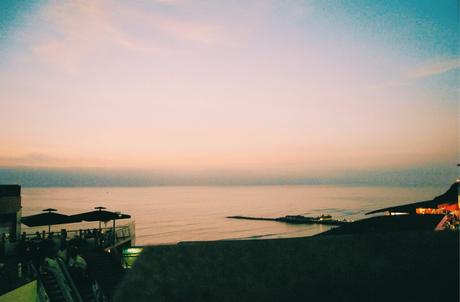 Amazing sunset from Larcomar mall