Saturday 21st January 2017
My first ever visit to Gloucester was in January 2012 and my immediate reaction upon meeting this city was of shock; despite being in the heart of the Cotswolds, it was nothing at all like the many idyllic villages that inhabit the hills.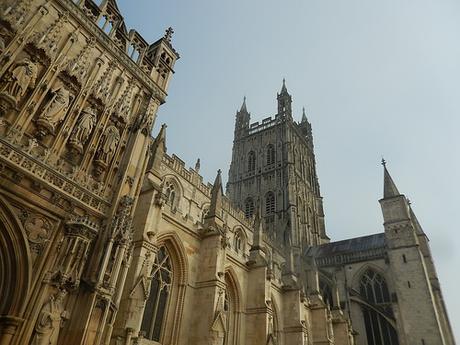 Several repeat visits were made that year before an avoidance spanning five-years… Until this year, when I made a long-awaited return in the company of two friends.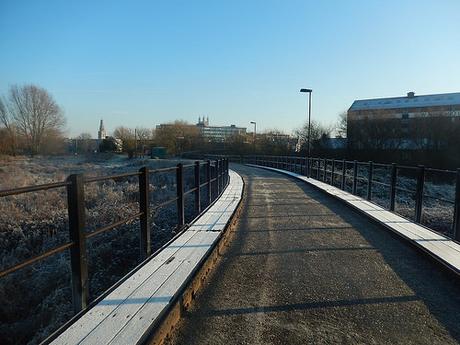 For all its flaws and the associated crime that I was already aware of, I knew that there were a few highlights and 'secrets' I'd been meaning to discover. After the hour long drive, we parked close to the historic docks (Gloucester Quays), where it was only £2 to park for an entire day (on Saturday) and we'd made it without having to negotiate any city center traffic.
Everything was sprinkled with frost. There was a distinct chill in the air; a true winter's morning.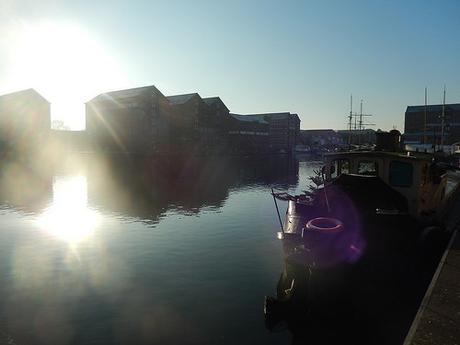 As we reached the docks and the waterside, we found warm air, sunshine and shelter provided by the buildings that surround.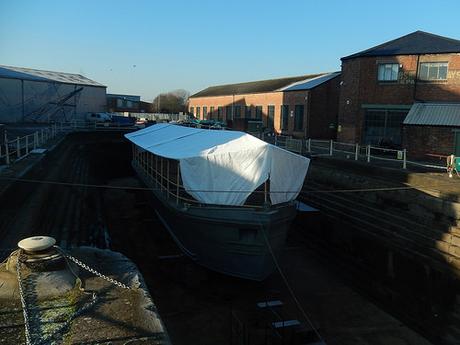 Passing the boatyard, I saw a sign indicating that this had recently been voted 'Boatyard of the Year'… I couldn't really see why. Was it a plan to attract more people to Gloucester? I much prefer the Underfall Yard in Bristol, where you can pass right by the bandsaws and workshops.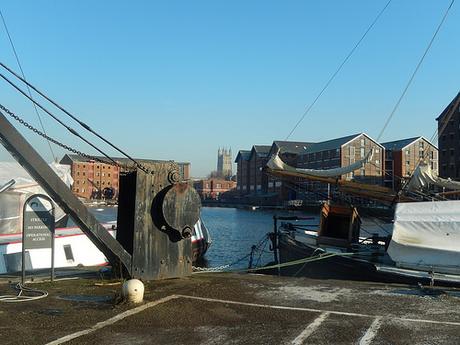 Gloucester Cathedral was always going to be a highlight of our day and its tower could be seen from a mile away. But we weren't to hurry it just yet.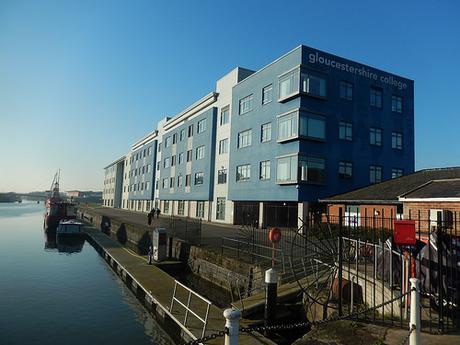 Actually, before this, we stopped at a nearby café for a hot drink and "post-breakfast". On Toast provide freshly-cooked toasted sandwiches (all ingredients are 'in toast') from a variety of combinations. My hunter's chicken and bacon sandwich was bigger than your average doorstop and my friends were very pleased with their own choices.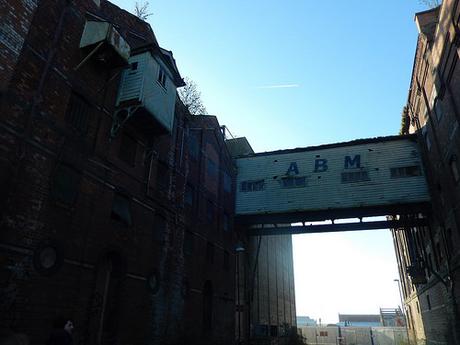 So far, we'd seen fewer than half-a-dozen people and this was post-10am. Was everyone in the city hungover?! It was cold but not that cold, surely.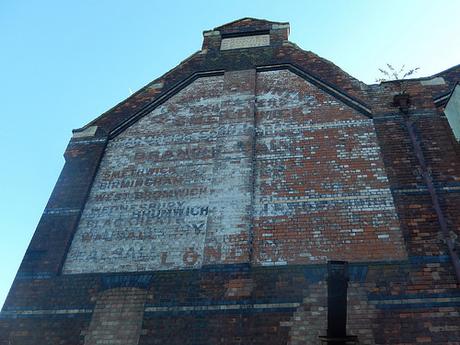 Walking around the abandoned buildings was increasingly eerie, but for the sound of distant traffic.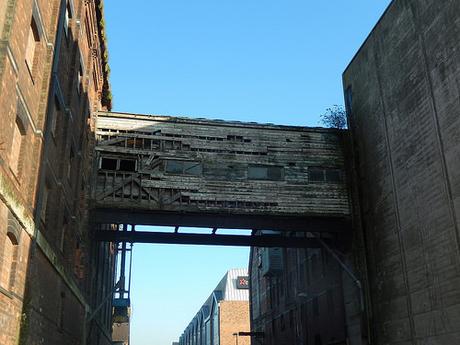 Birds had made their home in this walkway that spans the void between two buildings filled with their own history.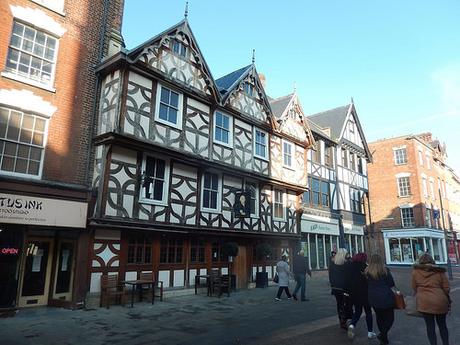 As in many parts of the UK, you can find Tudor-esque buildings in and around this city.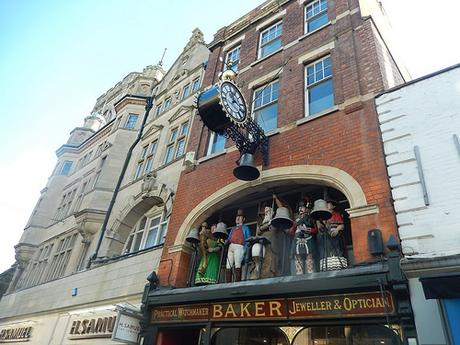 Where some parts of Gloucester are clearly run-down and in need of TLC (or conversion in to homes…), many relics remain.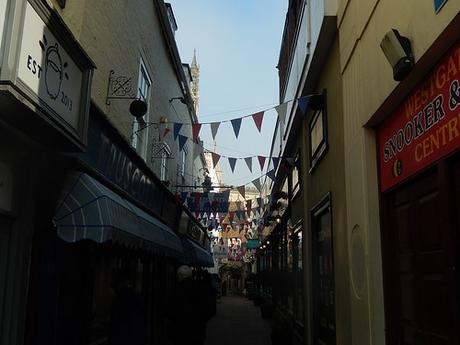 We took a tour through Gloucester Quays shopping center (via Cadbury store) before closing in on the cathedral. Bristol's malls would've been bustling at this time of day. Had the shoppers gone elsewhere?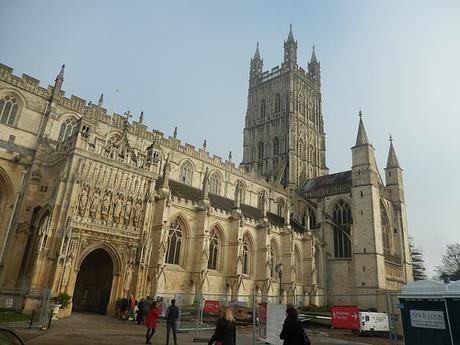 At my friends' request, we did stop off and explore the Beatrix Potter store before reaching the cathedral. A small but necessary museum for anyone who grew up reading the books (I think the building was once her home).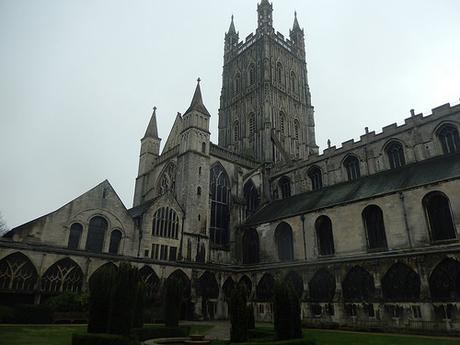 While there is no entrance fee to Gloucester Cathedral (donations are welcome), you are expected to pay £3 for a photographer's pass, before you can take any photos inside. I didn't do so on this occasion as I may make a return visit in the not-too-distant future.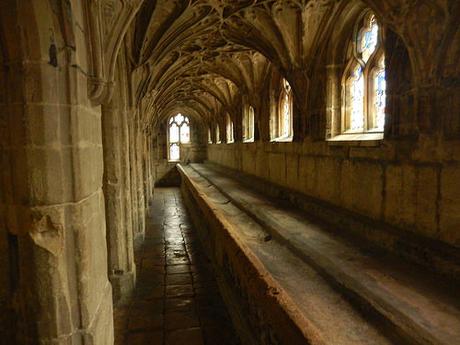 Last time I was here, portions of the cathedral were closed off due to filming (it was a filmed about Henry III, if I remember correctly). Of course, many people flock here to relive the magic of the Harry Potter films, which were partially filmed in this cathedral (I've seen most of the films but don't ask me to be specific on details).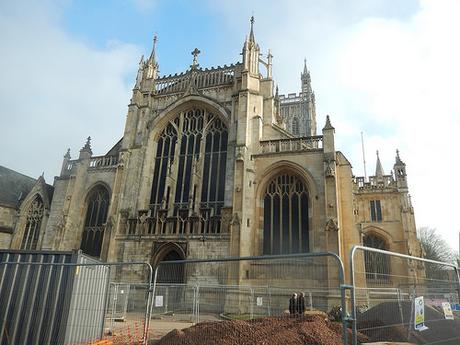 Back in 2012, I took a guided tour of the crypt beneath the ground floor. This usually costs £3 but we were granted free access then, possibly due to low visitor numbers and the inconvenience of having part of the building closed off.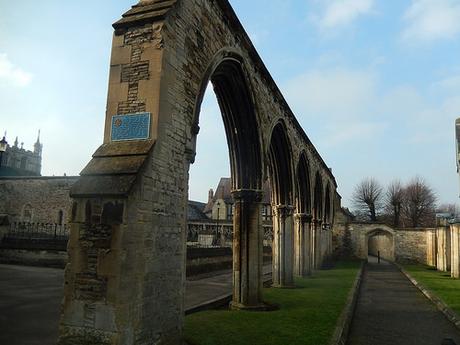 Excavation work was taking place to the west of the cathedral and, beyond that, we were on the hunt for further chapels, churches and ruins, when we found this wall and its arches.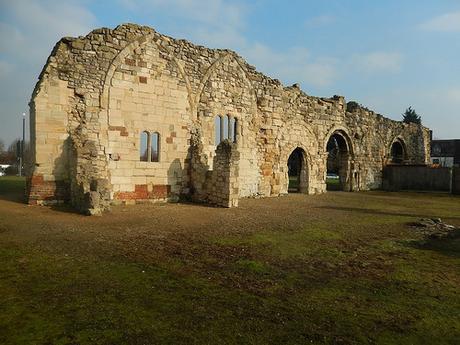 This was St. Oswald's Priory but many of the historic sites and tourist bits are sign posted from the main streets.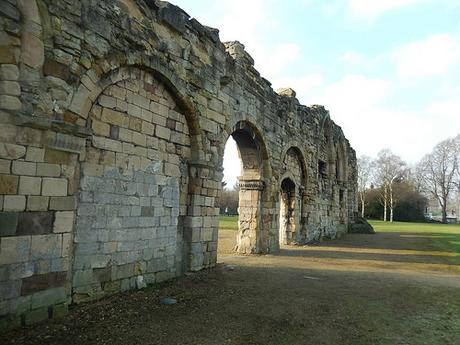 Clearly, Gloucester has a lot more to offer beyond the stand-out cathedral.
Near one of the churches, someone had secured this sign to a tree: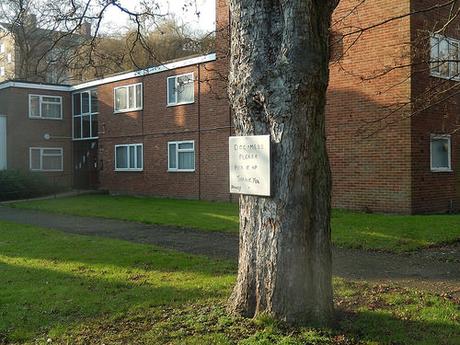 Was it a real Banksy? I have my doubts.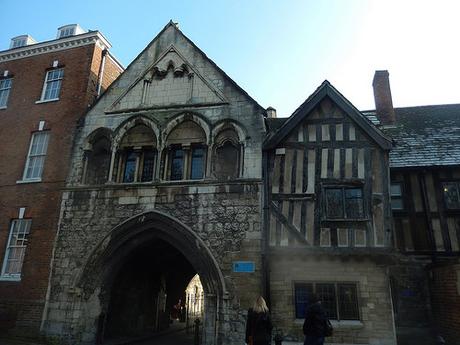 We walked a number of other streets; bought hot food and then drinks in different places ('white hot chocolate', in my experience, tastes like sweetened warm milk) and also shopped, read and bought books in the local Waterstones store (this was my first visit to such a shop).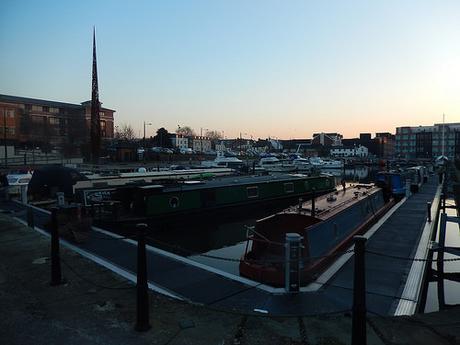 There was also a cross-city detour to Go Outdoors – both of my friends' first visit and an added highlight to this day out.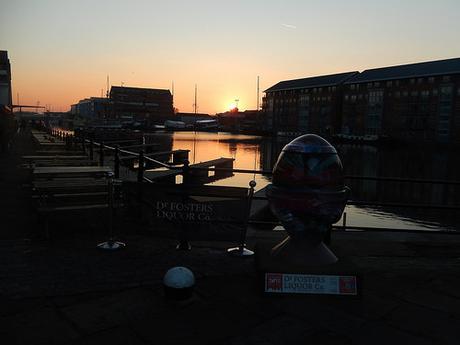 By the time we returned to the docks with the car park in mind, it was getting dark – and Gloucester is not a city in which you would want to linger, beyond the daylight hours… Or so, some say.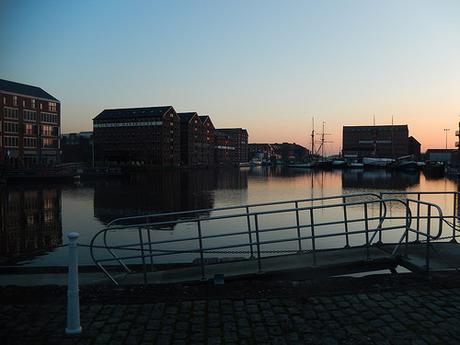 In all, I'd really enjoyed this trip and managed to keep my feet clean. I also guesstimated that we walked six-miles (possibly more) throughout the day, which adds to my personal goal for the year.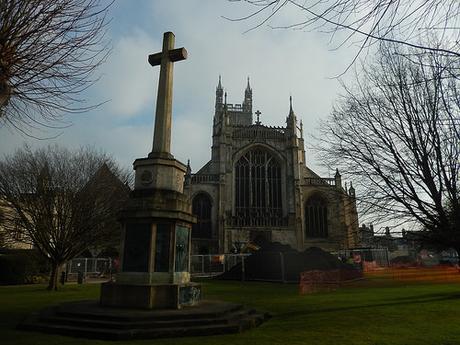 If you haven't been to Gloucester before, I recommend a visit and I hope you've found this interesting.
Thanks for reading.
Advertisements