October 2013
At one point in time, I conquered my cravings with box mixes. It's true. Granted, they were organic box mixes comprised of magical ingredients like protein-rich hemp (not THC), but still, they were a lazy girl's box mixes nonetheless. As I ventured into some elaborate cake decorating, most pre-made ingredient lists made it so I didn't want to eat my creations, let alone feed them to anyone else. Fast forward a bit, and I was hovering over mixing bowls of wet ingredients, dry ingredients, and a warm oven. Fast forward even further in this film, and we are here…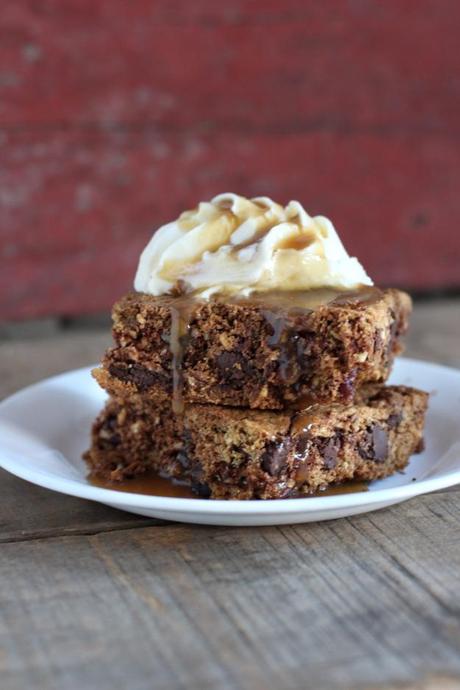 An easy way to satisfy your mid-week sweet tooth, blondies are staples, which also means blondies are blank canvases. Once you've made one batch of the standard sort, you can start to tweak and embellish, ie: booze it up and make them taste like summer. Then serve with a scoop of organic vanilla bean ice cream (because I was reared on ice cream as some sort of fourth meal if not its own food group) and a drizzle of smoky Scotch Butterscotch.
Coconut Rum Blondies
Ingredients
2 cups whole-wheat pastry flour
1 teaspoon baking soda
1 teaspoon salt
1 cup (2 sticks) unsalted, organic butter, browned
1/4 cup raw cane sugar
1 cup tightly packed, organic brown sugar
2 large, organic eggs
1 teaspoon pure vanilla extract
1/2 cup spiced rum
3/4 cup chocolate chips, plus more for the top
3/4 cup pecans, toasted
3/4 cup unsweetened coconut flakes, toasted
Directions
Preheat oven to 350 degrees F. Line a square baking dish with parchment paper and butter generously.
Toast your coconut flakes over medium heat in a pan or in your toaster oven, watching to make sure they don't burn. Set aside and allow to cool.
In a medium bowl, combine the flour, baking soda and salt.
In a large bowl, use an electric mixer to beat together the brown butter, pure cane sugar and brown sugar.
Add the eggs, one at a time, mixing completely.
Add the vanilla extract and rum.
Slowly add in the flour mixture until completely combined.
Fold in the toasted coconut, chocolate chips and pecans.
Pour into your pan and smooth the top.
Bake for 25-30 minutes, until a cake tester comes out clean.
Remove from the oven and allow to cool completely before cutting.