I wasn't too impressed with A Court of Mist and Fury, actually I completely hated it. And really regretting having purchased this third book in the series - A Court of Wings and Ruin.
But Sarah J.Maas in spite of her infuriating writing ticks, has a way of keeping the reader hooked on to a series. And so I started A Court of Wings and Ruin because I just had to know how everything was going to pan out.
About the Book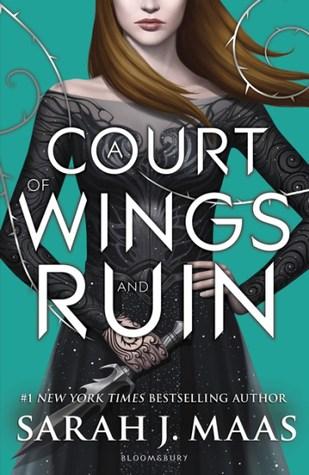 Feyre has returned to the Spring Court, determined to gather information on Tamlin's manoeuvrings and the invading king threatening to bring Prythian to its knees. But to do so she must play a deadly game of deceit - and one slip may spell doom not only for Feyre, but for her world as well.

As war bears down upon them all, Feyre must decide who to trust amongst the dazzling and lethal High Lords - and hunt for allies in unexpected places.

~ Synopsis from goodreads
What I liked
Thankfully, A Court of Wings and Ruin goes a long way in correcting the flaws that were present in A Court of Mist and Fury.
For starters, there was much less of that annoying romance between Rhysand and Feyre. Sure they have their nauseating moments, but thankfully much reduced because of Maas' focus on working towards the decisive battle between Hybern and the Prythian-human alliance.
Reading this book I realized Maas books really work well when she writes plot-driven books. When she tries to do character-driven novels, she falls flat - nuanced characters, magical world-building, complex plots, these are not her forte. She does best when she kicks off an idea and jumps into the action. And this is what she does so well in A Court of Wings and Ruin.
In the beginning of the book, Feyre is acting as a double agent. She is in Tamlin's court working secretly against him. This first half of the book is brilliant. Feyre is alone and isolated using her native cunning instead of relying on Rhysand. This aspect really brings out her strengths that were so missing in the second book. In fact, throughout this book, the sections where she's acting on her own were the best parts.
What I disliked
The book does have some problematic parts. One annoying thing was how stuuupid the villain was. Some of the decisions he makes are so strategically dumb. This dude has a powerful magical object and what does he use it for? He uses it to bring back one of his hated enemies to life. He then uses it to give immortal life to two humans, who eventually end up killing him. How dumb does he sound? It would have been great to have a little insight into his motivations.
Another thing I didn't like is how everything gets reduced to the most basic level of good vs evil. Maybe I am asking for too much in what originally started out as a YA/New adult series, but if you are taking your fantasy series in an adult direction with sexually explicit content, why not go adult with the complexity as well?
Have you read this book/series? What do you think about it?
Buy a copy of this book from Amazon.