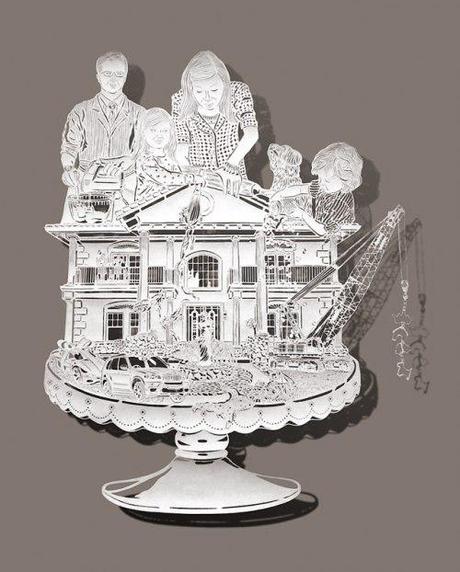 Baking McMansion
Bovey Lee, power, sacrifice, and survival are the underlying narratives in her cut paper works. Within the parameters of these three subjects, Lee creates layered and dramatic stories referencing her life experiences, response to headline news, and concerns for urban and environmental issues. Lee hand cuts each work on Chinese rice paper with silk backing.
Lee describes her craft as
"drawing with a knife. My life long love affair with art begins with practicing Chinese calligraphy and pencil drawing since age ten. When I cut paper, it is a visceral reaction and natural response to my affection for precision, detail, and subtlety. The physical and mental demand from cutting paper is extreme and thrilling. Working in silence, my works slow me down and allow me to think clearly and decisively.

My creative process is three-fold – drawing, digital rendering, and hand cutting. I form ideas by sketching before creating a digital template. The template is a visual guide that consists of downloaded images, my own photographs, scans from magazines and books, and vector graphics. The final step is for me to hand cut the image with an X-Acto knife."
We hope you enjoy our conversation with Bovey Lee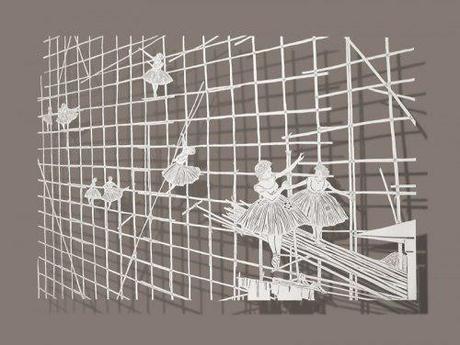 Bamboo Ballet
Tell us a bit about you and your background: I grew up in Hong Kong with my parents and two sisters. When we were young, we learned to play the piano but I found it boring. I did much better in art, learning Chinese calligraphy at age ten and painting and drawing in my formative years. In 1993, I came to the United States for graduate school and have been living here ever since.
Do you remember when you first started paper cutting: I created my first cut paper work in summer 2005 after my father gave me his small collection of traditional Chinese paper cutouts. Although I knew about paper cutting since I was very young, seeing them again at that time was defining because I wanted to do something new with my work. I was immediately drawn to their simplicity and intricacy. I asked myself if I could make something so beautiful and interesting.
How do you come up with an idea for creating a paper installation? I start with reading the news, taking nature walks, observing people, and researching art history. My thought process is very much like the reductive nature of cutting paper because I get to the essence by filtering the unwanted information in my brain.
Who or what influences what you do? My father loves art and he has great influence on me wanting to be an artist.
Where do you draw inspiration from? When it comes to inspiration, I am an equal opportunist. I want to keep an open mind.
What other artist inspire you? the anonymous traditional Chinese cut paper artists inspired me the most. They have my utmost admiration and appreciation.
You work is incredibly intricate; you must be very patient – can you give us an evolution of a design? Often times, I start with one or two motifs and then build on it to form an elaborate and detailed narrative. My creative process teaches me to slow down and be patient, qualities that are opposite to the rush and hurry of our lives in the 21st century.
How long does it take you to create your designs: It really varies but I can say it takes not hours and days but weeks to months.
What is your favourite design that you have worked on? "Hanging Gown" because it started everything else.
What are you working on at the moment? I am working on new works for two upcoming solo shows in Hong Kong (Dec 2011) and San Francisco (Fall 2012).
Why paper? Paper is both personally and culturally significant. Chinese invented paper so it's intimate and legitimate for me to use paper. It's also the first art materials I knew.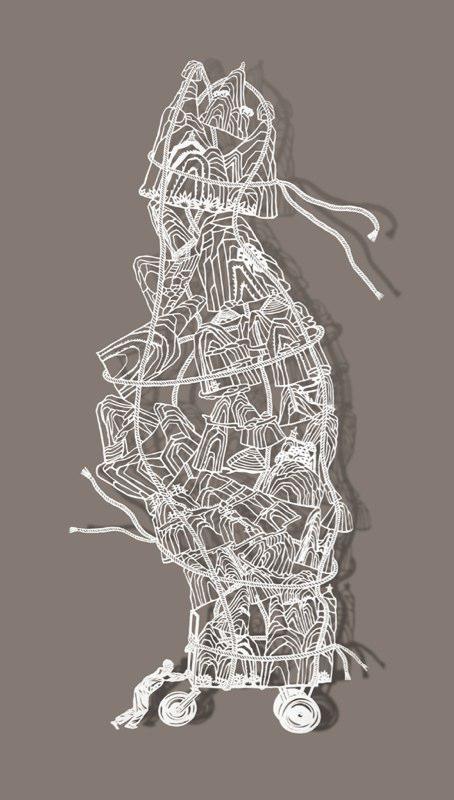 Pushing Mountains
What type of paper do you use? I use Chinese rice (xuan) paper.
What do you enjoy most about your creations? I love the silence.
What are your tools of trade? X-acto knife, blades, rice paper, and cutting mat
What do you love most about your business? It's different everyday.
What advice would you give to someone starting out? Say no to easy.
Were you given any memorable advice that you would pass on? have discipline and take your profession as artist seriously.
What are you most proud of? being an artist
Do you have a "usual" day? I work on the business side of art during the day and work on the art at night.
Tell us about your dream studio: It would be a massive loft with mid-century modern furniture, big windows, high ceilings, and water views in Manhattan.
How do you describe your style? paradoxical
Who would you invite to dinner and why (past or present)? Steve Jobs because he's an artist and a survivor. I think our dinner conversations would be very interesting.
Where can people find out more about Bovey Lee? boveylee.com
Answer these short questions
* Tea or coffee: Tea
* Sweet or savoury: both
* Heels or flats: flats
* Night or day: night
* Romance or comedy: comedy