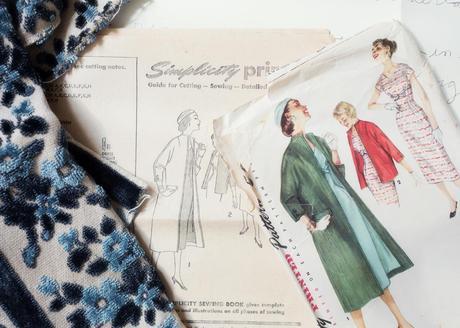 My strategy for cold-weather dressing is simple – stay warm, look good. Most women don't want to sacrifice silhouette for the sake of a warm coverall, but I'm in the camp who believes that sac-like can be chic, at least when it comes to coats and jackets. Plus, it's a daunting task trying to find RTW outerwear that doubles as a figure-flattering AND toasty topper.
It seems like there is an endless sea of sewers currently making their own iteration – Lauren and Jenny, I'm hollering at you! – and our conundrum can be summed up thusly: we're ancy to get our warm wardrobe on lock while summer sticks around, last minute, trying to thwart our plans. Summer, I have 2 yards of antique chenille brocade on my sewing table. You've got to go!
I've joined them in their coat adventures; Simplicity 1505 is the one I'm making. It's a vintage pattern that I spent several days muling over before purchasing, my excuse being the fabric. Over a year ago, I won the most sumptuous vintage chenille brocade on Ebay. A real showstopper. Thick and textural, its beauty will only shine in a garment with minimal seams because adding darts, pockets, button tabs or epaulettes would break up and diminish the pattern. With an overarm seam, side seams, and not much else, this pattern (Simplicity 1505) is perfect.
That doesn't mean there haven't been construction and patterning issues that have come up. First was yield. Because there was only 2 yards of this fabric, and I couldn't go back and buy more, I had to shorten the body length by 6 inches and even then, I had to break the facing into 2 to fit all pieces on the fabric. I could have gone shorter, but then I'd be compromising the silhouette. I'm going for a duster type coat.
Then there's the interior details. Because of the surface texture, ironing is out of the question, meaning sew-in interfacing was my only option. Remember that time I spent all day accurately cutting and hand sewing hair canvas? That happened last weekend. Also, I translated one of Claire Schaeffer's dressmaking methods for this coat; my muslin became the underlining. I made a first fit sample, marking all the corrections on it. Then, I used it as my pattern piece, hand basting along all seam lines. Sure, it adds another layer to an already thick fabric, but old man winter can be brutal!
Well, that's where I'll leave you today, and on I go with my adventure. Below are a couple snapshots of my work in progress. Wish me luck!