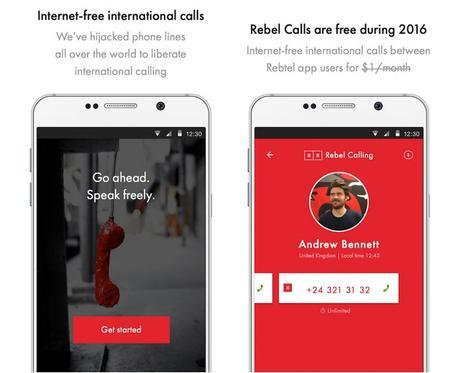 Cheap international calls
One of the main differences between Rebtel's app and other international calling services is that you can make your call via regular land or cell phone lines, rather than VoIP.
This means that you don't have to worry about finding a Wi-Fi hotspot to get it to work, and you don't run the risk of cutting out in the middle of an important call if your Internet service is shaky.
Rebtel's mode of operation is to "hijack" phone lines around the world, which lets you make super-cheap local calls without necessarily needing to connect.
The App's Main Pros
Obviously one of the main pros of this app is the fact that you don't have to have a Wi-Fi connection, which is useful if you're traveling abroad to countries where the connections may not be as strong as you're used to.
Your call is re-routed to local numbers instead, so you avoid high international fees. Here are a few other pros we noticed when testing this app:
A user-friendly design – Even if you're not a big app person, this one is pretty foolproof. There are only 4 screens to deal with. After you sign up you'll be able to access a minimalist Home dashboard with everything you need.
It's free to place calls to fellow Rebtel users – If you can get your friends to download the same app, you can then call them for free. This offer is valid throughout all of 2016, and it works in 52 different countries at the moment.
The rates are super low – By routing calls through local landlines, the app manages to keep your rates as low as possible. The app really does live up to its name in this regard!
You won't be disconnected – Because you don't have to worry about connecting over the internet, your call won't be dropped. You don't have to worry about frozen or slow connections like you do with VoIP services.
Potential Drawbacks
Although you have no need for an internet connection to use Rebtel's app, you do need a regular cellular signal. So if you're in an area that's truly remote, like off on a camping trip or high in the mountains, you won't be able to use it.
That's one thing to bear in mind. The other potential drawback is that if you're big on sending texts, this probably isn't the best app for you. It's focused on cheap international calls, and that's what it does best.
The Bottom Line
Overall, Rebtel's Cheap International Calls app offers a unique service that performs well in comparison to the competition.
The rates are hard to beat and the call quality is high. Although you can't use it in the middle of the woods, you would be able to in any area with regular cell reception.
If you are someone who spends a lot of time away from friends and family or travels for work, it's worth downloading the app to save a bit of cash.