by Conroy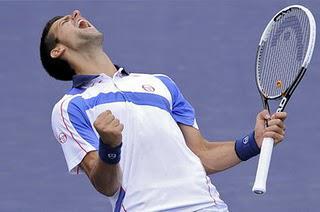 Djokovic celebrates a win over Nadal at Indian Wells
The
last time I wrote about tennis
on this blog, Roger Federer
had just defeated
Rafael Nadal to win the prestigious year-end ATP World Tour Finals. The win capped a great late season surge by Federer and seemed to set the stage for 2011, another year to be dominated by Nadal and Federer.
The Other Year-End Result
Just a week after that result, tiny Serbia, a nation that had virtually no tennis presence as little as five years ago,
won the Davis Cup
, tennis' annual national team competition. The victory over a powerful French team in front of a rabid Belgrade audience captivated the Balkan nation. The victorious players became national heroes, flying the flag for a country seeking outlets for a brimming national pride. Leading Serbia, and winning all seven of his singles matches over the four rounds of the competition, was
Novak Djokovic
.
Djokovic has been the world's third best tennis player for the last four years, but a distant third, and his notable accomplishments between 2007 and 2010 have been overshadowed by the two men ahead of him in the tennis pecking order. Leading into the Davis Cup final that pecking order looked to be set solid. Djokovic lost the U.S. Open Final to Nadal and lost three times in the fall to Federer. But the victory in Belgrade seemed to energize Djokovic, his very attitude after the win exuded a relaxed confidence.
Australian Open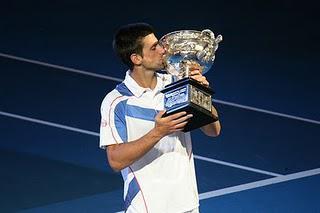 Djokovic - 2011 Australian Open champion
Still, when the calendar turned to 2011, the familiar storyline seemed to be holding. Federer
won an season opening tournament
in Doha, and he and Nadal were winning their early round matches at the Australian Open, seemingly headed to a showdown in the final (though this writer didn't think Nadal would make it that far). Then the unexpected happened. Nadal
bowed out tamely
to his countryman David Ferrer in the quaterfinals and for the second consecutive major, Djokovic beat Federer in the semi-finals. What amazed was that Federer played well in the loss, Djokovic just played better. His athleticism, defensive ability, reliable ground strokes, and rejuvenated serve overwhelmed Federer. The three set victory showed Djokovic at his best. In the final his incredible form held and he steamrolled Andy Murray to capture his second grand slam.
Continued Success
A few weeks later Djokovic beat Federer again - easily - to win in Dubai and run his season record to a perfect 12-0. Heading into the first ATP 1000 level tournament in Indian Wells, Djokovic was the clear favorite in a big tournament for perhaps the first time in his career. He handled the pressure with aplomb, rolling through the field and defeating Federer (for the third time this year) in the semi-finals and dug deep to wear down Nadal in the final. The win marked the first victory over Nadal in a final (out of six opportunities). His record for 2011 now stands at 18-0, the best season start since Ivan Lendl started 25-0 in 1986. He's won his last 20 matches going back to that notable Davis Cup victory in December.
A Real Change?
So what conclusions can be drawn from Djokovic's form and results? Is this just a career run soon to cool or the start of a career year that may change the top of men's tennis?
Here are Pete Bodo thoughts
along these lines.
My opinion? The Serb has played great, consistent tennis before, but never been able to win the big match at the big moment. That seems to have changed. This season he has out played and out fought all of his opponents. The old knock on Djokovic, that he lacks the toughness to win the crucial point, game, match doesn't seem to apply. His play has been confident and his attitude unyielding. Further, and perhaps more worrying to his opponents, Djokovic seems to have addressed the flaws in his game. His ground strokes are rock solid and his forehand now seems as dangerous as his vaunted backhand. His defense is the best in tennis. It's almost impossible to get a ball past him, and his shots from compromised positions are amazing. Finally, his serve is back; hard, solid, and well-placed. This combination of game and attitude bode well for Djokivic's chances for the rest of the season.
Can Djokovic win another grand slam this year? Yes. Can he win at Roland Garros or Wimbledon? Yes. Can he finish the year ranked number 1? Yes. If you had asked me these questions one year ago my answer to each would have been "no". That in and of itself says something of how Djokovic has changed the tennis discussion over the last three months. Will he accomplish one or more of these goals? We'll know soon enough, but if does, he will make the transition from a very good player, to a great one.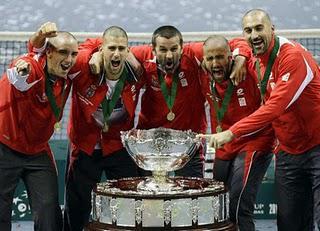 Djokovic, second from left, and team Serbia celebrate the Davis Cup win with shaved heads
---
It's worth noting the impressive accomplishments that Djokovic has already accomplished in his young career:
Two grand slam victories (Australian Open 2008 and 2011)
Six ATP 1000 Tournament victories
One ATP World Tour Finals victory (2008)
Davis Cup title (2010)
21 ATP Tour titles