I have a confession to make.
And, this is my safe place.
So….here it goes….
I, Ashlee Gadd, am in a deep and meaningful relationship with pasta.
I know what you're thinking.
And yes, Brett knows.
It started off innocently enough. Doesn't it always? We'd meet for dinner a couple nights a week. An occasional lunch. Never really for breakfast, but only because my heart already belongs to Kashi Cinnamon Harvest. Before I knew what was happening, we were moving past the "friends" zone.
Pasta was there for me when I had a rough day. It was there to celebrate with me when life was awesome. It kept me warm on cold nights…
Pasta wasn't just comfort food. We both knew it was more than that. I've tried to ignore the feelings, but they are too strong to fight at this point.
We're just too good together.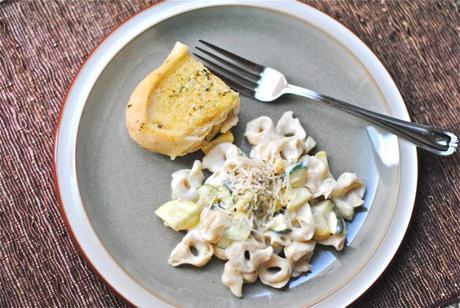 If you also find yourself in a meaningful relationship with pasta, this is one of my favorite weeknight meals….
Tortellini with Winter Squash
-1 package cheese tortellini
-3/4 cup light alfredo sauce
-1 cup chopped zucchini
-1 cup chopped yellow squash
-Sprinkle of shredded Parmesan, parsley, and a dash of pepper to taste
Cook the tortellini according to package directions. Meanwhile, put chopped squash in a microwave steam bag and microwave for 30 seconds. Drain pasta, and fold in Alfredo sauce and veggies. Top with cheese, parsley, and pepper.
Serve with a side of garlic bread or salad. ENJOY.