If there's one thing that I really don't mind spending money on, it's on foundation. Apart from being a mega morena, I also have particularly sensitive and picky skin. Let's also throw into the mix that I'm a big snob din talaga. And bottomline, I don't have particularly great skin–scars, whiteheads, whatnots—flawless I am not so I need all the help I can get.
Before these two purchases, I was choosing among MAC Studio Sculpt Foundation in NC43, Revlon PhotoReady Make-up in Medium Beige and MUD's Cream Foundation in YG2/YG3. All about a shade lighter, but I'm able to even it out because of MUD's Loose Powder in Desert which is a half a shade or a shade too dark for me. 
The liquid foundations were for everyday because they were sheerer in coverage. And when I wanted real flawless skin (okay, faux flawless skin,) I would use the cream foundation. 
(now, get ready for the spending rationale)
My dad was arriving from a trip out of the country, and I had a shoot (my first!) that Saturday so a Thursday a week or two ago. I came home with these: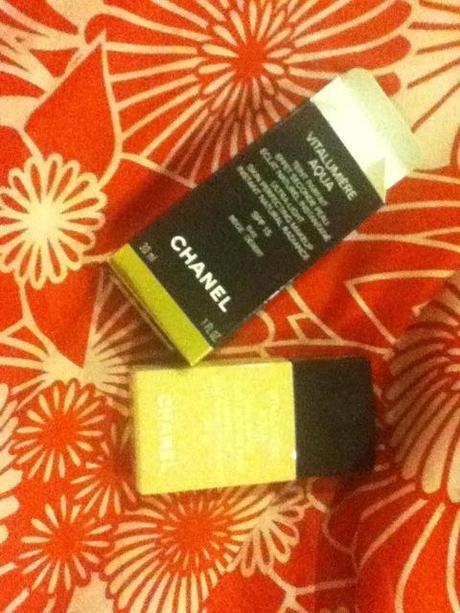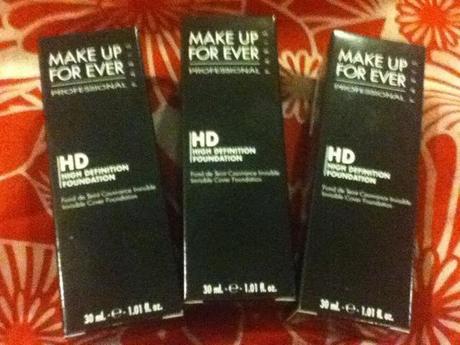 See the full gallery on Posterous Suffice it to say that Duty Free was really going to be the only time that I would ever buy Chanel, so in my red shopping bag was a bottle of Chanel Vitalumiere Aqua. And we did go a bit crazy with the chocolate buying (papa and i were laughing that we got 5 free umbrellas.) After which we had a late lunch at High Street, I ran to Make Up For Ever to get three bottles of HD Foundation for the shoot. 
Anyway, Chanel Vitalumiere Aqua is one of Chanel's newest formulations. If you've been watching Pixiwoo make-up videos then you're familiar with their various formulations for liquid foundations, it's Vitalumiere (semi-matte, sheer to medium coverage,) Pro Lumiere (semi-matte, medium coverage), Mat Lumiere (matte, medium coverage and long-lasting,)  and Lift Lumiere (dewy, medium coverage.) I think it's replacing their Chanel  Teint Innocence fluid. Though am not sure, I'm just reading from the site and from reviews on the web. Total noob to the perfumed halls of Chanel-dom. 
Anyway, if their marketing copy is to be believed. It's supposed to be:
A new-generation texture. An unprecedented sensory experience. A unique makeup result. Rapid and easy application. VITALUMIÈRE AQUA. Apply your makeup without thinking about it.

Its soft and evanescent ultra-fine fluid texture is a real surprise. Although it is exceptionally delicate and light, an incomparable "second-skin" perfecting result is achieved. The complexion appears amazingly even, fresh and energized. The skin glows with seemingly nude beauty. As if glowing from within. Bathed in light… Its formula, endowed with a UVB sun filter and mineral sunscreen, protects the skin from damaging sun rays (SPF 15). Its crystalline fragrance accentuates the sensation of freshness and pleasure on application.
Ang ganda lang ng "apply your makeup without thinking about it," which of course is impossible because you know just how much each drop of the foundation costs. Also, I'm very focused when I do my make-up, I have to be. Well, I want to be—it's like writing, literally the physical act of writing and i love that.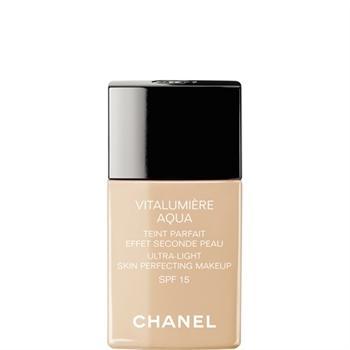 Anyway, I will give it that it is a sensory experience, really. It's delicate on your fingers (which are what they recommend you use—I still a sponge/brush though—I have fingers like sausages) and the smell is incredible. Like I know that I would use it (even if I said I'd save it for special occasions,) just to smell it.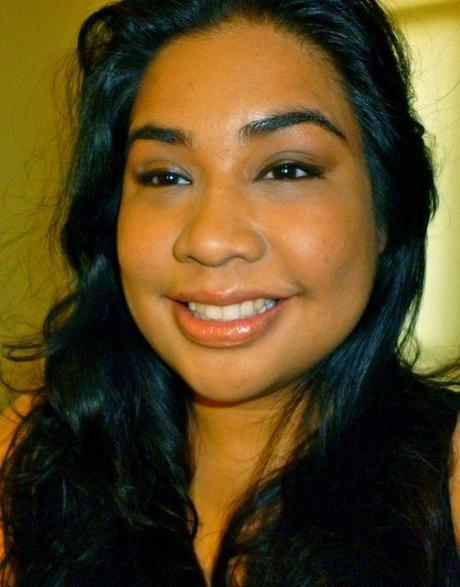 Here's how I look with it on. And no, my hair isn't that glossy in real life (but yes it is that kulot.) I'm taking my picture using my mirror with lights.
But look, isn't that a fantastic color match? I was surprised. You'd think that matrona make-up (heehee, but i say the word matrona with love,) would have a tendency to be pink and therefore render me gray-ish. But am thinking their strong Asian following has made them improve their color matches—but they could have always been like this. So the shade is Beige-Desert. (Beige is their yellow undertoned make-up. Beige Rose is their Pink-undertoned make-up Kahit anong sinasabing pinkish white ng mga punyetang whitening creams—it's a little difficult because our undertones are yellow. Those with pinkish undertones are the caucasians.)
Okay, but why this formulation? I was hoping to get a Pro or a Mat Lumiere but they didn't have my color. Lasting power on this isn't spectacular, but it did give me at least 5 hours. Though you'd think if you could spend this much on foundation (because you want to,) you would:
Perhaps drive your own car or even better, be driven around everywhere.
If you're going to take the train, you know which exit from the station to go down from so that you don't end up crossing EDSA like a madwoman pretending that you don't want to cry because you're a fool and you're hungry and you wished you really were a damsel in distress with a white knight waiting in the wings. (you get the picture.)
Be constantly immersed in the coolness of airconditioning. (it's a known fact though that i get a cold in a/c.)
Now, let's move on to the Make up For Ever HD foundation. There are three bottles for my pro kit, Word of advice from my teachers, when you're starting out as a make-up artist and you're still scrimping so you can buy good product (my aunt clucks over my shirts that have holes on them.)—it'd best to begin with two bottles—the darkest and the lightest. Then mix as needed.Or three if you can push it, you add in the middle shade which of course will be the one you'll use the most.
With the help of the MUA at MUFE, I picked the three yellow-undertoned foundations for my pro kit—120, 140 and 153. I picked this foundation because of the photoshoot and from all the formulations I've been able to use in class, this is the one that was the most reliable. It's coverage is medium to full and becomes a semi-matte too. So whether your model (or me!) has great skin or not, this will suffice.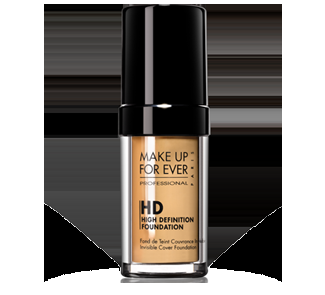 Here's what they say it can do:
The MAKE UP FOR EVER HD Complexion products use innovative formulas to create a new generation of make up which is both invisible on HD cameras and to the naked eye. The HD Foundation is an oil-free medium-to-full coverage liquid foundation which covers skin imperfections, while remaining invisible on-screen and in real life. Its extremely fine texture is supple and easy to apply. Enriched with moisturizing agents, it leaves the skin soft and radiant. It is available in a wide range of shades to suit all skin tones. 
They say you can go 6X closer and it'll be flawless. I've noticed that there are real mixed reviews about this product. Some say they hate it, too sheer a coverage or that it doesn't last. I think the biggest problem is that Make Up For Ever has its own method of applying make-up. They rely on the fact that you will be sealing the foundation with powder using a powder puff (they have their own jumongous black powder puff, very boudoir.) But I for one, think it's fantastic.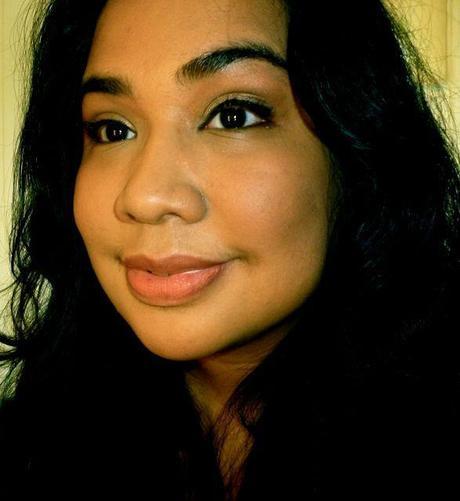 Man, black eyeliner makes a difference ano? Look at how much bigger my eyes look.
Anyway, in terms of lasting power, this did last me a good 8 hours though there was no train ride. Though I did spend more time on it (I always take so much longer when am doing a sort of no make-up look, it takes a while to neutralize the pigmentation I have around my eyes.) And more product—I used their HD primer on top of the Leyende Face Canvas.
At the photoshoot, I was lucky that the location was mostly airconditioned and when we did have to go outside, it was cool—so no need to retouch. The photographer and the Art Director were pretty efficient so we did the shoot in record time.
So which would I recommend?
Honestly, the MUFE HD Foundation obviously performed better. But the Chanel experience is still something else. 
Chanel Cosmetics can be purchased at all Rustan's branches, but there is a real price difference if you buy at a Duty Free. This was $48 for 30ml, the price may double in Rustan's. Don't be surprised at the size of the bottle, it's the same amount as what you'd get in most liquid foundations.
Make Up For Ever has  stores at Bonifacio High Street and Shangri-la Plaza. It's PhP2,300 for 30ml. 
Permalink | Leave a comment  »