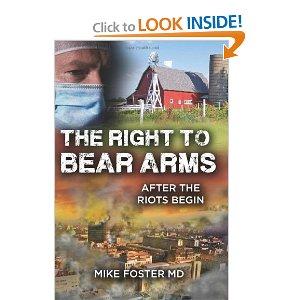 I just got through reading this book and if you want a realistic depiction of our near future under a government that believes in taking from the producers and redistributing to the millions that have a permanent lip-lock on the government teat.
It follows a surgeon in a major city as he struggles to treat patients in a country coming apart at the seams, in a city where anarchy rules, in a hospital running short on staff and supplies but overrun with patients.
His family is first and foremost on his mind and getting them to safety is his number one priority.
His encounters with society's scum place him in danger but he finds allies and forms alliances and scores victories.
All in all it is good read, it will make you think about preparing for society's collapse where there is lawlessness and a government that has not learned from its own mistakes and continues to dig themselves deeper  and the country deeper into Hell.
This book will scare you if you are not prepared for the coming turmoil and will make you proud of the patriotism and sacrifices of the characters.
Tom in NC