Yes, I know, where the heck have I been?!
BUSY is not even a good word to use!
I have been writing for a new website, which I invite you to check out all of their cool stuff.
You can find it and my articles at You Had Me at Gardening.
I have been testing some products for them and they are working on a giveaway for some that were being tested, so check them out for that!
Well, today, I come to you with another of the reasons I have been absent, my newest book!
It is live and currently available on Amazon by clicking this link:
"Growing Camellias for Contemplation and Competition"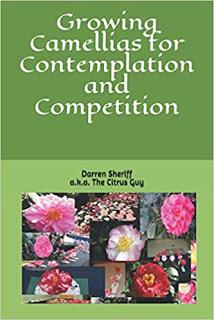 You all know me as The Citrus Guy, and Citrus will always be number one on my hit parade. Camellias come in a REAL close second. I only have 55 varieties of Citrus, but I have over 200 cultivars of Camellias.
I discuss in the book how I got into growing Camellias, pretty much by accident. It all started with the couple that the book is dedicated to. Let's just say it's their fault! LOL
But, honestly, it was a good fit for me. I am a competitive person by nature and this gives me a chance to burn some of that off, even if it is only friendly competition. I enjoy it completely!
Here is an excerpt from the Welcome Chapter:
Please know that this book WILL NOT be strictly about flower shows and competitions. I will cover as many aspects of actually growing them as I can. Even though I got into the whole camellia culture by mistake, it is really a good fit. I enjoy growing things and I have a very competitive nature, so the show circuit, which I will cover in Chapter 8, is something I look forward to. It is not at all cut-throat, the matter of fact it is really a friendly competition, but you will learn more of that later.
This book is going to be very straightforward, like all my other books, I tend to write as if we are talking one on one. Things come across much easier and with a little dose of humor thrown in. It will be very much like you are attending one of my lectures.
Let's get started!
Chapter 1-Camellia History
There are tons of books on the market that cover this topic, so I will not try to rewrite history. There is really nothing new that I can add. I will cover a brief synopsis of the long history, just to kind of get your feet wet or give you a tiny taste so you will go and search out the Camellia History Buffet.
Chapter 2- Species
There are many different species of camellias, I am going to focus on the main four (with a little dabbling of a few other minor ones). Camellia sasanqua, Camellia japonica, Camellia reticulata, and Camellia sinensis will be my main fixations in this book. Here is a little tease about chapter 2, did you know you may be holding and drinking a product of one of these species in your hand while you are reading this book?
 Chapter 3- Flower Forms
When people think of a certain flower, let's say a rose for example, they pretty much have one shape, form, and size in mind. I am not saying there are not different ones in the rose world, what I am saying is, the range of sizes, forms and colors in camellias are quite extensive and easily out number roses.
Chapter 4- The Basics
Luckily, most of the things that the different species I will discuss have the same requirements, fertilizer, water, and soil pH. The lighting will be the only minor difference, but I don't want to let that shine through yet.
Chapter 5- Propagation and Pruning
If I have done my job well, after reading this book, you will be itching to go out and get a bunch of these beautiful plants. The rub is, they might be a tad harder to find than your average azalea. If you have patience, some camellia friends, and some time, you can end up with dozens, if not hundreds of camellias. If you are really lucky, you might even be able to name your very own camellia!
Chapter 6- Pests and Diseases
No matter how good a gardener you are, no matter where you live, you will end up with some kind of a pest or disease. The good news is, except for one of the diseases, all of the subjects in this chapter are easily thwarted. One of them might actually be your friend.
Chapter 7- Show Use Mostly
This is where I start talking more about competition and showing. The things in this chapter are mainly for folks who are going to start showing blooms in flower shows. They are easy to do, to some degree. They may seem odd. They can all be done even if you are not going to show blooms. One of them could almost be considered legal cheating, don't worry, it really is legal. No, seriously, I promise, it is perfectly legal!
Chapter 8- Flower Showing
If you live anywhere in the lower third of the United States, up the east coast to Maryland, and up the west coast into Oregon, there is at least one flower show near you every year. This chapter will delve into some of the rules of the show, how to prep flowers, what kind of things you can win, and how much fun it really is to be doing this with dozens of your friends, which they will all become.
Chapter 9- Nurseries
Yes, I covered how you can generate your own plants in Chapter 5, but there will be times that you see the most beautiful bloom at a show, and you MUST have it now! These are some of the best nurseries around, though you may have to actually visit them, some do not ship.
Chapter 10- In Conclusion
A tidy little sum of what this whole camellia craze is all about, some interesting stories that really happened, and ways that you too can get hooked into this world.
All of that in 169 pages and dozens of photographs. If you think you might enjoy growing Camellias or know somebody that might like to learn, this book is for them.
It was a year in the making and a blast the whole time!
As always, if you have any questions about this article, my books, or anything garden related, please feel free to drop me a line to [email protected]
You can follow me on FACEBOOK
Or get onboard my WEBSITE
Happy Growing!
Darren