...has to be primarily about music, doesn't it? You know, songs steeped in the pain of the human condition, wrenched from guitars and the suffering of the singer's soul - borne out of Africa on slave ships, honed by centuries of hardship on the plantations of the Americas, given back to the world in the 20th century from the crucible of the Mississippi Delta and the slums of Chicago courtesy of the Recording Angel. It's a complex subject and I must apologize upfront for the somewhat reductionist approach as I try and keep the appeal as broad as possible.
Of course the first impact of
 'the blues'
on us music-hungry teenagers in the UK in the mid-'60s came via the filter of white musicians (John Mayall, Rolling Stones, Fred Neil, Chicken Shack, Fleetwood Mac, Savoy Brown, Steve Miller Band...not an exhaustive list by any means), players who championed and were influenced by the sounds of black America's bluesmen. From there, some of us reached back to the originals - Albert King, BB King, Elmore James, Howlin' Wolf, John Lee Hooker, Lightnin' Hopkins, Rev. Gary Davis, Robert Johnson, Son House and Muddy Waters.
I don't think many of us realised, or at least not for many years, that the blues music we were grooving to - whether it was played by white or black musicians, American or British - not only had its roots in West Africa but continues to be made there by a stellar bunch of Malians, Mauretanians, Moroccans, Senegalese, Sierra Leoneans: check out (if you're so inclined) the works of Baaba Maal, Boubacar Traore, Majid Bekkar, Mansour Seck, Tinariwen or the master of them all, Ali Farka Toure - king of the desert blues.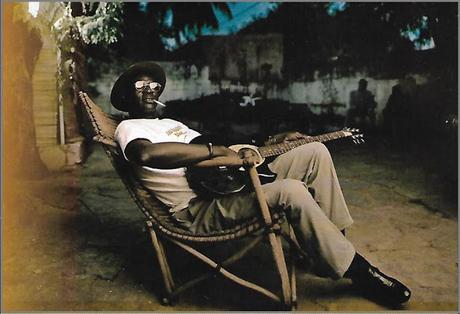 Ali Farka Toure - king of the desert blues
Yes, it all began in West Africa and strangely enough, the first musical instrument I ever possessed, aged four or five, was made for me by a kindly and ingenious Yoruba tribesman in the Nigerian village where I grew up as a boy. That instrument was fashioned out of a large sardine tin of which the partly-peeled lid had been cut into strips of varying lengths, so each strip could be twanged to produce different notes, the body of the tin serving as the sound chamber. I was delighted with it. My mother broke out her accordion and our 'house boy' would thump away on a goatskin drum while I played lead sardine tin - my first blues band!
Further down the line I learned to play piano (under duress - I was Grade II listed); and then I gravitated like so many others to guitar, first six-string and then bass - the latter in a band that also enjoyed played the blues...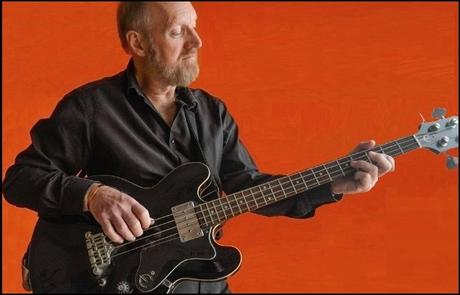 Woke up this morning...
I've just finished reading a biography of Fred Neil, one of my musical heroes (and coincidentally the man who wrote
'Everybody's Talkin'
  which became a big hit for Harry Nilsson when it featured in the movie
Midnight Cowboy
). Fred Neil was an accomplished 12-string guitar player with an ear for the blues and a wonderful baritone voice. He was a stalwart of the emerging post-war coffeehouse folk/blues scene in New York's Greenwich Village in the early 1960s, a hand-to-mouth existence that spawned the likes of Karen Dalton, Tim Hardin, John Sebastian (later of Lovin' Spoonful fame) and one Robert Zimmerman, who didn't do too badly for himself.
While I've been reading the book, I also listened to lots of those early albums by Karen Dalton, Tim Hardin and the mighty Fred Neil himself; and so as a musical bonus this week I've linked in a version of Karen Dalton playing and singing Fred Neil's
'Little Bit Of Rain'
.  Dig it.
Before that though, a new poem-in-progress. Usually I only decide what to call a piece once I've written it - but in this case the title came first and the poetry has to evoke and live up to the billing. It's partly a reflection on that folk/blues music scene I've been reading about and partly an expression of concern at the current state of play down at Bloomfield Road where the Seasiders have recorded three draws, five defeats and no wins in their last eight games as they struggle to find their mojo. I hope it works on both levels.
Green Tangerine Blues
With the long war won,
we reclaimed our own,
albeit run into the ground;
sang anthems in exuberance
at being home and in the zone.
Rejuvenation though
will take some time, months
one would imagine. So much
to put to rights. Greedy
though we are to taste success
after such barren times,
it doesn't happen overnight,
not in the real world.
Frustrating as it feels
when schemes don't mesh,
we need to find the right way
to play together, build
a whole community afresh,
create momentum,
fashion a formidable group,
recoup the scene as was
before it all went horribly wrong.
Too much is new still, unproven,
far from ready; a slightly sour
but not unpalatable truth.
What's required is patience,
a little more time, a steady belief
this young talent will ripen
and find favour with us all,
a harvest to savour.
Just hold on.
To listen to Karen Dalton singing Fred Neil's song just click here >>>
Little Bit Of Rain
After listening to that, put on your red shoes and dance the blues, S ;-)
Email This
BlogThis!
Share to Twitter
Share to Facebook
Reactions: