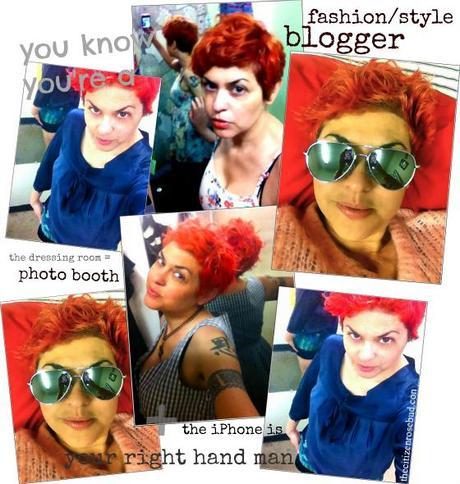 You know you're a fashion blogger when the dressing room = photo booth + the iPhone is your right hand man.
It's not normal to feel comfortable snapping photos of yourself in a dressing room is it? If it's normal to you, I'm guessing you're a fashion blogger. When my neighbor tells me she noticed that I was taken photos of myself in the backyard, and that she was polite and didn't watch, I realized how unusual this meta-world I live in is. Who really plans outfits to fit into some sort of blog schedule? Who takes constant pictures of themselves wearing those outfits? Not your average joe, let me tell you. I don't think everybody makes themselves at home in front of a dressing room mirror and snaps away. And how many of these mirrored images are on my cellie is between me and my iPhone. 
Also, it's not normal to find out that when one googles the word GINGHAM, one's very own blog shows up. ON PAGE ONE! And PLAID: ditto. I'm learning via the charming boyfriend, that it's not always something to bring up in casual conversation, and doesn't produce the same giddiness in the listener (or reader, sorry!) as it does for yours truly. I am personally, pretty stoked about it. 
Anyhoo, I've been honored to be listed this in IFB Links Ala Mode. Do feel free to read these other great and featured posts-
HAVE A GREAT WEEK-END, EVERYBODY!
-Bella Q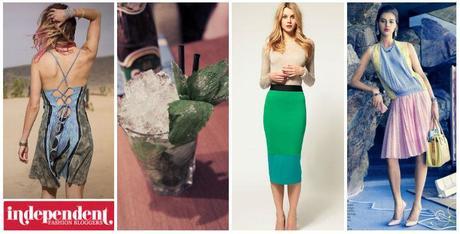 Wanted: Wardrobe
Edited by: Sonia of In Pursuit of Style
Something about the change in weather that makes me want bright colors, fabulous new clothes and fancy new shoes. This happens every year, as excitement builds with peep toes, sleeveless tops and flowing skirts aplenty. I've been feeling uninspired lately, but this week's blogger submissions have me excited again. We have some showing us how to make old things new again, trends in different iterations and best of all, at a great price! Maybe I can go out a buy that new wardrobe after all...
THE IFB WEEKLY ROUNDUP: LINKS À LA MODE: MAY 10TH

Miss Vicki Secrets: New Bloggers In Town
Tobruck Ave: Pioneer Girl

Ma Derniere Addiction: Flamingo

Urbanite: The Artist

DIY Diaries: In All My Glittery Goodness

Boheme Noir: The Return of Matching Shoes & Bags

A Woman Like Me: Neon Wish List

The Chic Street: The Vested Interest

Camo Meets Couture: Color Me Coral
The Citizen Rosebud: Your Little Red Dress
The Style Confessions: How To Make A Fashion Trend Yours

Fashionopolis: Trend Spotting - Colored Jeans

Fashionista's Diary: DIY Colorblock Bangle

The Simply Luxurious Life: Why Not Wear A Pencil Skirt?

Net Vignette: Shopping Fashion Blogger's Closets

A Little Too Much: I Heard You Like The Wild Ones

Fumiko Kawa: Whip My Hair

The Style Safari: Weekend Prep

In Pursuit of Style: Orbit

Welcome To My Closet: What Would Alana Do?
SPONSOR:
New Satchels at Shopbop: Anya Hindmarch, MBMJ Satchels, Tory Burch, Chanel, 3.1 Lim , Red Valentino, Chloé, Messengers, KORS, Jerome Dreyfuss, Beach Bags, Shop Minkoff & Cambridge Satchels
Mirrored Images:
Brooklyn Industries hand-painted navy blue silk dress, $19.95 at Goodwill Industries.
Floral tank, got for a song ($14) at Labels Consignment.
The boyfriend's bad ass aviator sunglasses. You can't have them. 
Gingham seersucker sleeveless dress, $28 at Classic Consignment.