I haven't seen my veg plot as empty as this for many years!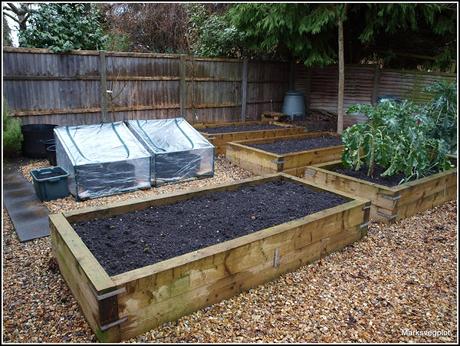 Four of my five raised beds (one not seen in photo above) are bare at present. The only vegetables left from last year are 3 leeks, one solitary Chicory, and the four PSB plants.
At least the PSB is looking as if I will be able to pick some before long: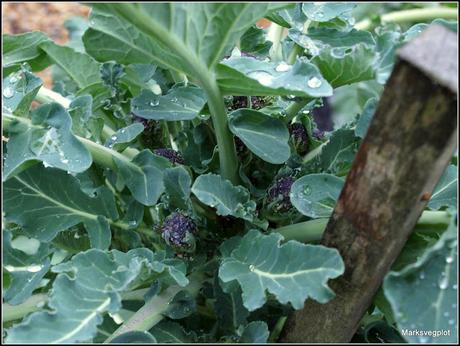 As you know, this year I am aiming to have the garden look a little less cluttered than it has been in recent years, and striving for better quality at the expense of quantity. This is why I am currently resisting the temptation to sow and plant too early. Despite the fact that it's still only half-way through February, many other gardeners are proudly writing about all the seeds they have sown this month. I'm not going to join in with the trend though: I'm deliberately leaving things a bit longer, because I know that seeds started off too early often struggle in the cool temperatures and low light levels. I want sturdy, strong plants that will give me a good yield and be more resistant to pests and diseases.
The beds and pots are ready to go, when the time comes. I expect I will be sowing my chillis at the end of this month, and tomatoes in early March. Likewise, the first potatoes will be ready to go into these big pots in the first half of March, with some protection from the more-or-less inevitable frost.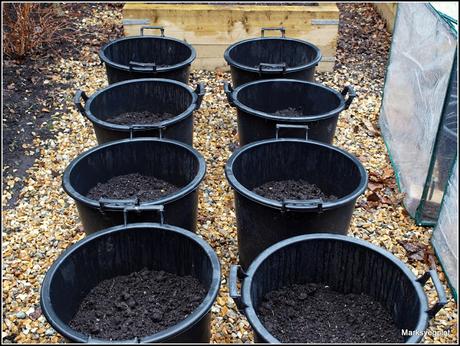 Even I have sown a few seeds already though - onions, leeks, parsley and Broad Beans. All but the beans are in little pots indoors, and the beans are in pots inside one of the plastic greenhouses.
I'm also beginning to see new growth on many of the herbs, like these little Thyme seedlings, raised last Autumn and over-wintered in a coldframe: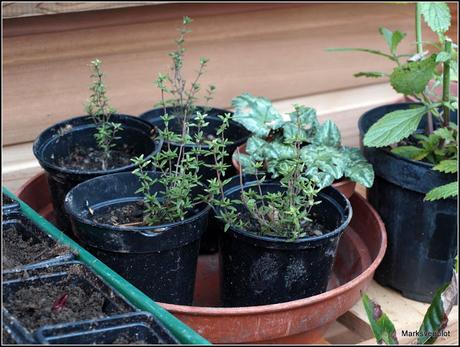 Those will be planted out within the next few weeks too, because I will soon be needing the coldframe for raising chillis and tomatoes.
Another job I need to do soon is re-pot the Mint, which is beginning to show signs of new life: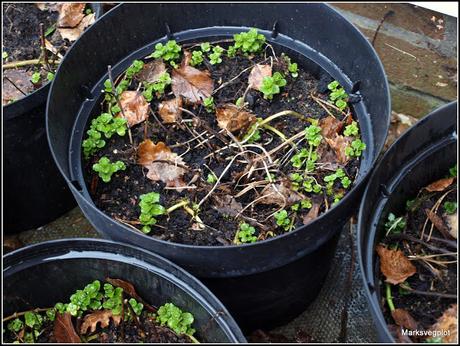 I always grow Mint in pots (several of them), because it is very invasive and will spread rapidly if given half a chance. I discard most of the plants each time, reserving just a few nice shoots for re-planting in fresh compost.
One other thing that will need replacing is this pot, which holds my Olive tree: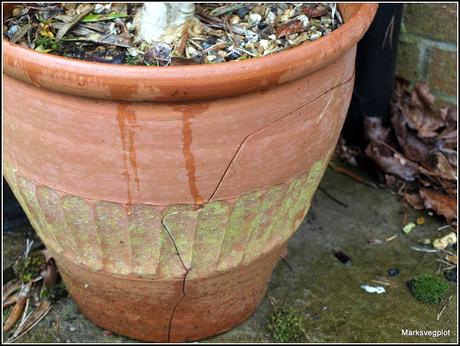 The big crack appeared about 10 days ago, when we had that prolonged spell of very cold weather. Terracotta pots do have a habit of doing this. Water gets into them, and when it freezes, it expands and can crack the pots. To be fair, this particular pot is fairly old, so it has had a good run for its money, and is in any case hosting a big plant whose roots are presumably putting the pot under considerable pressure. Incidentally, one way of reducing the risk of frost-induced cracking is to stand the pot on purpose-made "feet" or just some pieces of brick. This will reduce the amount of water taken up by the pot.
The last part of the blank canvas I want to show you today is this:-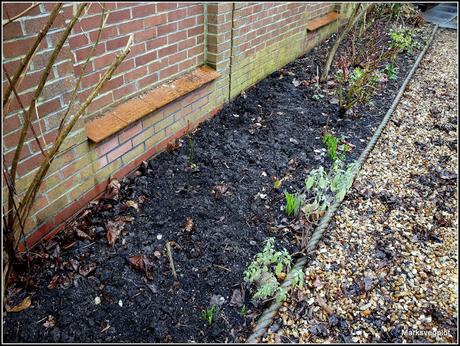 It is the border on the side of the garden opposite the veg-patch - in other words the North-facing wall. I know, because of its orientation, that this border is not ideal for this, but I am going to attempt to grow some flowers here. To this end I have removed some of the big Dogwood shrubs (and that wasn't easy, I can tell you), to make space for planting the root-division "cuttings" I took last Autumn. I have several each of Rudbeckia, Echinacea, Helenium and Verbena Bonariensis, most of which will go into the vacant space. These are all reasonably tall types, so hopefully they will be able to cope with the continued presence of the remaining Dogwoods - I couldn't bear to part with them all.
By the way, I just want to say Thank You to all the people whole left me comments about using spare Onion sets to produce Spring Onions / Green Onions, by planting them in pots. I have done this with a few because I had loads of sets which would otherwise have remained unused. Here's the evidence: