Do you ever stop to wonder how you might cope if something catastrophic happened to you?
How would you react if, say, a freak accident took away your ability to walk? Or if  a degenerative illness confined you to a wheelchair? Most of us, I imagine (and I include myself here) would fall into a depression. I strongly suspect that I would indulge in a lot of self-pity. I might even, on occasion, get off on the drama of it all, before lapsing back into negativity.
Which is why I'm so in awe of our Paralympians who, today, are celebrating International Paralympic Day. Far from letting their condition, whatever that might be, blight their lives, they have battled through to become elite athletes.
Take the adaptive rowers, for example. What struck me most when I looked into their stories was how hard it was to find out why they were adaptive rowers. It's easy to find out their height, their weight, the club where they row. But the accident or illness that put them in the adaptive category? You have to search long and hard to find out anything about it. They all choose not to dwell on it.
GB rower Tom Aggar, who won a gold medal at the World Championships in Slovenia last week, used to play rugby for the University of Warwick and was a member of the Saracens youth development squad. When a random accident in 2005 left him with a spinal injury, far from giving up on his sporting aspirations, he turned to rowing. He rows in the "arms, shoulders" category (yes, guns to die for) and has won gold in three rowing world championships and the 2008 Paralympic Games. It's high time he was a household name.
Aggar wasn't alone in representing Great Britain on the podium last week: there was also GB's LTAMix4+ (a coxed, mixed four rowing with legs, trunk and arms). Pamela Relph (who has restrictive and painful arthritis that cut short a career in the Royal Engineers), Naomi Riches (who is registered blind), David Smith (whose ambitions in Olympic-level bobsleigh were thwarted by his club foot, which led to injury problems) and James Roe (who is visually impaired) snatched the gold from the previous world champions, Canada.
Rowing is a sport that demands strength, determination and courage. These athletes have all of those qualities, and some. And then some more. Let's hope they feel the love today.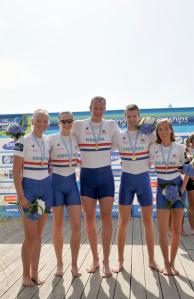 LTAMix4+. Picture courtesy of Intersport Images/GB Rowing Team