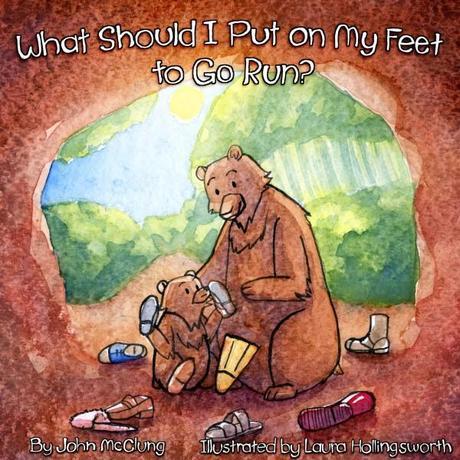 Or is it a "Bearfoot" running book?
We've seen the publication of many barefoot running books in recent years, and a common theme among them claims that the thick shoes you grew up wearing have created a lot of bad habits that will take months or even years to correct. Think of how much trouble we could have avoided if we learned the benefits of bare feet at a younger age. Now there's a book that does just that, and it's a load of fun!
John McClung, ultramarathon runner and author of the blog Barefoot in Arizona, has just published What Should I Put on My Feet to Go Run? This charming children's book follows the adventures of a curious little bear cub as he considers an endless variety of footwear options before enjoying a sunny day outside. The rhyming story is wonderfully told, and the simple, yet expressive illustrations by Laura Hollingsworth reveal a lovable cub full of character, not unlike the classic E.H. Shepard sketches of Winnie the Pooh.
Although the book is intended for young children, the adults in the Soft Star workshop found it very entertaining and a little self-reflective; the bear cub's silly consideration of everything from clogs to skis is almost too similar to how easily we can obsess over fancy, motion-controlled footwear when all we need is to let our feet do their thing… naturally (yes, we make and sell shoes for a living, but we still believe barefoot is best—our shoes are for staying close to barefoot when going shoeless isn't possible or convenient). The book's theme may focus on bare feet, but we loved the subtle lesson about excessive shopping.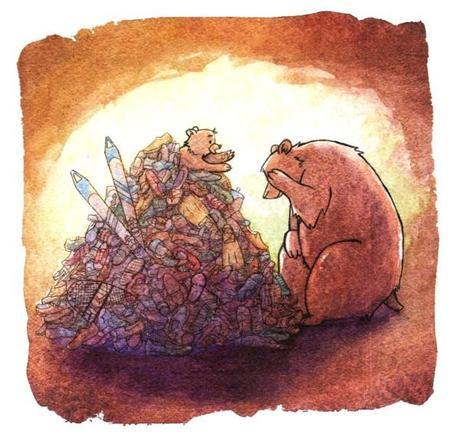 McClung kindly sent us a preview of his book, and we loved it so much we asked his permission sell it on our website. Just in time for the holidays, you can now order your own copy of What Should I Put On My Feet to Go Run? directly from Soft Star with free shipping within the US and Canada! We highly recommend this delightful book for the young cubs in your house. We're also giving away a free copy! Enter below for your chance to win.
So what he should put on his feet? SPOILER ALERT:
"For a bear's foot should be barefoot; it's really the best way
For a bear to run around on a honey-sunny day."