FACT: It took longer to prepare this post than it did to achieve my latest home update—painting and recovering a forgotten chair.
Many, many moons ago, when I was just a lass, good old mom picked up this little number from Denton's own Downtown Mini Mall for a sweet $20.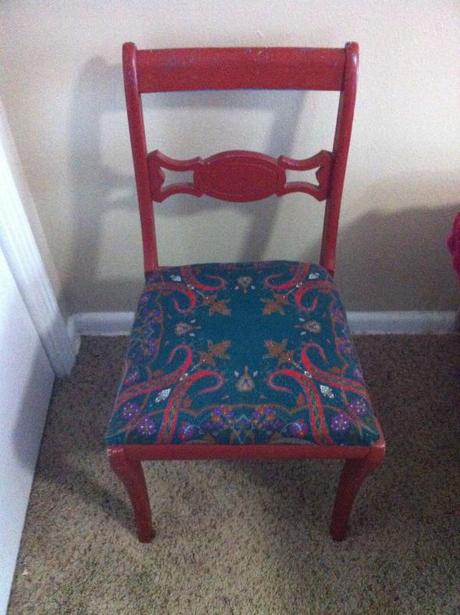 That was more than 15 years ago,  but we've gotten a lot of bang for our buck. I've modified this chair at least three times over the past few years as my style changed from juvenile bright, to bohemian cool, to modern eclectic. But ye old chair has endured each look with gusto. She's taken on the challenge of being painted both cyan blue and dusty red, and her cushion has been covered in everything from kitchen placemats to old scarves—looking surprisingly appropriate with each passing style. Good job, chair. So why not take 15 minutes this weekend to update the familiar beauty once more? After all, it's easy as 1…2…8.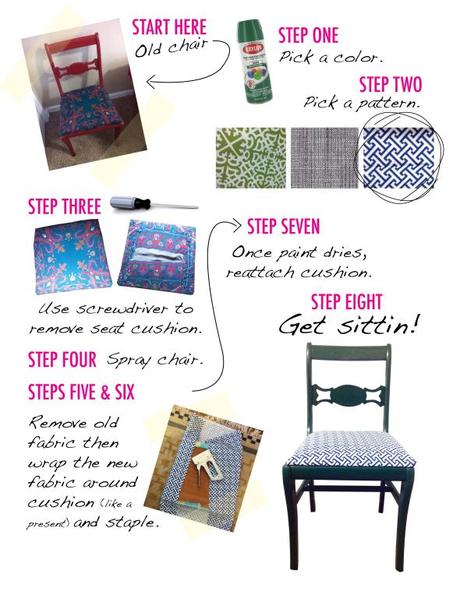 No kidding, without factoring in the time it takes the paint to dry, this project was completed in 15 minutes. How's that for instant gratification? And in addition to being crazy easy, it's also cheap to pull off. I had the chair and the fabric (leftover from another project), so the only cost was the spray paint…bringing the cost to complete the project to a sweet $3.75. If only all projects could be that easy on the watch and the wallet.