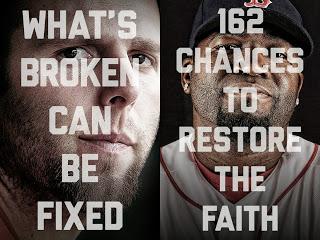 Yes, it was broken. And it was fixed. The faith was restored.
I never would guessed that the Red Sox would have won an amazing 97 games in 2013, after the complete disaster of the previous season. From worst to first.
They finished 28 games better than the previous year, the second-best turnaround in team history. (1946 was the best, 33 games better than in 1945.)
My prediction for this year? Allan at The Joy of Sox has Red Sox fans make their best guess just before the year begins, and I had the Sox winning 88. Only missed by 9.
But for me, the moment John Farrell became manager last October, I felt this team could very well be a contender. The nucleus of a very good team was still there, and I thought that they needed the top of the rotation to come through (and they did), and go back to what I call "The 2003 Playbook", bring in underappreciated veterans the way Theo Epstein did in 2003 with Kevin Millar, Bill Mueller, Todd Walker and David Ortiz. Except this time, Ben Cherington did it with Shane Victorino, Jonny Gomes, Mike Napoli, Stephen Drew, and Koji Uehara.
It has been such an enjoyable year to be a Red Sox fan. No matter what happens from here on, it has been a year we will all look back on with fondness. I guess we had to go through a year of torment to come out shining on the other side.
And we thank Ben Cherington and John Farrell for making that happen, and restoring hope and dignity to being a Red Sox fan once again.
Now on to the playoffs.