I don't know about you, but I loved the 90s. And the Noughties. The cheesy pop music of the era was (and will always be) my favorite music of all time. Ok, it's not cool to love boybands, girlbands and one-hit-wonders, but a catchy tune will get you in the end - and cheesy music is notorious for its earworm-ability. Maybe it is because that was "my" era – I became a teenager in the 90s and a student in the noughties – so I actually had my finger 'on the pulse' back then, and I think that's where my taste has remained.
So you can understand my excitement when The Big Reunion TV was announced earlier this year. I couldn't believe that ALL my favorite pop groups were reforming and that I would be able to watch all the behind-the-scenes nitty-gritty of the process. I'd already watched some of the Steps documentary and had been 'lucky enough' to see them perform at Newmarket Races last year (here's my blog post about the Steps reunion concert) but I never thought I'd get the chance to see the likes of the fiery Atomic Kitten and the famously fallen-out 5ive getting back together for my viewing pleasure.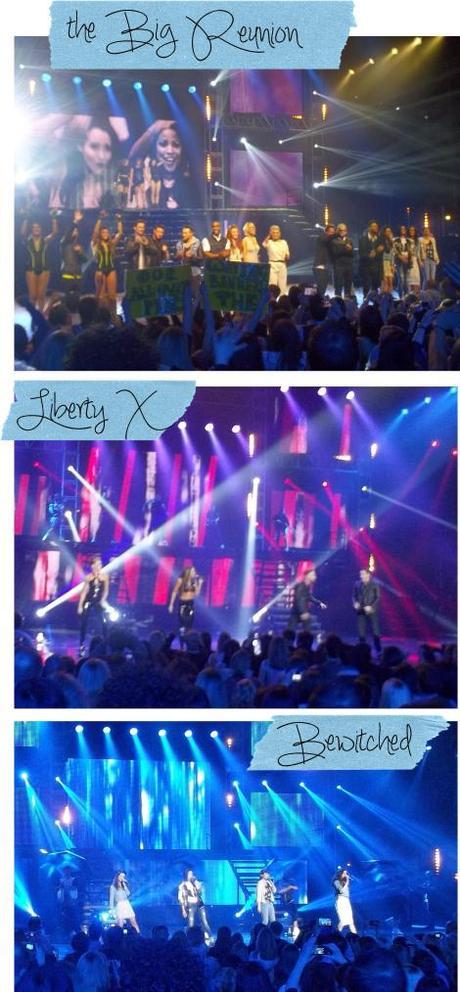 Last September, I was back at my old uni for one last visit, and coincidentally it was Freshers' Week. Which at my uni means that they pull out all the stops at their live venue to get all the new students in (they've got newbie Jake Bugg playing soon). And oddly enough, I'd just had the best day of my life (traffic lights going in my favour, rain stopping when I stepped outside, the jeans I'd wanted on sale for a couple of quid in my size etc), in fact it was a suspiciously good day and it was about to get even better when I walked past the Students' Union and saw that my two ultimate bands 5ive and S Club 7 were going to be performing that very evening! Me and 3 pals blagged our way into the student-only venue that evening and really gave those 18-year-old students a run for their money – singing along, doing all the dance moves, weeping a little etc etc. The show was amazing for me, albeit with only 2 members of 5ive (it's ok it was Abz and Scott, tasty!) and 2 members of S Club 7 (again, Jo and Bradley, the best ones!) – but for me it was close enough, and made my teenage dreams come true.
So put yourself in my place as I settled into my seat at the Hammersmith Apollo on Tuesday evening, clutching my golden ticket to my chest, about to watch 6 of my all-time favorite pop groups perform live, just for me. Ok, there were a few other people there, but I really felt that the producers of ITV2 had sat themselves around a boardroom table and said "Now, what does Cassiefairy want to see on telly?" and then made it happen. I was happy to see some celebs in the audience enjoying the show with the rest of us including This Morning's Matt Johnson – yes, the only fella I've ever left my light on for on Take Me Out, was sitting in front of me, swoon! I was pretty excited when kids TV favorite presenter Andi Peters skipped onto the stage to host the show and could hardly breathe as 5ive opened the concert with booming bass that rattled through your body and fireworks that temporarily blinded you.