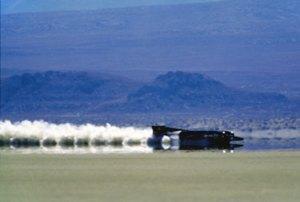 I'm just popping to the shop to get some milk…back in 5.
The speed limit was first invented in 1861.  Initially cars were classed as "light locomotives" and as such were not permitted to drive through built up, urbanised areas at more than 10mph, not bad since they couldn't go higher than 4.  Over the next 100 years the limit was marginally increased and when in 1961 when the AC Cobra was invented the limit was pegged at 70mph.  The idea behind it was to stop all the crap cars, i.e. anything that was made by British Leyland, breaking down and to stop people dying in fiery crashes.  It seemed to work quite well.
This amazing idea was soon adopted in civilised countries all around the world, the USA copied it, as did France, and Iran too.  When the UAE built its first road between Abu Dhabi and Dubai in 197cough, they too thought that it would be a good idea to control the speed of the passing vehicles and adopted a speed limit, probably.  Anyway since back in 197cough there were only 12 cars in the entire country it very likely didn't have much of an impact.
Eventually when the UAE became a more civilised country over the 70's and 80's more and more cars hit the road and today there are about 3 million.  As per recent population statistics that's one car for every 2 adults.  In order to manage and control the flow of traffic the UAE implemented a simple set of limits: 40kph in residential complexes, 60kph in urban areas, 80kph in other urban areas, 100kph on two and three lane roads, 120kph on other two and three lane roads and 140kph on every road that is also 120kph.  The limits are printed onto signposts in a red "O"; this genuinely means that the sign is an "order".  How could anyone argue with that or even get it wrong?
Whilst driving around the UAE some of you may have noticed that there are some people who care not for such signage.  Their easy to point out, generally they are in Land Cruisers or Mercedes, or Range Rovers or Chevrolet Camaro's, or Nissan Patrol's or BMW M5's.  Generally the cars belong to quite well-to-do people.  Regardless, they don't give a damn.
The Police are making an effort to curb such reckless behaviour.  The amount of speed cameras has tripled over the last 5 years.  There are more Police patrols waiting by the side of the road than ever before and now there are prizes for every single driver in the entire country who does not break the driving code.  According to a recent UAE Uncut University survey conducted on a campus of young communists, the amount of road fatalities has been on a steady decrease since 2009.  This then, is good news.
But further study shows some alarming facts.  Out of the all the nasty crashes that have been bending barriers and taking lives, only a few have been a direct result of reckless speeding.  It's true, and if we dig deeper into the rabbit hole the truth becomes clear.  One of the main causes of crashes is feckless idiots swerving lanes without indicating.  How many times have you been driving along the E66 between Al Ain and Dubai and seen a truck with camels in the back just pull into the middle lane without warning?  Too many to count I bet.  In fact I bet you don't even notice it anymore.
It seems that driving without due care and attention is the biggest killer out there.  The unpredictability of hapless drivers just swerving for no reason will cause any driver in their wake to jump and this is how those tramline tyre tracks that you see going off towards the central reservation are born.
Why is so much focus being channelled towards speeding when the reality is very different?  I don't blame the UAE for this approach; speeding is a relatively easy thing to deal with and tax.  But swerving and not looking in mirrors, how do you police that?  The punishments for excessive speeding can be black points, fines (I had 12 points once and a hefty fine so I know the pain) and confiscation of vehicle.  Great news, the fines hurt those of us on low to modest wages, and destroy the working classes altogether.  But we all know that a AED 3000 fine to the key offenders isn't going to bother them much at all.  Confiscation of vehicle for 30 days is pointless since all the guilty party will do is go home and get in one of his or her other cars.  The penalties are futile.
But what about swerving from lane to lane without indicating?  Well, here is the driving offence table with all you need to know…
http://www.adpolice.gov.ae/en/portallist/mcontent/black.points.aspx
…and what amazes me the most is that the penalty for racing, i.e. speeding, is more severe than if you are responsible for killing someone.  That, I think, probably says it all.
Anyway, I'm heading downstairs now to see if Mel got me that V8 Camaro I asked for as a birthday present.  If she has then my advice to you all is to stay off the roads for a few hours…
…Fullard is goin' t' tear it up!!!
She hasn't.