Isn't it great being wrong? Being proven wrong suggests that you were, at some point, immensely confident that you were right, only for someone else to turn around and stick two fingers up at you. Those who believe that they are always right are, frankly, imbeciles. It takes a strong man or woman to hold their hands up and admit error. There is nothing quite so humbling, and there is little else that will aid your human development quite so.
There are, naturally, many degrees of wrongness; ranging from an ill-judged drone-strike on a convent school full of nuns to a simple mispronunciation of someone's name. Then there are opinions. These can be tricky bastards as the definition of an opinion is "a view or judgment formed about something, not necessarily based on fact or knowledge". So theoretically an opinion can neither be right nor wrong.
Nothing gets a debate going quite like a differing of opinions. I have enjoyed many of these opinionated debates over time, and there is nothing more exhilarating than getting stuck in when you have absolutely no idea what you're on about, or even what the subject is. But from time to time it's nice to debate something of which you know a great deal, just to reassure yourself that your place in the Ivory Tower is valid. And among us expats a common topic of debate is that of airlines, something of which I am now quite well-versed.
I am forever being asked who the best airline to fly with is, and my answer is always the same: "British Airways, Emirates, Etihad, KLM, or Virgin Atlantic". All of them are absolutely brilliant. Once I have laid my cards on the table, the follow-up statement usually runs along the lines of "Oh no, I wouldn't go with British Airways, I had a bad experience with them once". If you can be bothered, ask the person what the bad experience actually was, and I'd bet my face that they say something like "I sat next to smelly passenger". Hmm… Ok.
I know people who have made a complaint about each and every one of the airlines that I listed above, and each and every reason why they "had a bad experience" is due to fellow passengers. But how can you possibly hold the airline accountable for that? Emirates don't implement mad policies like that of Abercrombie & Fitch. They can't turn passengers away just because they read The Guardian, nor can they deny travel to a man with curious body odour. "The guy next to me spilled coffee on my lap" they say. Ok, I sympathise, but again, you can't blame that on poor old Richard Branson.
If the pilot shouted over the PA that everyone on board was a c*** and the stewardess thought it would be funny to open the door at 38,000 feet then yes, perhaps a cause for grievance could be raised. But you can't judge an airline purely on the smell, appearance, or sexual orientation of its passengers. I have had two bad flights; one due to a wailing banshee, and the other due to turbulence of such magnitude that I am still amazed I am here today. Was that Etihad's fault? No, of course it wasn't.
This neatly brings me onto the Dubai Metro. For years I have asked why it was needed, and have refused to believe that it actually makes any difference to traffic congestion. I have called it names, pulled its hair, lifted its skirt up in the playground, and beaten it up for its lunch money. All in the name of reason, I have dragged it through the mud. It may then come as a surprise to read that, this week, I rode on it for the very first time.
Before you all begin to question the integrity of UAE Uncut and cry bloody murder on me, I can honestly say that it was an enlightening experience. With the exception of their BS claim that it carries more passengers annually than the glorious London Underground (nothing compares with the Messiah of urban rail travel), I found the experience monumentally pleasant.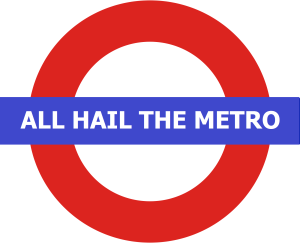 Not quite enough delicious history to be ranked alongside the Tube, but you're alright…
My first adventure was merely a toe-in. I hopped on at Ibn Batutta Mall, and alighted at Dubai Marina Mall, which was only about four stops away. No complaints. It was Munich-clean, timely, and peaceful. But, it was 1:30 PM, the equivalent to slack water; perhaps not a true test of its rush-hour capabilities.
I then rode it again, this time for a man-sized portion of journey during the evening commute. I jumped on at the Emirates station, up near the airport, and disembarked at Dubai Mall: that is about half the distance of the Red Line's route. Boy, was it crowded. When I got on it was empty, before I realised I was accidentally in the ladies-only carriage. But even when I was rudely moved to steerage by a snotty lady, it was still empty… albeit for only one stop.
The aroma of body odour and the sound of hocked phlegm nestling in the epiglottises of my fellow passengers was detestable. Thankfully I was equipped with earphones and Greenday and was thus able to drown out the assorted noises. The smells, though, had to be toughed out to the bitter end.
Was my impression of the Metro altered after these two differing experiences? Yes. I still believe that it is more of a tourist attraction than a genuine means of metropolitan travel, and that it certainly doesn't carry 12 trillion people a day. But it is clean and prompt, the trains are regular and punctual, the stations are well sign-posted and located conveniently. It is, really, an exceptionally well-designed and well-engineered asset.
Was I wrong about it? Yes. Do I take back what I said? Yes. Would I ride it again? Yes… but only if the car was broken-down.