There is always that fear when you go on vacation that weather in your planned destination will be miserable, while everyone back at home enjoys days of clear skies and high temperatures. For my week in Myrtle Beach, South Carolina, this was not the case. Within minutes of arriving, I was greeted with 80 degree, humid and sunny conditions, and it pretty much stayed that way the whole trip.
My first taste of the salty, moist Myrtle Beach air came as I stepped off the plane and onto the airport tarmack, a pleasant introduction to the quaint ocean town. (Little did I know at the time I would grow to despise the airport, but that story will come later.) Once inside the terminal, I met up with my friend Matt, who went to college with me in Milwaukee and now lives in Pennsylvania. We proceeded to reminisce briefly while grabbing some lunch and waiting for our other friend, Bob, to arrive from Newark, where he had been delayed an hour. (This would be the first of many flight delays experienced on this trip.) To kill time, Matt and I grabbed the rental car and took a quick drive over to one of the main stretches of Myrtle Beach, which can only be described as a garish bargain area meant for underage college partiers. I can honestly say I have not seen so many flashy tourist shops selling character and sports merchandise and shoddy clothing, at least not since spring break freshman year when we went to Panama City Beach, Florida.
Once Bob arrived and we had the rental car packed up and ready to go, we drove the 20-some mile distance to the Litchfield Resort, which would be our home for the next week. Along highway 17--which I got to know very well over the course of the trip--I noticed dozens of cheap looking seafood spots and cheesy mini golf courses. Two things I was desperately looking forward to enjoying. And how could I not in a place that's known for its delicious, fresh seafood and unlimited array of mini golf? When in Myrtle Beach, right?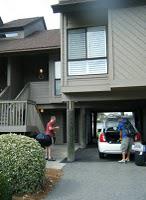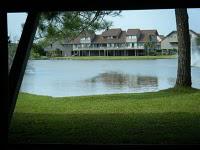 Driving through the pristinely kept front gate of the resort, I felt centuries away from the abject scene we had witnessed earlier. Private condo units set steps away from fresh-water lakes surrounded by lengthy reeds, cranes sauntering through the brush searching for their afternoon meal. Families sat under an awning, fishing, carrying on without a care in the world, while other guests basqued by the pool, soaking in the last of the days light. Our condo sat at the end of a long winding road, #91. We had arrived at last. We quickly changed into our swimsuits and headed over to the beach where we planned to spend most of our time. Most people had packed up for the day and were making their way into their beach-front homes for some dinner, leaving the oceanfront practically bare. As I toed the rushing waves, the slightly cool water refreshed my travel wary body, preparing me for the long week ahead. After a quick walk down the beach and through part of the resort, we made our way to the grocery store to stock up on food necessities and libations--though Bob's grandfather had stocked us up nicely before we arrived.
My first meal in Myrtle Beach was--of course--seafood. I also got my first taste of a local favorite: hushpuppies, basically little balls of fried dough. While the fresh fish was seasoned perfectly and melted instantly in my mouth, I was most impressed by the technique used to cook my food. The restaurant had placed all the ingredients into a brown paper bag, and baked it. When it arrived at the table, the waitress broke open the bag and dumped it on my plate, with the fish landing squarely on top of the rice and vegetables.
Our first day was spent lounging lazily on the beach (after a quick three mile run on the beach, which, in the humidity, felt like 10 miles). We made sure to lather up on sunscreen and drink plenty of water, but despite my efforts, I still managed to develop a red, slightly raw, color on my shoulders. Probably one of the most unfortunate things that can happen on vacation is getting burned the very first day, so I encourage everyone to load up right away, even if you're dying to get some color. Trust me, you'll thank me later when you get to enjoy every single day out in the sun, rather than just one or two.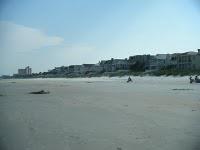 In the afternoon, we ventured back to the airport (trip #2) to pick up Ashley, our fourth and final companion. Back at the condo, we cooked up an impressive plate of chicken kabobs and roasted vegetables, pairing it with the first of many rounds of cocktails. Once we finished dinner, we made ourselves some drinks-to-go and went for a relaxing stroll on the beach to watch the sunset. Past experiences on the ocean in the evening told me to grab a sweater or something in case the sea breeze forced a chill, but to my surprise and pleasure, there was absolutely no need for another layer. The warmth seemed to dominate the day and barely waned at night. As we traipsed along, each of us pointed out the house we hoped to someday own, the massive beach-front properties that gave no indication that we were in a recession. Mine was modern, painted blue with white trimmings and a spiral staircase between the upper and lower deck.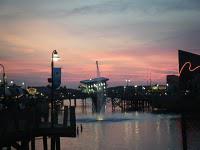 Our second full day, we experienced the true pain of a heat index that tops 110 degrees. All those days I begged for warmer weather, I will now no longer complain. We could barely stay outside for a few minutes before feeling like we were melting. But as much as everyone wants to hear about we baked out in the heat all day, I know there are others things to talk about. That night, we made our way to Broadway at the Beach, where we enjoyed large platters of scrumptious sushi. We then spent the rest of the evening walking around a shopping area, sampling local wine (very fruity and sweet), indulging on scoops of ice cream and freshly made fudge, and trying on various cute outfits (at least that's what me and Ash did while the guys enjoyed a beer in the bar across the way).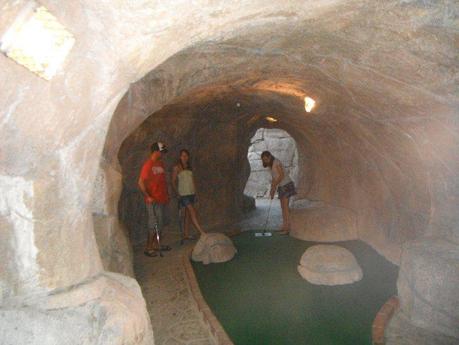 The next evening, after making a nice meal of pasta and garlic bread, we headed over to one of those ultra cheesy mini golf courses to take part in some much needed physical activity. We encountered waterfalls, caves, rivers, and lots of other obstacles typical of good quality mini golf courses. The whole night was filled with laughter, music, fun and cake batter vodka--all Matt.
Wednesday was Matt and Ashley's last full day, and we spent it lounging at the pool and relaxing. Since it was so hot out, we decided to spend the afternoon inside and went to see a movie. After the film, we headed over to a seafood joint Bob raved about called Nance's. We all got a platter of delicious seafood, swordfish, crab, oysters, lobster and of course, hushpuppies. After finishing our meal, we headed over to the pier to listen to some live music over the crashing waves. Yes, it was all country, but still a nice experience, and a prime opportunity to people watch.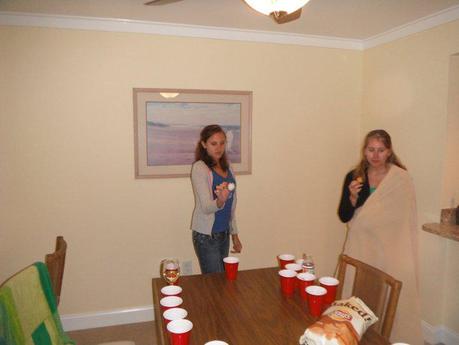 On Matt and Ash's final say, we spent the morning on the beach, enjoying the waves and the sun. Bob and I drove them to the airport (trip #3) and dropped them off for their flight to Atlanta, where Matt would be catching a connection to Detroit and Ash would be making her way back to Milwaukee. No more than 10 minutes after leaving, Matt called to tell us the flight was delayed and he would miss his connection, so we turned around quickly (trip #4) to pick him up. We ventured up North to a different shopping area where we found a really great fish market, where the guys got full platters of crab legs, crawfish and potatoes--a guy's dream. It was pouring rain outside, so it was no surprise when we got a call from Ash telling us her flight was delayed out of Myrtle Beach and she needed to be picked up. So we made the best of their extra night and revisited out college days with a game of beer pong--or four or five games.
Our last full day was spent taking Matt to the airport (trip #5) and then heading over to downtown Myrtle Beach where we had lunch on the beach and wandered around some of the cheaper areas of the city. By mid afternoon, it was time to take Ash to her flight, (trip #6). After dropping her off, Bob and I went back to the condo and made the best of the rest of the day by going to the pool and then making a quick dinner. But just as we were finishing our meal, we got a call from Ash telling us she needed to be picked up again. Trip #7. The evening was spent on the phone to Delta getting Ash some compensation for her troubles, and then enjoying some delivered pizza and a rented movie. Unfortunately, Ash had an early flight out on Saturday morning, so Bob took her to the airport around 5 am, (trip #8 for him). Once we packed up and had some food, we made locked up the condo and made our way out.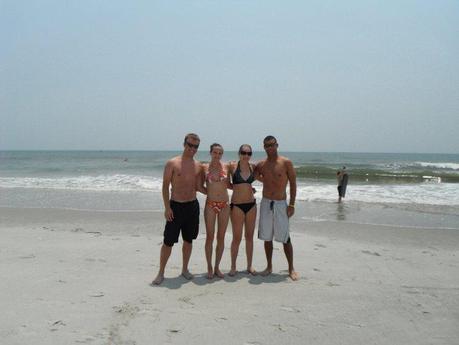 Even though my trip was not as touristy as it could have been, I know there are plenty of tours and attractions I could have participated in. The bottom line was I didn't want to leave; the entire trip was exactly what I needed. A relaxing week spent in the sun with some of my best friends. The weather was absolutely perfect and it was just the distance from Chicago that was necessary.