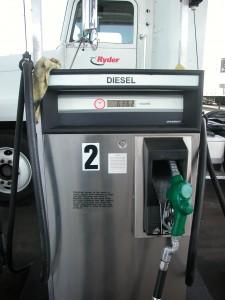 It's no surprise that one of the largest costs for companies maintaining fleets is fuel. With fuel prices changing so sporadically it is difficult to forecast how much you will spend month over month, or worse, week to week.
Just this week, diesel prices shot up nearly 10 cents to $4.022, according to the Department of Energy's Energy Information Administration (EIA). The 9.5 cent gain represents the largest weekly increase since the price moved up 6 cents to $4.034 the week of November 11, and it is the first time weekly prices topped the $4 per gallon mark since reaching $4.027 the week of December 3.
For fleets that are looking to avoid pain at the pump, here are nine helpful tips:
Train drivers to practice fuel efficient driving techniques – Speed is the largest single factor impacting large truck fuel economy.  Simply reducing speed from 65mph to 55mph can result in a significant improvement in miles per gallon.  Gradually easing into the speed limit versus faster acceleration is also another way to use less fuel. Learn more about fuel management in our Pro-TREAD driver training program, including a specific module on fuel management.
 Specify fuel efficient equipment

– New engine technologies, improved aerodynamics, and weight-saving designs are available to improve the fuel economy of today's fleets. 

Natural Gas Vehicles

are also an attractive alternative to mitigate fuel cost volatility. Natural gas costs as much as 42 percent less per equivalent gallon of diesel.

Plan Routes Around Traffic Patterns

– Knowing current traffic patterns can help drivers avoid congested areas. Less deceleration and acceleration means less fuel consumed. It's also important to check routes for possible construction projects, as they usually cause delays.

I

mprove tire maintenance

– Correct tire pressure, alignment, and frequent tire maintenance have a significant impact on fuel economy.  Have drivers check for visual defects before starting their work each day and use the recommended inflation pressure provided by the tire manufacturer.

Use side skirts on your Fleet

– Installing side skirts on your van and refrigerated trailers and can minimize the drag produced by air swirling under the trailer. This will further increase fuel efficiency.

Implement an ongoing preventive maintenance program

– A well-maintained vehicle is a more fuel efficient vehicle.  Make sure your fleet is on a scheduled maintenance program for even the most routine care to optimize performance. 

Leverage technology

– Take advantage of new

telematics

and onboard diagnostics systems, which help fleet owners analyze fuel purchases, optimize routes, and monitor idle time and vehicle performance – all which mitigate rising fuel costs.

Optimize distribution networks –

Establish regional distribution centers to serve customers on demand and optimize and consolidate routes. This will reduce the number of loads to require fewer trips and less idling.

Consider a dedicated fleet solution –

Control routes, fuel consumption, and idle time with

dedicated

assets, drivers, and strategic route planning.
Implementing these suggestions into your fleet operation can help you save a lot of money on fuel, and free up some cash flow to put back into your business. You will also be helping the environment by reducing your carbon footprint.
To learn more about how you can gain more fuel efficiency in your business, download the results from the Fleet Fuel Efficiency Benchmark Study.