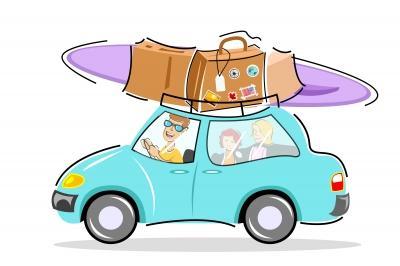 9 tips for taking your baby on holiday
Taking your family on holiday can be very stressful, however many times you have done it. If you are taking your baby away for the first time it really pays to be organised. With that in mind we have thought about all the small things you can prepare to make your trip go smoothly.
Make sure all your passports are up to date and have more than six months validity left on them. Even your baby needs a passport. It will cost £49 and takes around three weeks to arrive. Don't worry too much about the photo – usual rules on no smiling and looking at the camera are waived on baby passports. Just make sure you take their dummy out!
Purchase travel insurance and get your European Health Insurance Card. This free card has replaced the E111 form and will ensure you can access free health services while in Europe. Make sure you have any foreign currency you need and inform your bank where you are going to ensure you can use your debit or credit card overseas. If you fail to do this your bank may temporarily block your card for suspected fraud.
If you are taking your mobile phone with you then speak to your operator about roaming charges. Some mobile phone providers will charge extortionate amounts for using your phone abroad, and data use especially could take your next phone bill into the thousands. So if you have a smart phone then work out how to switch off all data use before you even board your plane – otherwise it may start using data the moment you switch it on overseas. Using your phone over an open Wi-Fi network will still be free wherever you are though.
When packing liquids for your flight, such as sun cream or even baby milk, you will need to put these in your suitcase that goes in the hold or they may be taken away by customs. Fortunately medicines and sun creams can easily be purchased when you arrive at your destination, and it gives you a great excuse to pop to duty free!
Taking a few items to help keep your children entertained while on the flight is a very important part of making your trip enjoyable and stress free. Pack a few favorite toys and perhaps a colouring book and crayons. Try to avoid digital games devices if possible as some cabin crew will force you to switch them off, which will not please your youngsters at all.
When packing for your trip, make sure you remember that particular comfort item your child just can't sleep without. That special blanket or bed time book is the one thing you really don't want to forget. Always pack extra nappies as well, and if your child needs it, then pack a small sterilising kit.
Some parents do not like to take their child swimming before they have completed all their jabs, whereas others will find their week old newborn loves to swim. The Department of Health says you can take your child swimming from a very early age and do not have to wait until they have had all their jabs. If you do plan on taking your child swimming in a pool or in the sea then make sure they have full sun protection, covering their arms and legs as well as their head. These can be found on Splash About's sun protection range, as well as major retailers.
Bear in mind that even in warm water your baby will lose heat rapidly while swimming or paddling. You shouldn't keep your baby in the water for longer than half an hour. A baby wetsuit will help your baby keep warm and will help you grip your child. If you will be taking your baby in a pool then a secure nappy is especially important.
If you are using a buggy for your child then you do not have to check it in at the airport. Just hand it to the staff as you board and it will be on the plane with you. This is perfect if your baby is asleep at the airport and staff will usually make this the first thing on the luggage carousel at the other end, making your journey much easier.
This list may seem a lot, but if you are organised before you go away, then you can relax while away and just have a great time with your family. So enjoy your holiday. You deserve it!