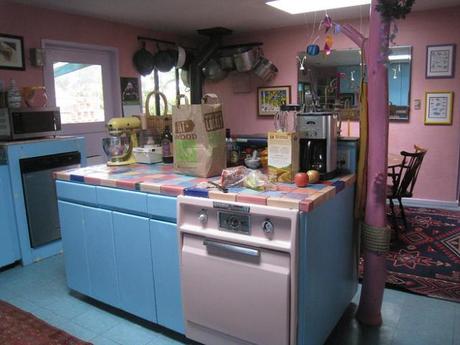 Photo by Flickr user Dvortygirl.
It's been said that the kitchen is the heart of the home. With that in mind, why should you let it remain drab and boring? There are several different places you can inject color into your kitchen, depending on the theme you have in mind, your budget, and your level of commitment.
Here are several ideas you can pick and choose from, whether you're completely redesigning your kitchen or simply want to give it a little update.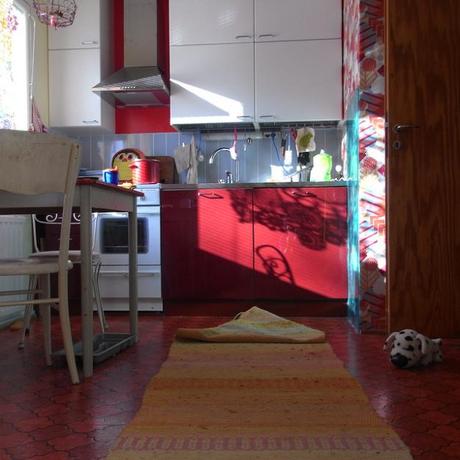 Photo by Flickr user Tomi Knuutila.
1. Cabinets
Kitchen cabinets are a common target when wanting to add some color. You can install colorful cabinets, or you can simply paint your existing cabinetry.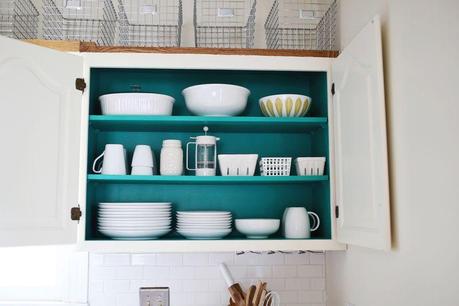 Photo by A Beautiful Mess.
Some more innovative ways to liven up your cabinets are painting the interior or hanging curtains in cabinets with windows.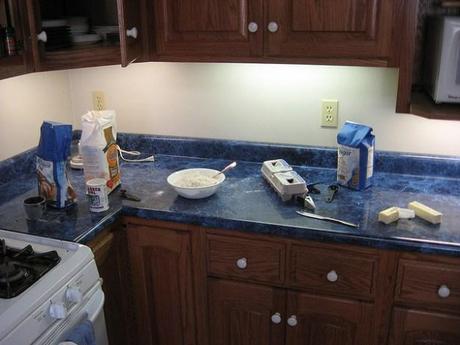 Photo by Flickr user tehalynn.
2. Countertops
A more permanent design choice would be installing colorful countertops. If you're hesitant, try buying a few eye-catching storage containers to place on your counters instead.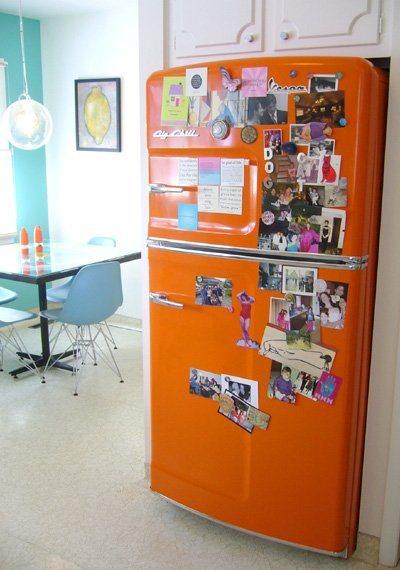 Photo by Manolo for the Home.
3. Appliances
Purchasing brightly-colored kitchen appliances is a bold choice as well as quite the investment. Only do this if you're entirely happy with the features of the appliance and your shade of choice.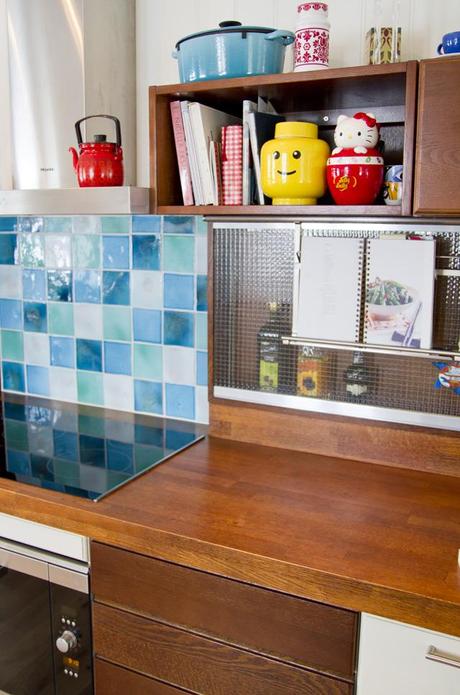 Photo by Snostorm.
4. Open shelving
For those who are more cautious, a temporary solution that will give your kitchen color is using open shelving to display your kitchen accessories. Show off a beautiful collection of dishes, your cookbooks, or interesting novelty pieces.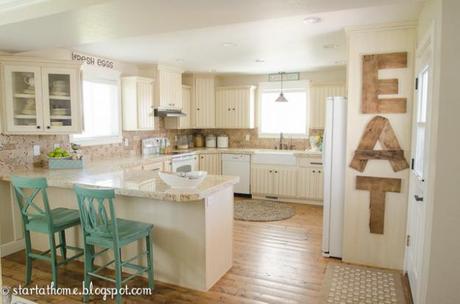 Photo by Start @ Home.
5. Seating
Customize your kitchen chairs by painting them a vivid color. If you'd rather have an option you can easily change, you can place patterned cushions or pillows on the seats.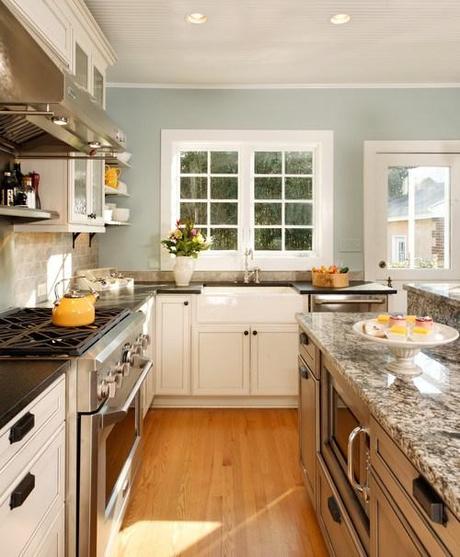 Traditional Kitchen by Alexandria General Contractors Harry Braswell Inc.
6. Walls
There are a multitude of ways you can use your kitchen walls to make a vibrant visual impression. For a major update, put up some whimsical wallpaper or give them a fresh coat of paint in a bold color. Using tile on an accent wall or as a backsplash above your sink has been a recently popular trend. If you want to give your walls your own personal touch, stencil a design of your choice.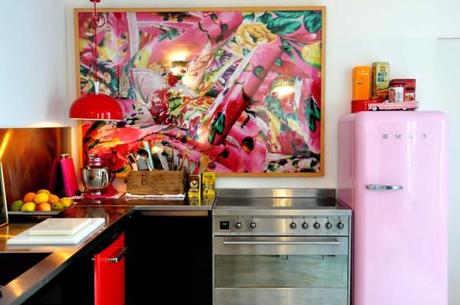 Photo from TrendHome.
The option which entails the least commitment is hanging up pieces of artwork. Find a print or painting that fits into whatever theme you have in mind. Then, if you want to redecorate later, they can be taken down or replaced at any time.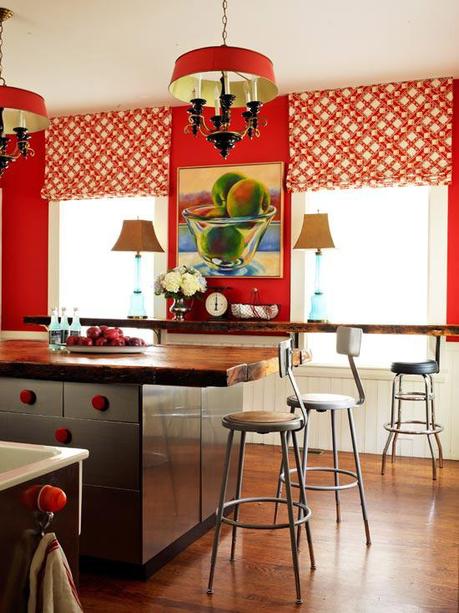 Photo from Better Homes and Gardens.
7. Lighting
Even your kitchen lighting can be considered when looking for places to add color. You could, for example, buy new shades for your chandeliers or other light fixtures. Also important to note is that your light sources should properly flatter your color choices, bringing them out and making them pop. Don't be counter-intuitive and use a lighting and color pairing that makes your kitchen look dreary or dark.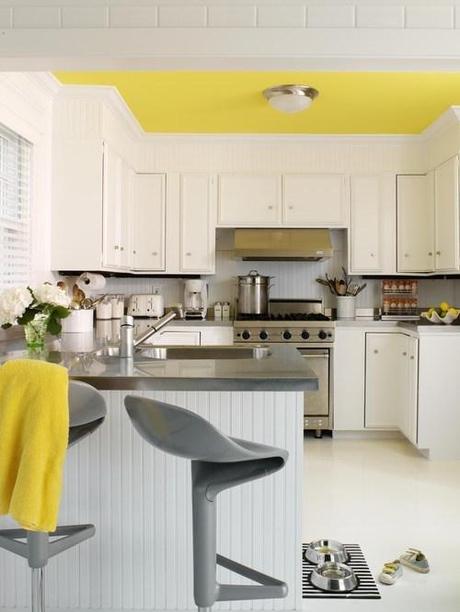 Contemporary Kitchen by New York Interior Designers & Decorators Tara Seawright
8. Ceiling
For the truly ambitious, you can paint or wallpaper your kitchen ceiling. You can coordinate it with your walls or make it an accent color that stands alone.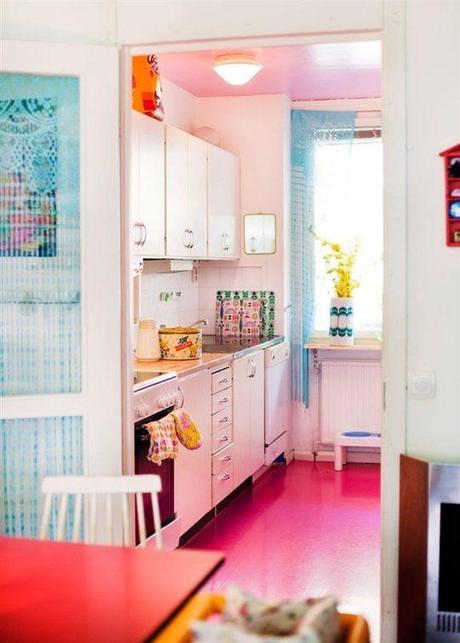 Photo by Hus & Hem.
9. Floor
A long-term solution to brighten up your kitchen floor is painting it or installing new tile. For a quicker fix, pick up a couple of colorful rugs and place them around your kitchen.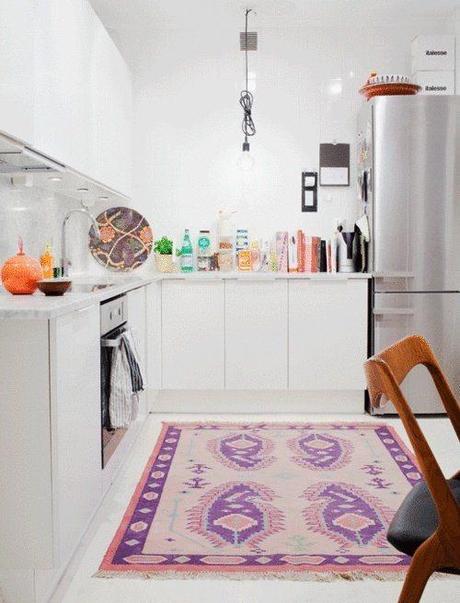 Photo from Plaza Interior
Which method would you be most likely to try when adding color to your kitchen? Have any other good ideas that we left out? Share your thoughts in the comments below!