Snorkeling offers amazing freedom to observe marine life's vibrant and mysterious splendors. Discover the greatest features of nine thrilling destinations all over the globe. Then select the rugged coastline, shallow lagoon, or uninhabited island for your upcoming dream vacation.
Dress for Comfort
Pack multiple swimwear options so you can start every adventure in something clean and dry. Check out Swimsuit Direct's plus-size bathing suit lines. Consider full-coverage one-piece versions that stay put while exposing less skin to aquatic and weather elements.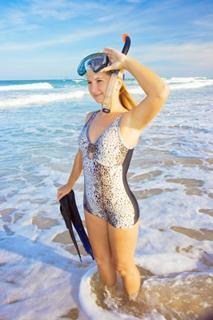 For greater protection from chafing and sunburn, choose from our popular rash-guard styles. They stop salt water, sweat, and sand from causing bothersome irritations. Lightweight athletic shirts feature stretchy polyester or nylon materials with extra wicking ability.
Bottom cuts include bikini, hipster, and shorts. Various sleeve, torso, and bottom lengths accommodate different personal needs and concealment preferences.
Once you're properly outfitted, pick one of the following destinations for maximum fun.
Belize's Hol Chan Marine Reserve
The Mayan name for "Little Channel" describes this natural split on the ocean floor off Ambergris Caye's coast. Explore multiple habitats. Mangrove roots lining the shore nurture fish, brittle stars, and anemones. The massive reef's sizable elkhorn coral provides an ideal environment for the Hol Chan Reserve's lobster population. Nurse sharks gather with stingrays in a deeper sea alley.
Ecuador's Galapagos Islands
Tour numerous bays to spot fascinating wildlife underwater and on this site's archipelagos or scattered isles. Discover Isabela Island's Tagus Cove between volcanic craters and Pinnacle Rock Cove with its stunning formation tilting dramatically toward the ocean. This special locale offers views of Galapagos penguins, marine iguanas, nurse sharks, and five ray species. Fearless residents like curious green turtles and sea lion pups tend to investigate snorkelers.
Florida's Devil's Den
Ancient fossils and artifacts date this dry prehistoric cave back in time to the Ice Age. World travelers snorkel this natural wonder's caverns, crevices, and clear spring amid fish and turtles 60 feet below ground. The Devil's Den name stems from its underground water source's constant 72-degree temperature spouting steam blasts from the cave's opening on chilly winter nights.
Grenada's Sculpture Park
Since environmental damage weakened Molinere Bay's delicate coral, innovative regenerators placed sculptures to delight guests. Take a boat ride 10 minutes from the coastline to enjoy a guided tour. Local students cast concrete figures with enthralling faces representing Grenada's cultural legends. Snorkel around them to notice coral taking over gradually in bright yellows and pinks.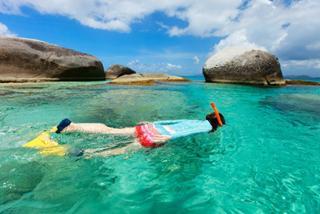 Indonesia's Komodo Island
More snorkelers frequent this site than Komodo dragon fans. Jungle vegetation and sandy beaches dot this national park's untouched coastline. Cruise past intriguing strands and caves on a lavish schooner to hidden lagoons.
At shallow reefs, watch turtles drift calmly over coral as clown fish zip through anemones. Venture deeper to catch manta rays gliding through water, awaiting prey. Upon spotting small fish and plankton, they somersault toward targets rapidly with wide-open mouths.
Japan's Kabira Bay
Visit Ishigaki island with Mount Omoto looming across the vista to enjoy glass-bottom boats in this low-water wading area. Even experienced snorkelers may relish Kabira Bay's amazing offshore reefs best with guides. After a boat ride, swim past coral walls and the sea floor's sudden drop-off for an exhilarating rush. Dual aquatic environments contain irabucha as shallow dwellers and manta rays as deeper inhabitants. Disturbances transform blowfish into spiky balls instantly.
Mozambique's Bazaruto Archipelago
A two-mile reef runs alongside five white-sand islands off Mozambique's southern Indian Ocean coast. Over 100 vibrant coral types and 2000-plus tropical fish species earned "the Aquarium" nickname. You might spot endangered dugongs, unusual and ginormous creatures from the manatee family. The shallow water's clear visibility and gentle current make Bazaruto Archipelago an easy-going snorkeling paradise.
The Philippines' El Nido
This Pacific Ocean haven, centered in a coral triangle, hosts a marine ecosystem among the world's most biodiverse. A jungle and limestone cliffs frame El Nido's scattered islands. Impeccable coral represents 6000-plus species. Snorkel off beaches or uninhabited lagoons or isles to catch vivid fish, five turtle species, and whale sharks darting around coral. Electric-blue ribbon eel seem to dance in the tide.
South Africa's Aliwal Shoal
Formerly a fossilized sand dune, this reef with mesmerizing shipwrecks, caves, and ledges got its name from the stranded Aliwal ship's 1849 remains. Snorkel among gray nurse sharks or raggies cruising the shoal. Coral shrouds neon moray eels and speckled potato bass. Humpback whales' enchanting deep-water songs transmit miraculously to shallower swimming sites.