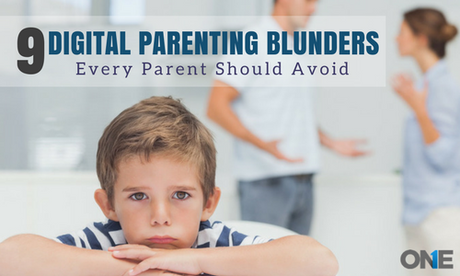 What we are doing as parents and how we are doing as the digital society? As for as digital parenting is concerned, parents are doing reasonably well, PEW Survey stated and parents are more engaged now in digital parenting compare to the post times. Parents did not take interest in their children's cyber life at all, but now we have seen progress presently. However, there are plenty of digital parenting blunders most of the parents do and they have still a lot to go to learn about digital parenting do's and don'ts in order to make sure the safety of their children. Let's discuss in detail about all the embarrassing mistakes parents usually do when it comes to the safety of the kids and teens cyber life.
Digital parenting is not less than art that every parent should learn and impose it on their kids and teens for their online safety there are following parenting blunders that every parent should avoid.
Parents provide password protected devices to teens
The contemporary world has also provided modern cell phone and gadgets to the users that run with different OS such as Android, iOS & Blackberries. However, parents provide to children password protected phones, tablets and pads without knowing the email passwords, cell phone passwords social media accounts such as Facebook, Yahoo, Line, Vine, Tinder, WhatsApp and plenty of others alike.
According to PEW Research Center
Among parents of teenagers between 13 to 17 most of the parents don't know the password of teens.
Almost 48% of the parents don't know about the email account passwords of teens
43% of the parents don't have the password of the cell phone of their children device
35% don't have clue about the password of at least one social messaging app account password of kids and teens
Obviously, without having a password keystroke, messenger keystrokes and email keystrokes how it would be possible for parents to monitor their kids and teens cell phone devices and their activities they do in the digital world.
Don't discuss teens about online behavior
Parents usually discuss with their kids and teens to make right decisions and behavior for "Real Life", but they miss the part of the discussion about the children behavior in "cyber life". According to the PEW research center, almost 98% of the parents discuss frequently what is appropriate and what is inappropriate in school, in their real-life social life, and at home and only 56 percent of the parents discuss about their online or digital life behavior. The behavior of the digital life has got much importance since the exposure of the cyber world has risen.  However, they don't even discuss they constitute appropriate online behavior towards others. This is the reason behind your children could be a bully! Victim! And a Witness!
In the light of recent stats of PEW research, only 43% of the parents do discuss kids and teen's online behavior such as what sort of content they don't share and what sort of content is acceptable for them to be viewing online.
Don't aware of teen's sneaky texting codes
No matter what parents have to do to make sure that teen's Tutor is not a pedophile, but they don't know about the contemporary real parenting challenge teen's sneaky texting codes.
According to the Barak's data, more than 10 million text messages delivered by the teen's every month including in the form of texting codes.
They use texting codes in front of their parents and they don't know what there meaning is. Today teens are using text codes such as GNOC =GET NAKED ON CAMERA, MOM =Mother is over the shoulder, 1174 = meet at the part spot, LMIR = meet in real life and hundreds of others. So, parents have to be aware of the contemporary messaging codes that teens do on their cell phones, instant messaging apps and even though the emails.
Open Wi-Fi at Home
Motherhood is a tough job in the digital world and it is not possible for them to feel relax. On the other hand, the present percentage of mothers in the United States, almost 83% of U.S moms has the Wi-Fi connection at homes. Most of the mommies don't consider to put a password or to change the password in order to prevent young children to connect their cell phone devices with the wireless internet connection. When kids and teens devices are connected all the time with the internet, they can use their device anytime and can do things which are now worthy enough for their health and even for their online activities.
Don't Teach Internet Netiquette
Parents often ignore things about the internet Netiquette the time when the children about to come to the stage to have their individual cell phones and gadgets. Parents should guide their kids and teens about all the digital nightmares and how to use the IM's social media and for what reasons you can use it and what to do and what not to do on the cyberspace using the mobile phones.
Lack of privacy settings on kid's device
Parents often forget to set privacy settings before they are going to provide the smartphones, tablets, and pads for their kids and teens. Because contemporary gadgets and phones provide the user to set the privacy such as to ON and OFF the location of the phone and to restrict the cell phone browser with the password and to set the password on certain cell phones apps in order to prevent kids and teens to use particular cell phone apps and browser.
Blind trust on kids and teens
Parents should build a trust with the kids and teens, but a blind trust on them may lead the young teens towards the blind dating, drug abuse and towards the party life. Parents have to make sure a check and balance on their children until and unless they become adult and get to know what is good and what is harmful to them. Most of the young teens due to the negligence of the parents try to find out ways to share their thoughts and issues with the third party that could their boyfriend in the shape of stalker or child abuse. Many parents in the world are facing an issue of "Child Run" why it happens and parents don't know how to deal with it.
Not conscious of teen's social media activities
Most of the parents that are busy in their lives to make their children bread and butter don't have information what their kids and teens are doing on the social media platforms. However, they even don't know about the social messaging apps they use on their smartphones and they are unaware about the social media predators that can harm their kids and teens such as stalkers, cyberbullies, sexual predators and child abusers.
Furthermore, parents don't fully aware of the phenomenon of online shaming such as sexting, sharing nude photos and to view the pornographic material via their cell phone browser connected to the internet. Parents don't know about Self-Obscenity that is as UN-save as sex without condom and teens used to of sharing their videos on the internet.  
Don't consider parental control
Parents don't realize setting parental control on their cell phone and gadgets has become necessary and they cannot perform monitoring of kids and teens cyber life with a Naked eye, but to consider parental control. Busy parents especially have to get the best parental control app in order to keep a hidden eye on their kids and teens activities cell phones and the internet. They have to know about their text messages, audio and video social media apps calls, shared media material such as photos and videos, private chat conversations and they need to control that activity with parental control software.
Avoid all digital parenting blunders with TheOneSpy parenting app
Improve your digital parenting responsibility and protect your kids and teens from all cyber issues. Parents should remotely install cell phone spy app on their kids and teens devices. Once they have done it then they can do surveillance on kids and teens activities 24/7.
They can spy on passwords teens has fixed on their devices with password chaser of the phone spy app. Parents can get all the keystrokes applied to the target cell phone and get password keystrokes, messenger keystrokes, and email keystrokes and it will provide all the teens sneaky texting codes keystrokes. It empowers the parent to view the IM's logs with IM's social media of the cell phone monitoring app.
The user can view logs of social media apps such as private chat conversations, audio and video conversations, shared photos and videos to protect kids and teens from self-Obscenity.
Furthermore, parents can spy on teen's phone calls with secret call recorder of the parental control software and can listen and record the calls to the fullest.
You can read the text messages sent or received on the target smartphone such as iMessages, SMS, MMS and heads up tickers notification. Parents can remotely block the activities even setting at their workplaces, they can block incoming calls, text messages and even block the internet remotely.
Don't need to worry TOS spy 360 of the cell phone tracking app empowers you to listen to the surround sounds and Voice conversation in real-time with spy 360 live surround listening. However, parents can view the surround visuals of the teens with spy 360 live camera streaming by hacking the camera of the phone. Further, a user can view all the activities happen on the kids and teens cell phone with spy 360 live screen sharing. It will enable parents to share the live screen of the cell phone to the online control panel of the cell phone surveillance software.
Conclusion:
Having said that digital parenting is not less than art and every parent should learn to avoid all the digital parenting blunders. TheOneSpy is the parenting control app that teaches and helps out parents to do parenting in an effective way.