If you follow me on Twitter or on Facebook, you dolls know that earlier this week, while driving home from work, I called the radio station and I was caller 19 to win a key for this huge giveaway that all the stations ( news and radio) were doing, that could open the door to a brand new Toyota.
I woke up at 6am and headed over to St. Augustine, Fl. today. There was a lot of winners there, 163 to be exact.
This was a pretty big dealership. Even though it was a Toyota dealership, they all types of cars. They even had an RV in the back, which had me thinking that this dealership must do everything.. sell cars, car insurance, who knows even rv insurance. Ha! I don't know about all that, but you get the idea.
They had 2 of the radio stations there, as well as the local news. Mark Spain, our local news anchor was there reading out names, and I was able to take a picture with him. Really nice guy, and tall!
My name was called 3rd. I went up there with Ari. I had Ari pick the key for me. She picked key #5.
We walked the red carpet that led to the very beautiful white Toyota. Put the key in the door, AND.......
No go..lol. We didn't win the car :( But it sure was fun watching everyone get their chance turning that key. Finally the 83rd person went up ( while on his cell), turned the key, and took the key out and made it seem like he didn't win. A few more people were called, then, we saw him in line again, which of course made people get all uncomfortable, because they thought someone was cheating because he was having to go again. Turns out he had the right key! Since he was on his cell phone, he wasn't paying attention while turning the key, he actually opened the door, and turned the key back to lock the door back up! HELLO!!..The people at the dealership let him go back to try because they knew his key was the winning key. Of course people were very upset and actually booed him.. can you believe that!
I went up to him and congratulated him. I got a pic of him in front of the car. All the pictures I took today are all below.
All in all, even though I didn't win, it was a fun experience, and the staff there are off the hook, and make you feel very welcome!
I wish I had gotten my car from there, I would of loved to have dealt with a staff like that. Maybe my next car will be bought there. It will definitely be worth the drive for great customer service.
Enjoy the pictures..I need to go get ready for date night with my love! Have a great weekend dolls!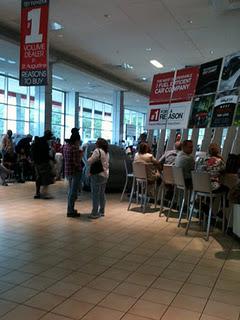 some of the crowd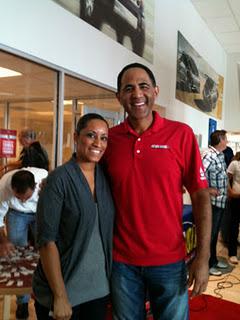 Me with Mark Spain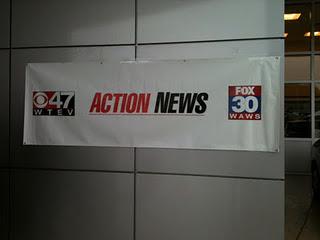 The local news banner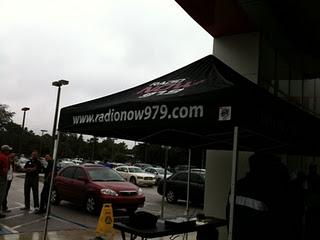 My fav radio station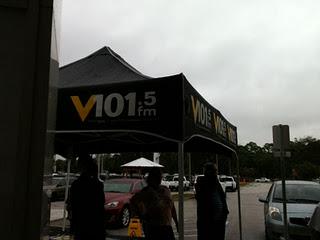 V101.5 Great Station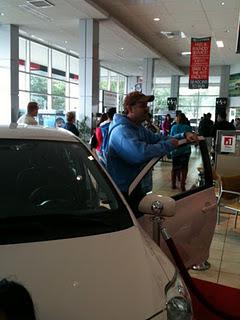 The winner of the car.. Michael Beavers

Until Next time dolls!
XOXO~The Diva Doll~